BOMBAY CAFE Celebrates 25 Years of Indian Comfort Food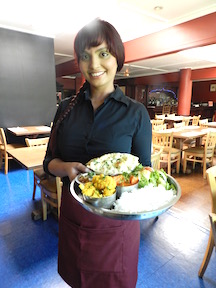 Inside quarter-century-old Bombay Café in west Los Angeles, the cheerful, brightly colored dining room is intact.  The  same lovely watercolor paintings parade across one wall.
So much care was given to the original kitchen and its refined, contemporary Indian cuisine at Bombay Café, that the first cooks were brought from Punjab.   The current chef, Kuldeep Chamal, cooked with Neela for many years.
The elegance of the dishes, cooked in small batches with precise amounts of spices, is what has always distinguished the food at Bombay Café.   It is as full of healthy, natural flavors as it of color.  Think cumin, cardamom, coriander and turmeric.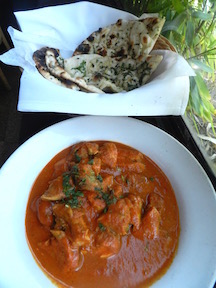 Going along with the modern Indian tradition, Mr. Singh explains," Authentic Indian cuisine is already natural and healthy on its own.  Our most common cooking method is in the tandoor oven, where fat cooks off naturally.  All of our meats are trimmed of visible fats and we don't use hydrogenated oils."
Just describing the food and looking at images is all it takes to start anyone's mouth watering.  Most entrees come with a combination of small dishes surrounding the main item, little treasures on their own.  The perfect summer cooler to the dishes is a refreshing glass of lemon ginger lemonade.
On the table to start with Pappadums, the light, airy irregularly shaped crackers, for breaking and dipping into  sauces.  The highly flavored lentil pappards are imported from India and toasted in the Bombay Cafe tandoor.  The wheat-free rice pappards pair perfectly for chutneys, the classic Indian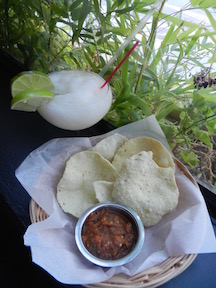 condiment.
Other tandoor-baked breads to be eaten solo, dipped into sauce or with a dish, include the Tandoori Roti and Chapati and the irresistible, Classic Naan, fluffy, puffy and yet chewy, which can also be ordered with Garlic or onion.
Popular appetizers include the Samosa, fried to a golden crisp, stuffed with potatoes and peas.  Crumb-coated shrimp with lime are crispy and tangy at the same time.
Garlic Naan stars in the Chicken Tikka Masala, boneless chicken cooked in a mildly spiced creamy tomato sauce. This is the centerpiece dish on the plate.  Around it is Sev Puri (crackers made from garbanzo flour) white rice, hot Cauliflower with cilantro and Channa Masal (chick peas).
Vegetarian dishes abound. For example, Potato Dosa is a rice crepe with potato masala featuring Dal Sambar – lentils cooked south Indian style, flavored with tamarind. Little dishes on the combination plate include coconut Chutney with sour cream; Dal Sambar  – Lentils cooked Southern Indian style with tamarind flavor; Updam (rice dough Patty), grilled with green chile, onion and fresh tomato; and a dish with pickled carrot and cauliflower, sprinkled with black onion seeds.
"Indian street food on a plate" best describes the combination Thalis. First up is the whimsical Lamb Frankie which comes wrapped in an egg crepe , filled with pieces of lamb in a rich dark sauce or stew,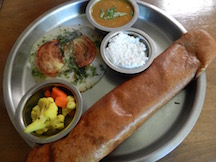 "masala," and onions, wrapped in a homemade egg-washed tortilla.
Carrot, cauliflower and pickle are in one little container; the luscious and cooling and soothing Raita in another is prepared with cucumber yogourt and julienned cilantro leaf.
In another corner of the plate is Kuchumber (traditional Indian version of the chopped middle eastern salad), made of tomato, cucumber, onion, lemon and cilantro salad.  Other Frankie options are chicken or vegetarian. Cauliflower Frankie, filled with gobi sabzi two chutneys and lime-cilantro and  onions.
Bombay Café offers a special curry daily. Mr. Singh explained that each curry tastes completely different from one another.  The reason? Indian cuisine, curries are made by braising the cuts of meat or poultry  – lamb, beef, chicken- along with the spices so that it picks up the flavor of the protein.
There are also burgers & subs on the menu!  The Aaloo Tikki Burger is a delicious combination of Indian aloo Tikki in a shallow-fried soft bun, and a Chicken Tikka Sub, boneless chicken cooked in a mildly spiced creamy tomato sauce in a submarine sandwich.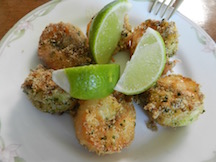 Breaded shrimp – light with a refreshing touch of lime to the diner's taste.
And to win you over before the meal starts and after it ends, there is a generous lot in the back with complimentary parking.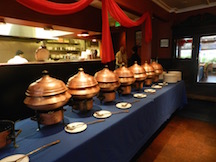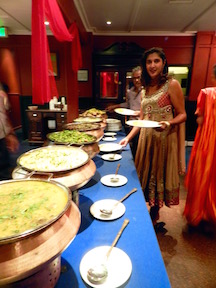 The large, airy space is perfect for festive parties, and the food is served in elegant, copper pots.  There is plenty of room for dancing and celebrating, and the buffet style ensures that all guests are satisfied with their meal.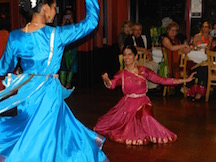 Bombay Café 12021 West Pico Blvd.  Los Angeles, CA 90064 (310) 473-3388
http://www.bombaycafe-la.com/. Order online for pickup or delivery below.