Hummusphere Confirms Mideast Fare into the Mainstream Market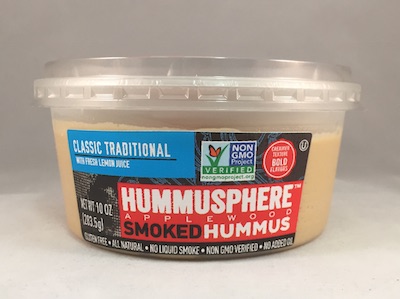 This season Hummusphere Foods introduces into the mainstream market the first, original smoked hummus options, including the Applewood Smoked Hummus shown above.  Five unique smoked hummus varieties present a festive and a healthier choice than most dips with nearly half the calories and a fraction of the fat.
Delicious flavors include Jalapeno Black Bean, Fire Roasted Red Pepper, Classic Traditional, Black Bean Traditional, and Thai Coconut Curry. In addition, Hummusphere Foods' has just launched 5 new Hummus Dressings! Available at retail locations throughout the US, including select Whole Foods, Fresh Market, Safeway and coming soon to Kroger. Find a store near you at www.hummusphere.com.
Gaining in popularity for decades ever since Middle Eastern dishes have become popular, sesame seeds were used to make sesame oil in food in Mesopotamia since 2500 BCE, so tahini is likely to be about that old.  The tahini part of hummus, made from sesame seeds, has also been in the Middle East since ancient times.
Tahini (sesame seed paste) is used in making hummus (boiled and crushed chick peas mixed with tahini, garlic, salt, lemon juice etc.)
In Turkey and Cyprus, tahini itself is mixed half and half with carob or grape molasses and spread on bread.  It provides the perfect, hearty snack in winter, and the mixture. Another way to serve tahini i, mixing it with lemon juice, a little tepid water, salt, garlic, and an edible  parsley and spice garnish.
Hummus on pita is a popular mezze (side dish) in taverns.  Mezze in Latin countries are known as tapas, and here in Los angeles, the small plate concept earned the honor of being the name of a short-lived restaurant.  However, the concept continues to grow every year.