Holy Basil, Tulsi, Joins Turmeric, Ginger in Organic India Tea
Tulsi Turmeric Ginger Tea, an Organic India produce,  combines the best of two of the most respected ancient herbs "newly discovered", turmeric and ginger, and adds tulsi, known in India as The Queen of Herbs." Tulsi is revered as a sacred plant infused with healing powers by practitioners dating back 5,000 years.  Also known as "Holy Basil," Tlulsi makes a delicious and nourishing herbal tea drink that is as tangy as it is healthy.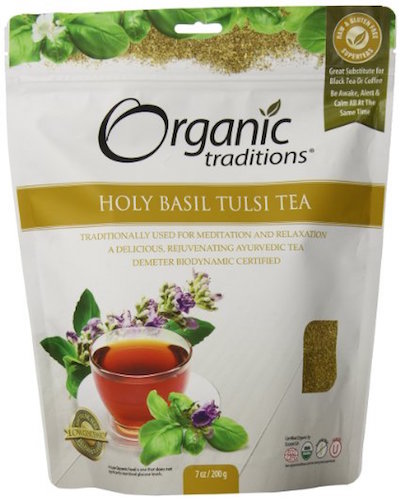 Today, holy basil is consumed mostly in supplement form or as tulsi tea and is used to treat anxiety, adrenal fatigue, hypothyroidism, acne and blood sugar levels.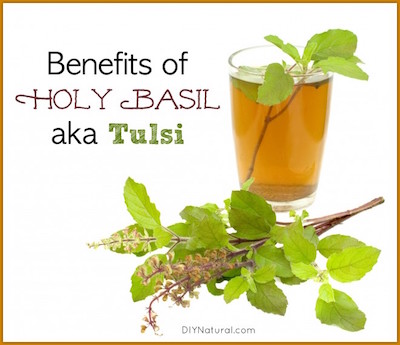 ORGANIC INDIA was formed in the 1990's by a small group of people from around the world who met in Lucknow, a town in northern India. They had traveled to meet H.W.L. Poonja, the spiritual teacher fondly known as "Papaji." Drawn by the search for truth and self-realization, they came to hear Papaji's simple teachings:
"Keep Quiet. The eternal truth exists within you. Do not entertain a single thought and the truth will reveal itself to itself."
Inspired by Papaji's lifetime of service, this group of visionaries, and future founders of ORGANIC INDIA, created a holistic business that would eventually change the face of agriculture in northern India. Their idea was simple: establish a sustainable business model to support the livelihood of thousands of impoverished farmers in India by providing training and education, enabling self-sufficiency and skills that could be passed on to future generations.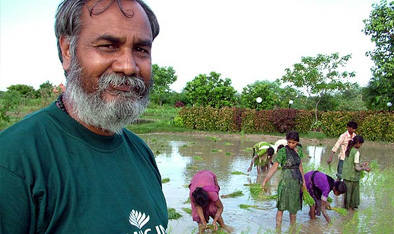 This idea became a movement as organic and biodynamic farming methods were developed and practiced. The founder's mission to offer safe effective herbal products to the world is the driving force behind an organic revolution that started with ORGANIC INDIA and is now taking root all across India.
ORGANIC INDIA is inspired by and lovingly dedicated to Sri H.W.L. Poonja, Papaji, and Sri Ramana Maharshi, one and the same, embodiment of truth, of unconditional love for all beings and all creation, of supreme peace, of selfless service, of limitless compassion, of eternal wisdom, Sat, Chit, Ananda, Moksha.  In similar words of Maharshi, "Remain still, with the conviction that the Self shines as everything yet nothing, within, without, and everywhere." The message is printed on every box.
A numerous amount of ORGANIC INDIA's Tulsi-forward teas and herbal supplements have been verified as Non-GMO in the past several yhears . This verification authenticates the integrity of ORGANIC INDIA seeds, herbs and products as natural, heritage strains. Non-GMO Project is a non-profit organization raising awareness about the dangers and unknowns of genetically modified foods and encouraging government to allow consumers to make informed decisions about purchasing GMO products.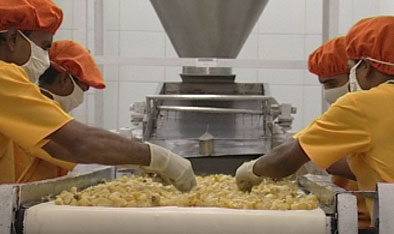 Prior to receiving this official verification, ORGANIC INDIA followed strict self-imposed standards through its E.A.R.T.H. S.E.E.R. mission: promoting the wellbeing of planet and people by being Ethical, Accountable, Reliable, Trustworthy, Holistic, Socially, Environmentally and Economically Responsible. ORGANIC INDIA is currently in the process of certifying its entire product line with Fairtrade, Demeter Certified Biodynamic® by the end of the 2014. The Non- GMO Project logo will appear packaging shortly.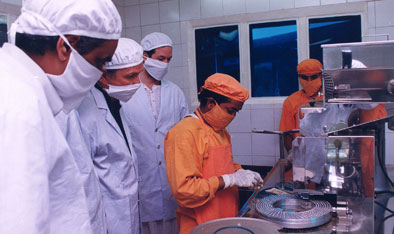 ORGANIC INDIA offers over 50 premium, high potency herbal teas, supplements and personal products. Most products feature the key ingredient Tulsi (Holy Basil, "Queen of Herbs"), an adaptogen that supports the immune system, stress management and enhances the functional properties of other ingredients. Since 1999, ORGANIC INDIA has worked directly with thousands of marginalized family farmers in India, creating sustainable communities through fair-market agriculture, access to healthcare, education and gender equality and empowerment programs. ORGANIC INDIA products are certified organic and wildcrafted on over half a million acres of traditional and converted farmland throughout India.