Puzzle Israel Tours' Native Global Cuisine Cookbook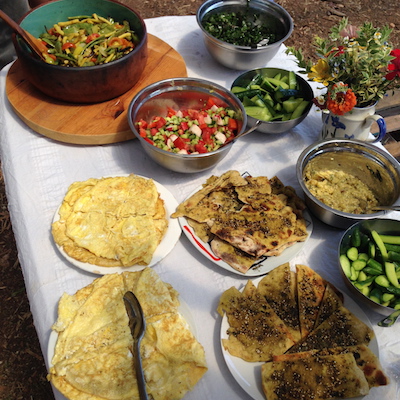 (Gerry Furth-Sides) Chef Nir Margalith, co-founder/owner of
Puzzle Israel Tours
, is everything you would imagine a high energy Israeli would be.  "Strapping" is the first word that comes to mind. And it stays there.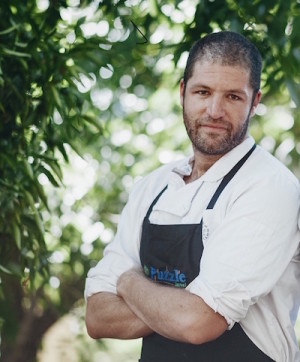 Of course, being an Israeli, Nir is also a veteran of the army with boundless energy. So it's no problem for him and childhood friend, Guy Marom, to head up an "army" of fellow countrymen who lead
tourists on "behind-the-scenes visits to Israel  that highlight ancient cultures and cuisines."   At the same time the chefs are
de facto
international ambassadors for contemporary Israeli cuisine. "Israel is blooming with cutting-edge chefs and local restaurants, updating a variety of cuisines considered exotic and not commonplace in Israel," he reports enthusiastically.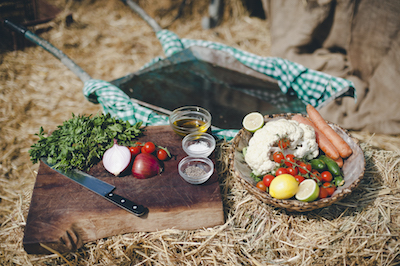 The photo above and below are of a forest-cooking workshop.
Now regarded as culinary experts, Chefs Nir and Guy visit the US regularly, to spearhead Israeli cuisine cooking workshops and live seminars. This time around, Chef Nir was visiting the west coast to make an appearance at the Taste of Travel Theater and Trade show in Long Beach Convention Center Los Angeles. The idea is to showcase Israeli cuisine with demos of Israeli dishes. This time around it happened to be two classic eggplant rolls filled with minced meat and dates and gluten-free colorful tabbouleh salad. Recipes and photos are below.
Along with public appearances, the pair also seeks out places and people to host dinners – for 300-400 people at a time if necessary- as a Puzzle Israel Tours sample, while again showing off the "thriving cuisine of contemporary Israel." Dynamic Deb Lust Zaluda, who lives in Chicago, was so impressed with the company she became the US Director Custom Private Tour.  She joined the chef in LA to scope out sites.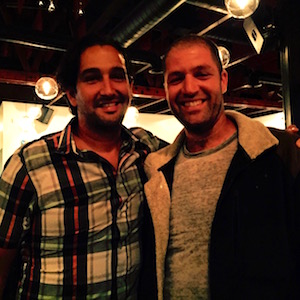 We started the connections with Upper West Restaurant, Israeli partner, Elad Benisti (left). Chef Nir enthusiastically described contemporary Israeli cuisine, always a part of the tours, as "filled with our renowned organic production methods and innovative ways off using fresh, commonplace ingredients to prepare vitamin-rich and delectable dishes." A bit disappointed to learn that many food writers are not aware of the cutting-edge scene, Nir is eager to spread the word.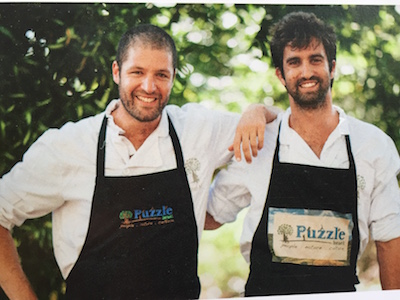 This is also why he and his childhood friend, Guy, created Puzzle Israel. The trips may be a replay of my own first trip to Israel, traveling with a French group I met on the plane. We blithely asked for recommendations from anyone we met to get a feel of  street food and restaurants. For the out-of the-way and behind-the-scenes experiences I somehow found myself making my own Yemenite earrings near the Dead Sea with a jeweler in his shop after hours. I merely had to mention I wanted to experience all the kitchen and field jobs at a kibbutz for them to assign the rotations. Yes, I was lucky to be on the trip of a lifetime.  
The team at Puzzle Israel Tours enables every visitor to capture this same kind of experience by inviting them in at the planning stage. The ingenious method is so simple.  A  local team of insider travel experts find out visitor's interests and ably curate engaging, personalized outings whether it be for individuals, families, congregations, teen groups or organizations. A trip can be geared toward adventure, history, voluntourism, sports and culinary arts. A variety of 'active trips' with health benefits are also offered , such as one excursion featuring yoga activities appropriately called "holy fit."   The cost can be $4000 for a 10-day trip.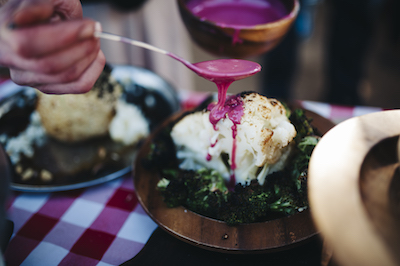 Nir's culinary inspiration is his grandmother, who was born and raised in Libya before moving to Israel. He was so impressed that he started cooking when he was 12 years old. In typical blunt Israeli fashion, his shrug was enough of an answer when asking about his mom's cooking. He leaned forward, "when Israeli's finish their army service they travel and I was lucky enough to go to India, Thailand, Laos, New Zealand- the cheaper countries, where I could spend a lot of time and really get to know the people and the cuisines."
"So that's why I created such an inter-active group tour in Israel where you can eat with a Muslim or eat with an Ethiopian, and the food becomes a backdrop to the cultural experience," he explained. There are also updated blogs and cookbooks, Yalla! Let's Cook!, for example, to carry away the experience.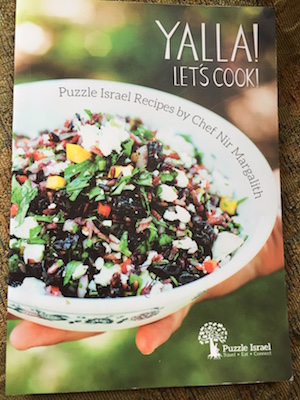 One of the most fascinating trips focuses on the Bedouins in the Negev. Nir becomes excited talking about unincorporated areas, one specifically that has as its one permanent place, a bus station!  It is a place where nomadic Bedouin families were invited to "settle the unsettled" with goat farms and vineyards. The eight to ten day trips that feature this startling place "feel very close to nature and the locals."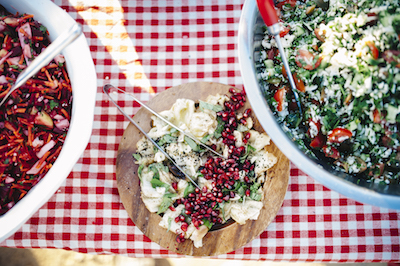 "Some nuts are hard to crack but we usually are able to pull it off, "laughs Nir. He recalls one grandfather whose family brought him on a trip.  He had never traveled outside of the United States, and was going to "have none of it" at age 65. "Five days later he was sitting and laughing with his children and grandchildren in a Syrian pool (built for officers stationed in Syria to relax), exclaiming out how he was doing things for the first time!"
With only word of mouth and online presence for the first time last year, testimonials on YouTube document the success of Puzzle Israel Tours. It backs a Chef Nir boast, delivered with a smile: "Israel has done an amazing job of becoming the cuisine to watch for culinary breakthroughs – especially the chefs who do different market to table concepts (see www.localfoodeater.com, TASTE OF ISRAEL post)
For more information on upcoming visits and information on Puzzle Israel Tours, please visit: www.puzzleisrael.com.
Recipes for Chef Nir's "dishes in the wild"  demo dishes: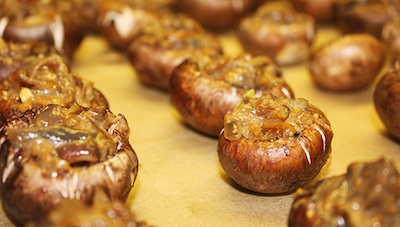 Mushrooms Filled with Roasted Red Onions and Tahini
Ingredients
15 mushrooms, insides spooned out (keep insides including stem for later)
3 red onions, julienne
1 C walnuts, finely chopped
Directions
1. Preheat oven to 400°F
2 cloves garlic, minced
2 T honey
1⁄4 C raw tahini
Extra-virgin olive oil, as needed
Sea salt, to taste Black pepper, to taste
2. Heat olive oil in frying pan over high heat. Add onions and garlic, stirring constantly. Add the mushrooms' insides including stem and cook for 3 minutes or until onions are caramelized. Add honey and toss together for another 1-2 minutes
3. In a mixing bowl, combine the tahini walnuts and caramelized onions. Toss together
4. Using a spoon, place a spoonful of the onion mixture in each mushroom.
5. Place mushrooms onto sheet pan. Bake for another 10-15 minutes.
6. Serve warm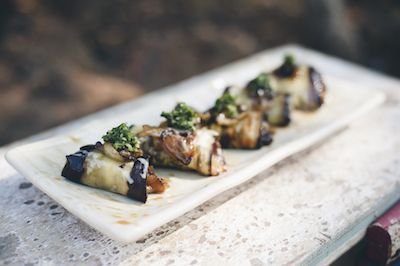 Eggplant Rolls Filled with Minced Meat and Dates
Ingredients
1 lb. raw ground beef
5 Medjool dates, pitted, small dice 1⁄4 t sea salt
1⁄4 t black pepper
Fresh thyme
Directions
1. Preheat oven to 450°F.
3 eggplants, 1⁄4" slice, lengthwise 1⁄4 C extra-virgin olive oil
1 red onion, small dice
2 cloves garlic, minced
2. Line a sheet pan with sliced eggplants. Drizzle with olive oil, and bake for 10-12 minutes, until slightly golden brown.
3. Heat olive oil in a frying pan over high heat. Add onion and garlic, stirring constantly for 2-3 minutes. Reduce the heat to medium and cook for another 15-20 minutes, until caramelized.
4. In a mixing bowl, combine the raw ground beef, sautéed onion and garlic, dates, salt, and pepper, and mix well.
5. Place a spoonful of the beef mixture onto each eggplant slice.
6. Roll the eggplant over the beef mixture and use a toothpick to secure the roll.
7. Place the rolls onto a lined sheet pan and bake for an additional 10-15 minutes.
8. Remove from the oven and garnish with fresh thyme.
9. Serve warm