39th Annual PPLA Food Fare 2017 Is Best, Biggest Yet
(Gerry Furth-Sides) The Guild of Planned Parenthood Los Angeles Food Fare outdid itself this 2017 season with Food Fare, the event of the season.   Julia Child, who regaled audiences with a cooking demonstration at the first celebration 38 years ago, would be proud of the Guild's year-long work to feature over 150 of the city's finest chefs and vendors at the event of the season. 
Over 2,000 supporters and foodies gathered together at Santa Monica's Barker Hangar on Thursday, March 2 for PPLA Food Fare, one of LA's best and oldest annual culinary fundraisers.
Although cooking demos, book signings and food-only items for sale have all been done away with in recent years, the crowds continue to swell.  Both the 1800 capacity evening session and 800 capacity day sessions sold out.
Despite the throngs at the check-in tent, all of the  PPLA volunteers, PR firm, event and security staff, plus the parking service attendants and shuttle bus drivers  were so extraordinarily friendly and efficient that it put you in a great mood before you walked in the door.
Attendance meant supporting a good cause plus having a deliciously good time.  Food Fare proceeds benefit Planned Parenthood Los Angeles' health services and education programs.
It also involves families working together.  We caught up with this charming family for the third year in a row.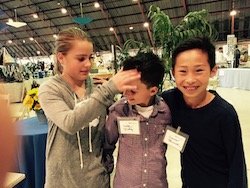 Unlimited gourmet nibbles include ethnic fare, such as a little bit wild, Chef Tran of Button Mash here for the second year with his fried Crispy Tofu Balls, fresh corn, green onions, housemade siriracha aoli.
Dozens of Los Angeles' most prestigious chefs have participated in PPLA food fare for decades.  It is a chance to meet them and know their food.
Celebrity ethnic restaurants provide the best and most generous set of bites. Their ample dishes  also show how the menu is put together.
We remembered a favorite 2016 bite or "sip" was Mushroom Soup with Truffle Fontina Cheese and a "Buon Appetite" from Chef Drago at Via Allora. (www.viaalloro.com).  This year Chef added Roasted Lamb Loin he carved on-site and Vegetable Couscous in an Orange White Balsamic Sauce.   It made up an entire perfect little (American portion) Italian meal!
Angelini Osteria (www.angelininiosteria.com) offered their signature spinach lasagna.  Partner, Elizabeth Angelini, looks up and says, "ah.  I have your favorite corner ready."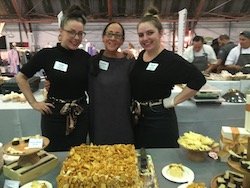 Valerie Confection's owner-founder Valerie Gordon with her devoted staff.   Valerie served her famous vintage Blum's Coffee Crunch cake (above). (www.valerieconfections.com)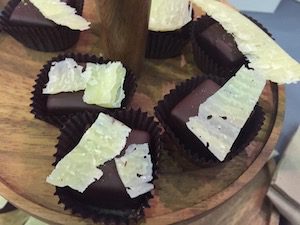 Valerie confection Black Pepper Truffles (above) and chocolate bark (below).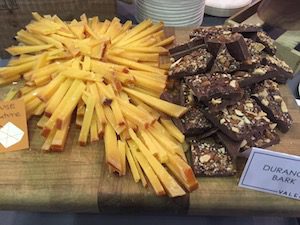 For a full list, visit pplafoodfare.com/participants.
No waiting in lines – just good conversation, smiles and fashion.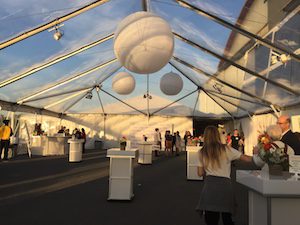 A VIP super- exclusive pre-event reception honors a chef, with more strict security to keep it private than the POTUS.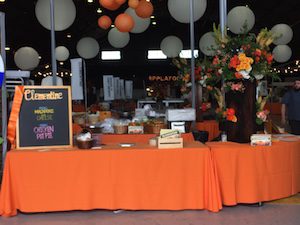 This year the recipient was chef Annie Miler from Clementine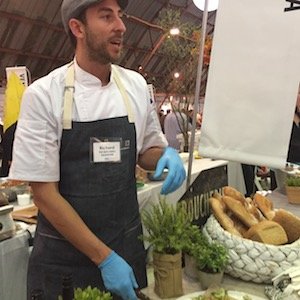 This year's notables included new chefs in town, such as Chef Richard from The Butcher's Daughter in Venice.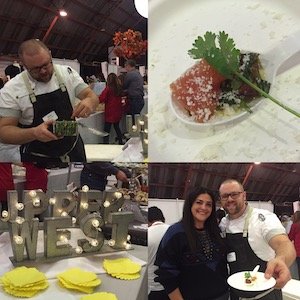 Chef Nick Shipp of local Upper West (www.the upperwest.com) served his popular Fried Sweet Potato with Chimichurri, Cara Cara, Orange & Queso Pamela. So many PPLA guests and Upper West regulars happily greet this first-time participant it drew a crowd.
Planned Parenthood Los Angeles celebrated its 50th birthday last year.  More information can be found on  www.pplafoodfare.com or call (213) 284-3300.
Planned Parenthood Los Angeles's  19 health centers throughout Los Angeles County provide care to nearly 150,000 women, men, and teens each year.  PPLA's education and community outreach programs reach nearly 60,000 women, men and teens in Los Angeles County each year.