Heinz BBQ Sauce Updates The American Picnic Grill
(Chef Roberta Deen) Heinz Pitmaster Collection has certainly secured an eye-level position on grocery store shelves. The Collection features five new regional barbecue sauces created in collaboration with five regionally famous chefs or Pitmasters as they are known in the fire-and-brimstone competitive world of serious grilling over open flames. Each collaboration has produced a distinctive flavor that pairs well with a wide range of meats and vegetables. Bottled in convenient top-side down, get-every-last-drop bottles, these sauces will encourage the buyer to be as innovative and fearless as the Masters themselves.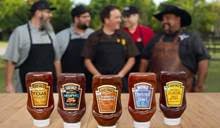 For example, "great Kansas City style" barbecue traditionally aims for a perfect balance of thick, sweet and tangy. So Heinz teamed up with Kansas City natives and award-winning Pitmasters,  Joe and Mike Pearce, to craft Kansas City Sweet and Smoky.   I tried it on a simple chicken breast. My barbecue was not set up yet so I abundantly slathered the sauce on the chicken and oven-roasted. I felt that this was a vital test passed with flying colors as chicken breast is my least favorite cut. It so often comes out dry and tasteless. Not in this case. The sauce is thick and rich enough to stay on the chicken, coating it well and producing a tender moist breast. This sauce is described by the company as "a true classic -sweet, thick, deliciously balanced, 100% natural, and sure to please!"  I ate every last bite, mopping up every stray dollop of sauce.
Real Carolina barbeque is all about the deep-rooted traditions of whole-hog barbeque slow cooked over wood coals. Heinz teamed up with third-generation pitmaster Sam Jones, of the legendary Skylight Inn BBQ in Ayden, North Carolina to craft a true sauce that blends the distinctive tang of apple cider with the just right bit of sweet and spice to make it work well with every cook's favorite pulled pork dish.
I used the Carolina Tangy Vinegar-Style  in a very non-traditional manner.  I slightly undercooked the first sweet corn on the cob of the season using a technique I learned from the internet. (Photos included), brushed generously with the Carolina Tangy, then (again because the grill was not set up) broiled the ears, basting and turning frequently until nicely browned. I gave them one last basting, sprinkled them with grated Parmesan cheese and served. Some of my guests ate the corn on the cob and others asked for it to be cut off the cob. Both versions were totally devoured.  The new "technique" made a great hit and everyone loved that no butter or salt were added.
This is a technique I learned on the internet to clean and cook corn on the cob.  It truly works and makes a quick and easy job of preparation.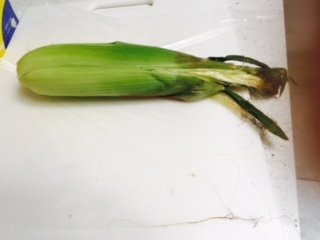 Cut a portion of the long stem end of the corn so it will fit into the plastic wrap easily.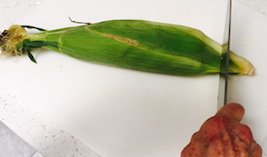 Wrap up the whole ear and seal well. Microwave a pair of ears in a 1000 watt microwave for 4 minutes.
Do not unwrap. Cut through the stem end far enough up the ear to see that the leaves are cut free and you can see the corn.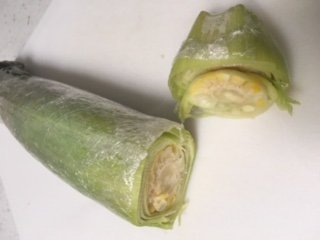 Grasp the hot corn with a clean kitchen towel and pull and twist until the husk and silk slip off.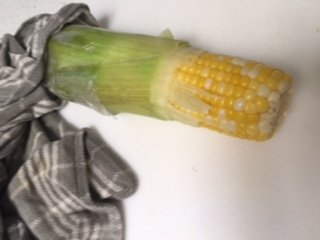 Perfectly clean and ready to eat or to get creative with.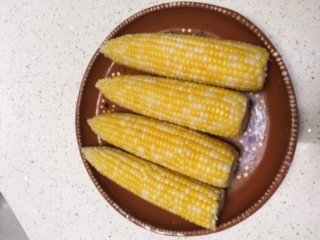 I brushed liberally with the new Heinz Pitmaster Barbecue sauce – Carolina Tangy. It has an apple cider vinegar tang to it that will compliment the sweetness of the corn.
Grill or broil until nice and charred. I sprinkled with grated Parmesan cheese and served to very happy guests. Simple, a little bit different, nice and tangy from the sauce and the sweetness.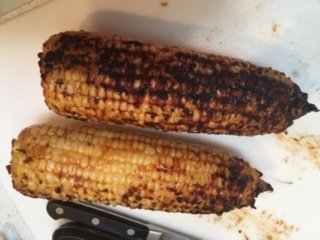 My final experiment was with the Texas Bold and Spicy from Pitmaster Robert Sierra, a grand champion Pitmaster from San Marcos, Texas. As advertised, there was nothing shy about this thick and bold sauce. It is spicy but will not drive the "no heat and chile" crowd from the table. This time I used Angus 80% ground beef, top of the line, lightly mixed in about a third of a cup of the Texas Bold sauce into the meat and formed patties. I pan-fried the patties to medium-rare, gave them one last brush of sauce on top and served them up with a side of sauce for dipping. Not a morsel of the richly-flavored meat or sauce was left.
The outside grill is in the process of being set up for the summer launch and I am looking forward to trying all five of these new sauces on slow-cooked pork, leg of lamb and lots of great vegetable combinations. They will all be winners this season.
This collection also includes the Memphis Style Sweet & Spicy BBQ Sauce, from the birthplace of Rock 'n Roll, designed to be rich and sweet with a pop of spice. For this, Heinz teamed up with Dan Brown of Memphis' own Leonard's PIT Barbeque — a barbeque institution since 1922. With sweet brown sugar and the flavors of the region's traditional dry rubs, this is a sweet and spicy sauce.