American Chef Goes International Kosher at Origin Cafe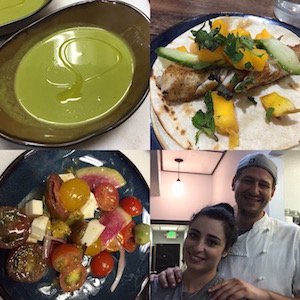 Origin Cafe is already packed for breakfast and lunch and now chef/owner Aaron Clayton has invited us to sample his first-ever dinner service. On Tuesday, Wednesday and Thursday evenings the chef offers seasonal three ($30) or four ($40)-course menus. The food is refined, beautiful seasoned kosher, reflecting the chef's high-end cooking sensibilities.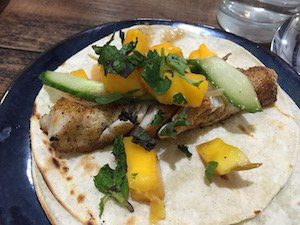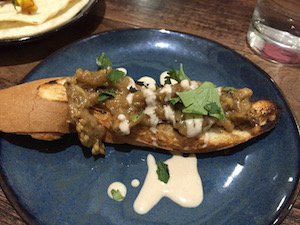 A sample menu starts with appetizers of miso eggplant caponata or Moroccan salmon taco appetizers (shown above and below) farmer's market heirloom tomato salad or a fresh vegetable soup.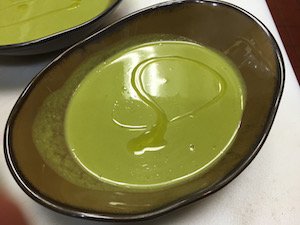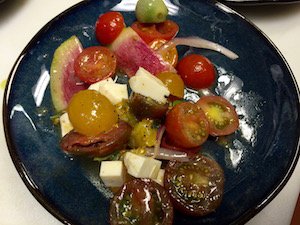 Main courses shown below this week include a choice of artichoke and house made ricotta ravioli with mushrooms and kale or artichoke risotto with seared halibut, grilled asparagus and roasted tomato sauce.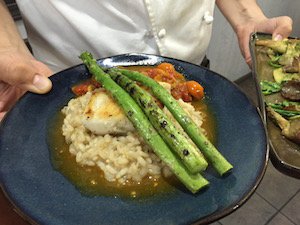 The Ravioli dish was my favorite even though it is and is not photogenic here!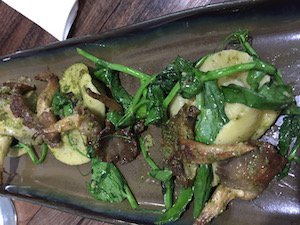 Dessert inspiration here came from a cook, Halva and honey homemade ice cream and his bread pudding.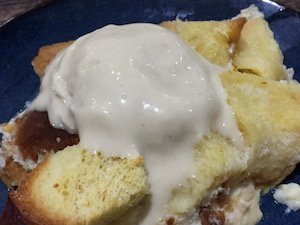 International Food Writer and champion of rising chefs (Kimmy Tang and Ricardo Zarate who were at this first prix fixe dinner) , Andrea Rademan introduced us to the affable Chef Aaron, shown here having a laugh with the chef and his girlfriend Julie, a supporter of the restaurant who sometimes helps staff.   Aaron proudly pointed the artwork on the walls by friends and family.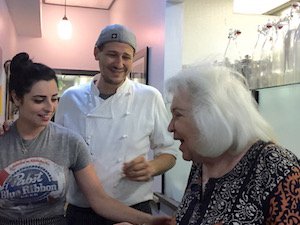 About the chef in Andrea's words: Aaron Clayton was born and raised in Encino, where he says he was a "fat kid with an insatiable appetite." His serious interest in food took root the day he asked his CPA mom if she could make him something for his school lunch "besides cheese sandwiches." She lovingly replied, "if you want something else, make it yourself."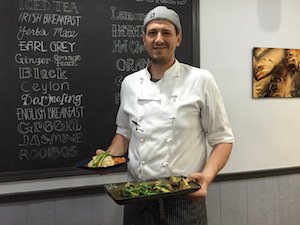 He did, and he developed a culinary world view initially shaped by the combined traditions of his Russian Jewish mother and Kentucky Baptist father. The former fat kid grew into a tall, lean and handsome young man who enrolled in culinary school, after which he moved to California's central coast wine country for "three amazing years." When he was invited to cook at Herbert Samuel, one of Tel Aviv's top restaurants, under noted chefs Yonatan Roshfeld and Yuval Ben Neriah, he went. "When I left," he says, "I took what I had learned from those amazing chefs with me. It's the core of how I cook today."
Back in California, he worked as a private chef, then parlayed his kitchen experience into Origin Cafe, "an expression of my eclectic background and my travels and work abroad  expressed through my California roots."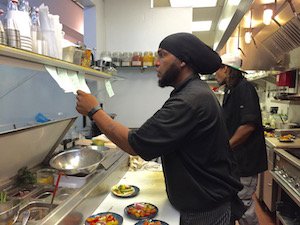 Instead of focusing on a specific cuisine, he focuses on "the freshest ingredients, their sources, and the techniques best used with them." Favorite menu items include Lox Benedict (with homemade lox and horseradish hollandaise sauce); Shakshuka (a Middle Eastern green pepper and tomato stew) served with sous vide eggs and preserved lemon peel; Moroccan spiced salmon tacos; and Mexican churros served with warm dipping chocolate. 
In the mideast tradition, there's a menu of cold pressed juices and juice drinks (Green Juice: apple, lemon, ginger, kale and pineapple; Red Juice: pomegranate, carrot, apple and orange). There's also homemade hot chocolate, minted lemonade and a rotating list of craft sodas. 
The coffee menu is equally enticing, everything from a fine French press to cafe Zorro (a latte with house made horchata) and ca phe sua da (Vietnamese drip coffee with sweetened condensed milk).