American Michael Finizio Reimagines the Ravioli Rolling Pin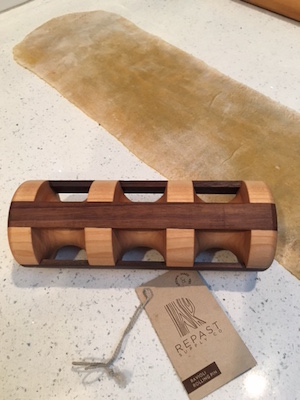 (Roberta Deen) Simple in design and made from sustainable, quality solid hardwood, the Fonde (fon-dee) Ravioli Rolling Pin from Repast Supply Co. is touted as the tool to "create perfect ravioli every time with no mess and no fuss." So we engaged Catering Chef and highly respected professional recipe tester, Roberta Deen, to see how it worked. Here is Roberta's account with photos, followed by a short history of how the enormously popular Ravioli dish originated.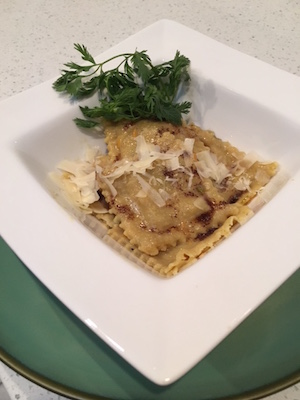 Rolling pin is a humble name for this elegant, architectural kitchen tool.
With its blond walnut and dark maple wood, smooth and soothing touch and sculptural qualities it immediately becomes an object of desire. That it fulfills its purpose with such efficiency and effectiveness is a true bonus among all the gadgets that burden our countertops and fill our cabinets. This little work of art has its roots in a distant necessity that demanded the ability to make more than one at a time in the Italian past. Its given name is raviolatrice – a clever wooden honeycomb of spaces that quickly rolls out little pillows of stuffed pasta. Even as a catering chef of 30 years, I had never seen one. I had struggled with those aluminum forms that made 12 ravioli at a time. It's not that they didn't work. They were just inefficient and certainly weren't artful objects that you will always want on display.
When I was offered the opportunity to experiment with the Repast's objet d'arte, I literally pounced on it. I couldn't take my eyes off of it even though I was totally unsure how to use it. As it turns out, it is quite self-explanatory once you follow the simple instructions in the tiny booklet attached to the rolling pin.
I decided to attempt something that linked the beautiful updated rolling pin to the introduction of pasta into Italy by travelers such as Marco Polo and the spice traders. I used a basic pasta recipe (2 cups flour, 3 large eggs, a pinch of salt and a teaspoon of Tunisian extra-virgin olive oil) with the addition of curry powder.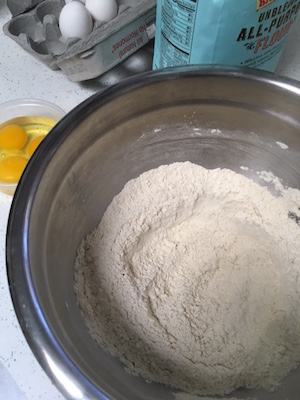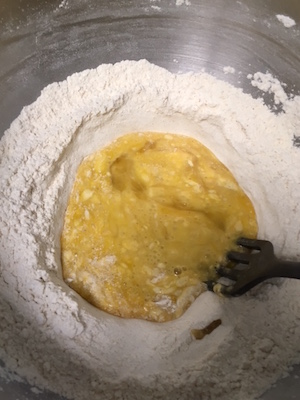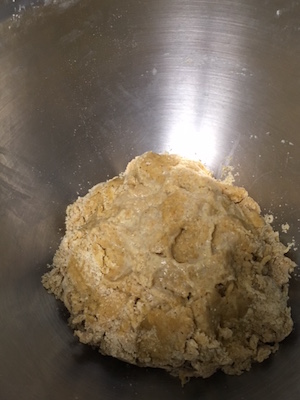 After letting the dough rest an hour or so, I hand-rolled the dough out into 4 equal strips of 7" wide (the width of the rolling pin) and about 17-18" long. It is a thorough workout to do it by hand but does give a real sense of accomplishment. If you use a hand or electric pasta machine you will only get two rows of ravioli instead of the three that I was able to achieve because you are limited by the width of your machine. Width is more important than length in this case.
I played with a tried and true recipe that I had used to made wontons when I was catering by using finely shredded carrots, onions, cilantro, Madras curry powder, cumin, diced dried mandarin tangerine segments and cashew nuts with just a touch of flour to bind.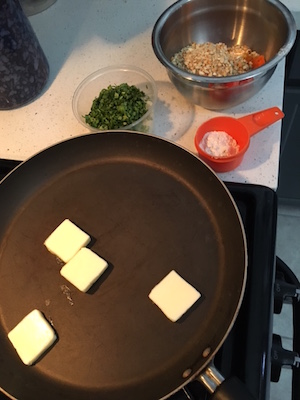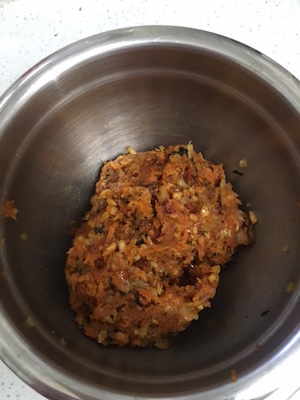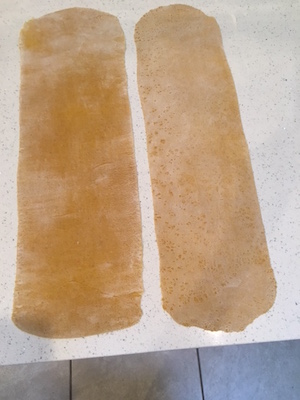 It seemed to me that the mixture picked up flavors from the length of the spice road from China back to Italy.
You lay out one of your lengths of dough, spread evenly with your filling mixture (leaving a clean edge all around the outside), brush the edge lightly with water, top with the second length of dough and press firmly around that outside edge to seal.
Then you take that beautiful, smooth rolling pin in hand, pressing firmly roll from the narrow end nearest you to the far end and look admiringly at the three even rows of pillows you have just created.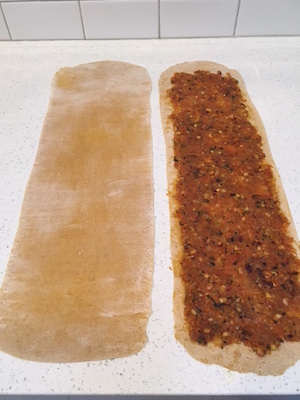 Next you take a knife in hand or one of the rippled pasta wheels and cut the rows into plump, perfect ravioli.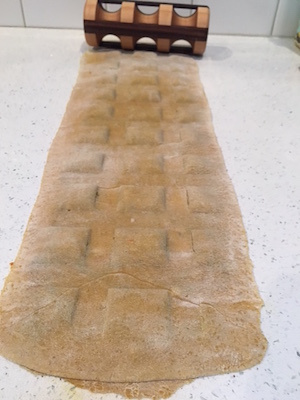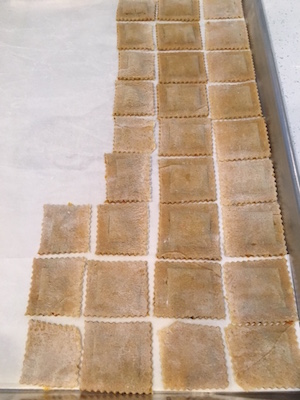 You place the individual ravioli on parchment paper on a baking sheet, cover with a clean, light kitchen towel and let them rest while you bask in your success. Perhaps a glass of chilled Pinot Grigio is in order at this point.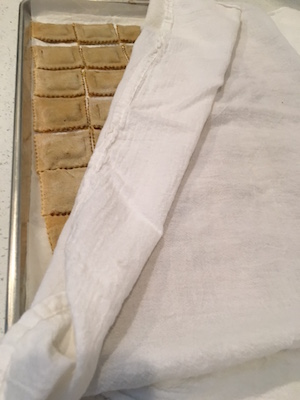 Next is a large pot with an abundance of really boiling salted water. Slide the ravioli in (don't crowd too much) and cook to taste. Some prefer really al dente (a phrase meaning "to the tooth" or quite firm), others prefer to cook the pasta to a softer but not too soft texture. Drain quickly, toss with some butter, shave over some really good Parmigiano-Reggiano, grind a bit of fresh black pepper, garnish with a sprig of fresh cilantro and serve.
This rolling pin will work with any good pasta (you may try it with sheets of fresh pasta from a local restaurant) and any type of filling – cheese, meat, veggie – that is not too liquid. I will be checking out their web site www.repastsupply.com to view their other products and recipes.
Ravioli (plural form; singular: raviolo) are one of the most popular shapes of pasta, a type of dumpling composed of a filling sealed between two layers of thin pasta dough. Usually served either in broth or with a pasta sauce, they originated as a traditional food in Italian cuisine. Ravioli are typically square, though other forms are also used, including circular or semi-circular (mezzelune). Other related filled pastas include the ring-shaped tortellini and the larger tortelloni.
The history of ravioli is yet another well of stories and myths of delicious human creation The word itself may derive form the Latin rabiola (a little turnip) whose shape resembles ravioli, or from ravolgere (to wrap) directly suggesting the way ravioli are made. Enjoyed worldwide, but where do ravioli actually come from?
The city of Cremona claims to be the birthplace, competing for this title with Genoa that traces back the etymology of the word back to their dialect word for the pasta, rabiole, which signifies something of little value and, the legend has it, originates from the practice of local sailors who would wrap the leftovers from one meal in a thin sheets of dough to use for another meal and to break the monotony of a sailor's diet.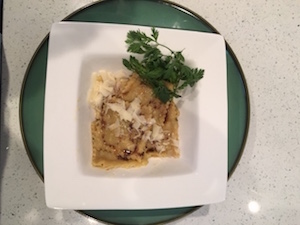 Michael's mission is to inspire people everywhere to slow down, roll up their sleeves and cook a meal with someone they love. He's an engineer who earned a bachelors degree from Syracuse and a master's degree at for Tufts, who graduated from college and started working a structured job.  But the woodworker and foodie above all loves bringing people together around the kitchen table.  Michael is happiest when combining good food and good wine with good company.  So he created and developed the pin while working.  Michael eventually was so successful he can devote full time to it now.
All Repast Supply Co. rolling pins come pre-treated with food-grade mineral oil and with proper care will last a lifetime. Repast Supply Co. believes very strongly in sustainability, which is why they plant 100 trees for every tree used in production.
Watch how perfect ravioli is made every time with the Fonde Ravioli Rolling Pin! https://youtu.be/NvMqJN577_U
Available in several sizes, The Fonde (fon-dee) Ravioli Rolling Pin from Repast Supply Co. can be on the company's website, http://www.repastsupplyco.com/.