Best All-American Thanksgiving Ice Cream Flavors
(Gerry Furth-Sides) Novelty ice creams have been an American tradition almost since the frozen confection became popular.   Salt & Straw has made the flavors themselves into innovative holiday fare that echoes savory flavors form the Thanksgiving table.
In another international tradition of holiday charity,  Salt & Straw's Thanksgiving Celebration flavor series and Buy a Pint, Give a Pint program runs from Tuesday, November 1 – Wednesday, November 23 this year (all scoop shops will be closed on Thanksgiving Day).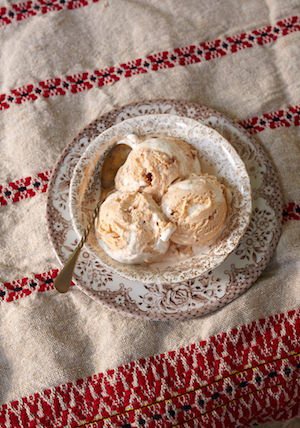 Sweet Potato Casserole with Maple Pecans incorporates sweet, cinnamon smells so familiar at holiday time. The idea is for the holiday treat ice cream to be  "warm, smooth and comforting, rich yet light and velvety on your tongue." Full-bodied sweet potato ice cream is balanced out by a light ribbon of maple syrup marshmallow fluff & homemade candied pecans. This holiday classic is a customer favorite  from the freezer that had its inspiration from the oven the oven.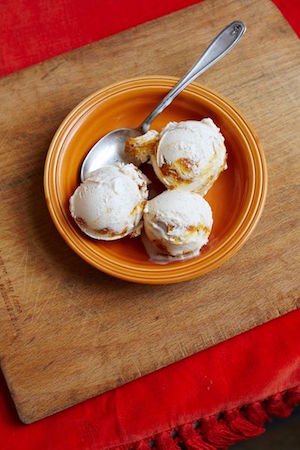 Spiced Goat Cheese & Pumpkin Pie is filled with warm spices, creamy, fresh goat cheese from Cypress Grove plus streaks of fresh baked pumpkin pie filling. The idea was to emulate scooping out that delicious pumpkin custard straight from the pie shell and smattered it into a spicy, goaty, cheesecake ice cream.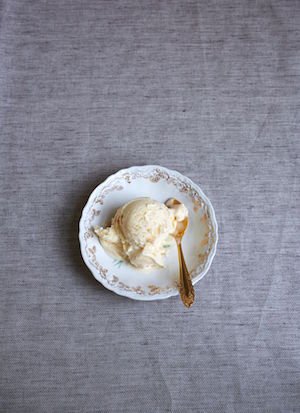 Buttered Mashed Potatoes & Gravy – Mouth-watering mashed potatoes with an "eruption of gravy" is the design of this flavor.   This whipped & frozen mashed potato ice cream is delightfully salty and buttery with a balanced swirled ribbon of white chocolate gravy.
California Acorn & Chestnut Stuffing –Homemade California acorn brown bread folded into a spiced chestnut ice cream. Acorns are harvested in Northern California and blended into a flour for a stuffing bread with a dark & nutty molasses flavor. The homemade bread is then cooked into a black pepper and fresh thyme laced bread pudding for the filling
 Salted Caramel Thanksgiving Turkey – Every true turkey lover knows the best part of the main course turkey, tender and juicy, is the golden brown crisp skin. So turkey is the anchor of our Thanksgiving ice cream meal. Sweet and buttery turkey brittle is folded into a turkey fat caramel ice cream.
Salt & Straw Ice Cream is a chef-driven ice cream kitchen with scoop shops in Portland and Los Angeles. Each ice cream is handmade in small batches using only all natural cream from local farms. Ingredients are sourced from the best local, organic and sustainable farmers and artisans in Oregon and Southern California, as well as imported flavors from small hand-picked farms from around the world. The company started in Portland, OR serving eight flavors from an ice cream cart in May of 2011 and now has three scoop shops in Portland and four in LA.
 For more information, visit saltandstraw.com/flavors/#la.