Anar Indian Restaurant: Food Guided by The Heart
(By Adréana Robbins) Anar reminds me of the quaint local canteens and hidden taverns I discovered living in Paris and Southern France. My parents and I felt most fortunate when we stumbled upon family-run bistros, offering the most inventive French Provençal, or Moroccan, or Vietnamese cuisine. Often a secret ingredient to a restaurant's success was the talented couple behind it.
Sometimes the wife slaved away in the kitchen, other times the husband, and soon enough we became part of their family dynamic, feeling always welcomed like a long, lost relative. Anar has the same intimate feel and personal touch, as if you're dining in someone's private home.
Anar's décor is tasteful with bright Indian tablecloths and fine art; a recent fresh coat of red-brick and mustard-yellow paint adds a festive touch to the dining room. Booths line the walls, which are perfect for romantic dinners, or a feeling of privacy. Large parties can easily be accommodated.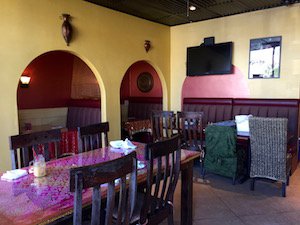 Our epicurean group sat at a comfortable, ample-sized wooden table. Being a guest, at a tasting lunch, I cannot comment on the service; however, since one of the dedicated owners is almost always present, I imagine the staff to be gracious with every client.
Second-generation restaurateur, Amir, and his wife, Janet, are involved in every aspect of the family business. Janet, with her El Salvadorian roots, and Amir, whose parents emigrated from Bangladesh, are the most hospitable pair. "I put love into my food and that makes all the difference," says Amir. The restaurateur grew up in his father's kitchen and began cooking at the age of 18. Amir's father owns Anarkali, a popular Los Angeles Indian restaurant—open since 1983.
Staying true to Amir's southern Bangladeshi roots, Anar offers a wide variety of seafood along with more standard northern Indian meat dishes. Meals often begin with the ubiquitous  Paneer and Onion Pakuras that are dipped in curry powder, turmeric, and deep fried in chickpea flour to give them their deep color and crunch.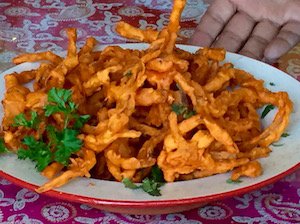 The Vegetable Samosas are stuffed with sweet, curried peas and potatoes. Each appetizer comes with a grouping of condiments: Chat Masala Onion Chutney, Mango Chutney, Raita and Cilantro Chutney.
The beef, lamb and chicken Tikkas have just the right touch of smoky char from being cooked in a tandoori oven.
Combination plates are popular and served in  generous portions. The platter comes with an accompaniment of traditional white basmati (to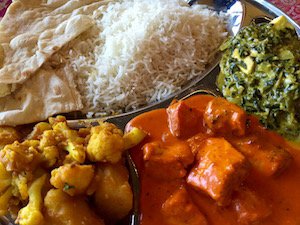 balance out the flavors).They have my favorite Saag Paneer; Anar's spinach tastes exceptionally fresh without being overly salted.  Aloo Gobi, perfectly seasoned cauliflower and potatoes, and a standout Chicken Tikka Masala; the velvety texture and aromatic spices of Anar's Masala is hands-down the best I've ever tasted.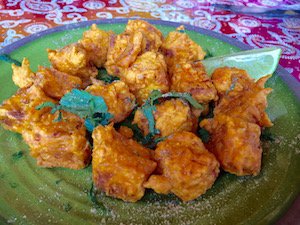 In addition, Anar makes their own paneer—a guarantee the cheese will always taste fresh, even after being cooked with onions and spices. Other dishes to try include Lamb Rogin Josh, sweet and succulent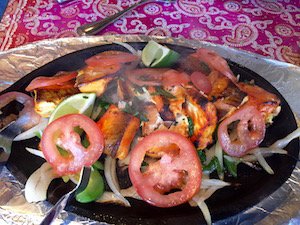 chunks of tender meat in a rich tomato sauce; Mixed Tandoori Grill, a generous serving of the appetizer version with bigger pieces of grilled chicken, beef and lamb. And for those who are especially hungry, the Chicken Biryani is hearty and flavorful: sautéed with onions, peas, turmeric and a touch of ghee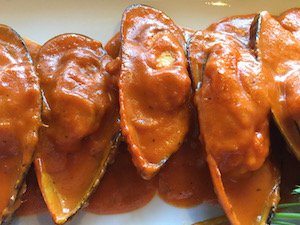 Fish lovers will appreciate the tender Salmon Tikka: boneless filets, marinated in yogurt, herbs and spices; it is one of the most popular on the menu. Shellfish aficionados should indulge in the plump Curried Mussels Masala, better quality and size (which matters in this case) than Bouchon Bistro in Beverly Hills. (Sorry, Thomas Keller, but Anar packs bigger muscles!) Prepared in the popular and fragrant Tikka Masala sauce, the blend of cinnamon, cardamom, Garam Masala, cream and sugar, allow the juicy muscles to melt in your mouth.
Ordering is simple from the well thought-out menu at Anar. However, the staff is more than pleased to add their special recommendations for the asking.  Since I adore seafood, Amir brought these dishes for my liking.  Every meal preference and spice level can be accommodated for the asking, too. Most of the dishes we had were mildly spiced, but we tasted one amped-up and chili-infused Vegan Tofu Masala, which would satisfy those with piquant cravings.
For beverages, the Nimbu Pani: fresh squeezed limes with ginger and mint is ultra refreshing.  Anar also makes a spiced Iced Black Tea, but neither of the drinks were my favorite.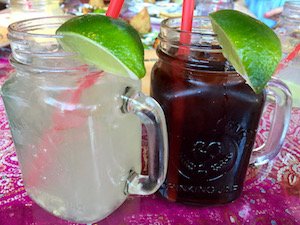 However, the third drink I tasted was the homemade freshly made Mango Lassi. And this drink took me back to a memory of swimming and sunbathing and waterskiing at a tropical lake near Acapulco, Mexico. It was as if I had just taken a bite out of a tree picked mango, juice dripping down my face, hot sun warming my skin, the young man beside me, tanned and ripped . . . well, I won't go there, but it's understandable why the drink is so popular, with its perfect balance of fruity sweetness and tartness from the plain yogurt. The drink is so popular that Anar gives it special attention for takeout orders.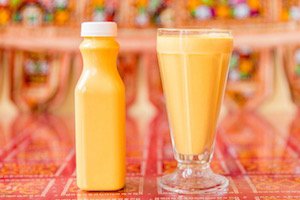 To guarantee freshness, like a private Beverly Hills juice club, the restaurant gives out plastic labeled bottles exclusively prepared for the mango creation. I took a bottle home and had a second Mango Lassi for dinner; it tasted just as delicious.
On that sweet and generous note, Janet takes pride in creating all of Anar's desserts.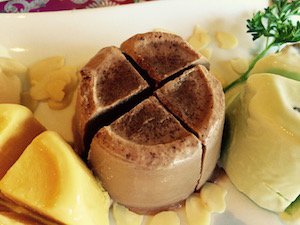 She makes the not-to-be-missed Kulfi (Indian ice-cream) in chocolate, pistachio, coconut and mango. The chocolate is an Indian restaurant novelty, inspired by her Latin heritage and passion for chocolate. Indian cooks add rose water and cardamom pods to their desserts; Central American dessert makers add cinnamon only. Janet knows how to work with both flavors, making her creations exceptional and unique. Other more traditional treats include Gulab Jamun, soft milk balls soaked in syrup and rosewater, and Kheer, Indian rice pudding fragrant with cardamom and cinnamon.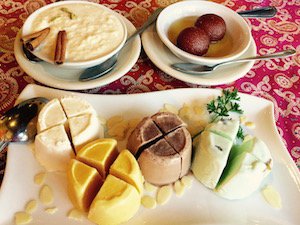 Discovering new dishes and restaurants is a great perk of food writing; I'm especially grateful to have been introduced to Anar. The restaurant is proof that Los Angeles shopping arcades now hold some of the city's best dining establishments. Even so, I'm embarrassed to say that I've lived in the Hollywood area for over eight years, have probably driven past the restaurant over a thousand times, and never noticed it. Tucked away in a congested strip mall on Cahuenga and Yucca, just south of Franklin, Anar can easily be missed. But what it lacks in glitz and glamor, it makes up for with its food and ample free parking. It's also an ideal locale for pre or post theatre or concert dining. The Pantages and The Hollywood Bowl are in walking distance, and so is Sunset and Vine. Still, you must remember that you're in the heart of Hollywood, so don't let the busy liquor store nearby, or the strung-out rock-n-rollers, ambling about outdoors, or the lost and frazzled tourists—dissuade you from entering Anar—it's a hidden treasure.
Moreover, I'm a huge fan of Indian culture and cuisine. And every opportunity I can, I like to read literature about India. One of my recent favorites is Shantaram by Gregory David Roberts, who wrote: "The simple and astonishing truth about India and Indian people is that when you go there, and deal with them, your heart guides you more wisely than your head . . ." So let Anar take you to the tastes of India—where you can be certain—the food the will feed your heart and soul.
Anar Restaurant, 1807 N. Cahuenga Blvd Los Angeles, CA, 90028 (323) 466-0422.
www.anarla.com
(Editor's Note) Anar is part of the historic Anarkali Restaurant dynasty in Los Angeles, whose Chicken Tikka Masala and Mango Lassi  have become the benchmark for these ubiquitous dishes.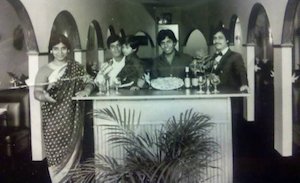 Second generation Anar owners add to their legacy by bottling their fresh drinks to keep the taste pure ever since they became the the area's new take-out sensation.