Angeleno Magazine's Sweet 16 "Live & Dine"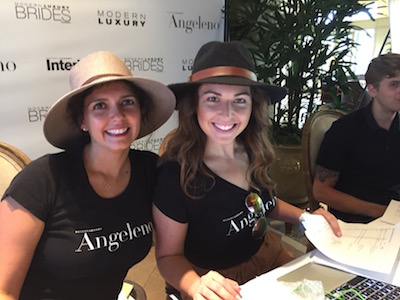 (Gerry Furth-Sides)  "Sweet" Sixteen party indeed – Angeleno Magazine's 16th annual Live & Dine L.A. Event this week at the Fairmont Miramar Hotel & Bungalows Resort turned out to be a mostly "savory" albeit another exhilarating event.  The few celebratory confections that were offered arrived ironically from none other than the pasta mavens at Drago Centro, the upcoming Maru Sushi Restaurant and J&D Caterers,  who also supplied the over-sized porcelain gift coffee mugs – handsome even sans coffee. All of the vendors honored as the top 36 in town, presented startling, imaginative and extraordinary plates. Drago Centro's Chocolate & Olive Oil Terrine, Candied Almonds, Strawberry Jam, Macaroons is proof enough of that (below).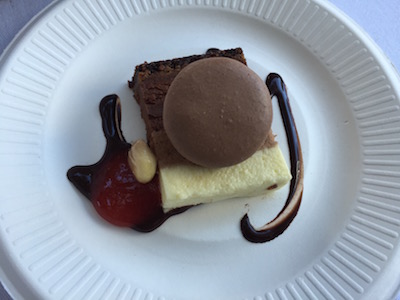 Angeleno's annual Live & Dine LA event honors the city's most distinguished chefs and restaurateurs that continue to shape and evolve L.A.'s culinary scene – and the winners owned it.  The sheer pleasure on part of the  participating chef crews, exclusive wine vendors and mixologists, fresh from being showcased in the July issue of Angeleno, was as contagious as ever.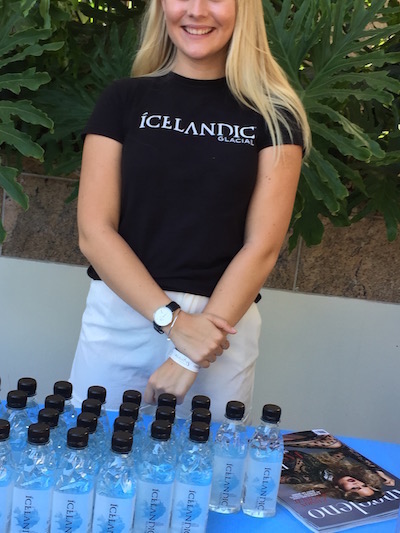 And again this year, though scheduled on the last week-end of summer,  the heat did not want to let go.   At the door, Icelandic Glacial saved the day with a welcoming hostess and barrels of bottles of water that lived up to its refreshing name.
Just across the way, a huge and well deserved smile on his face for at last finding a home in the Grand Central market, Christophe Happillon, the sole Master Ecailler in Los Angeles, was sharing his love of fresh oysters at the Oyster Gourmet stand under a tree. (www.theoystergourmet.com).  We've been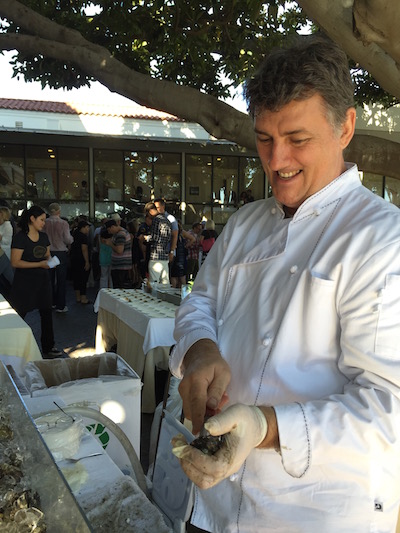 Yousef Ghalaini, New Executive Chef at the Fairmont and FIG presided over a lamb spit when you entered the courtyard –following the Miramar tradition of a whole animal presentation when you walked into the event. You can feel the crew's energy below.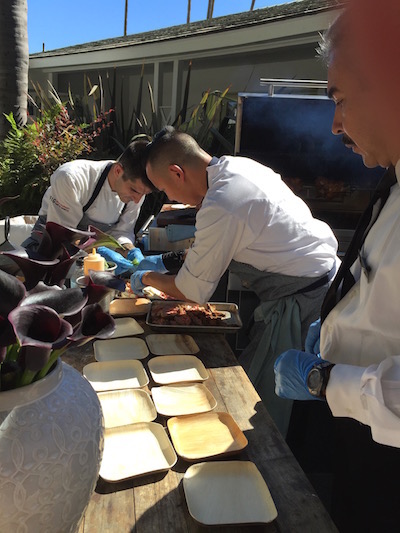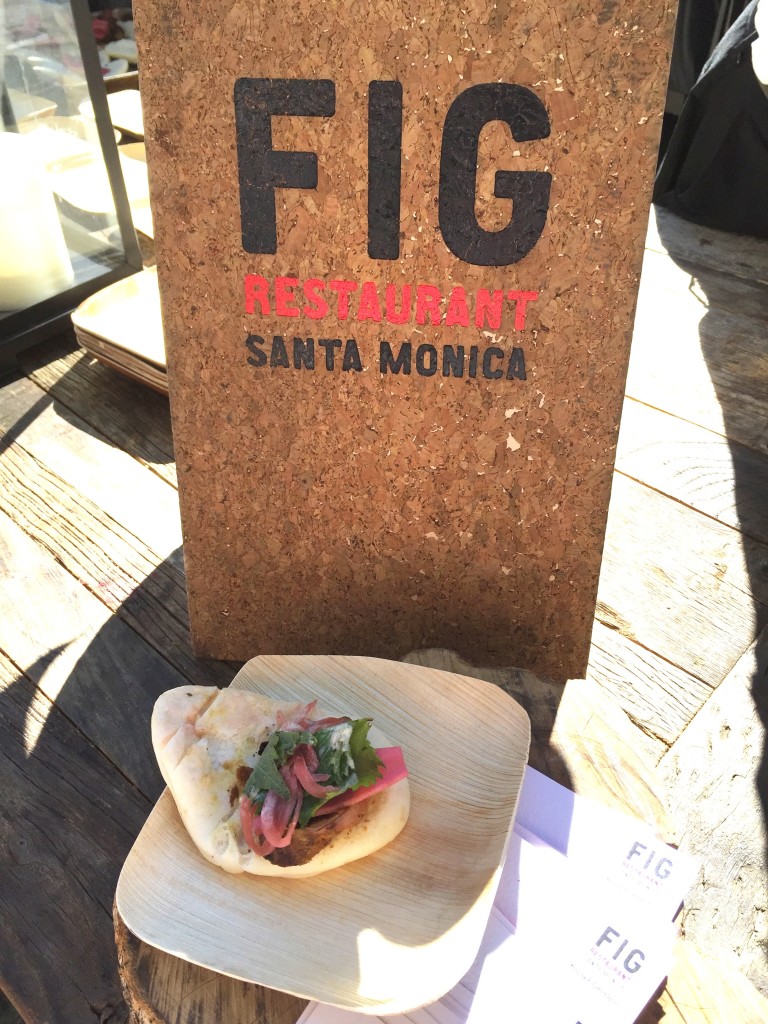 And if the puffy and inventive Lamb Bao and Lamb thin-crust Pizza, that made up  an entire completely satisfying meal in itself, are an indication of the incoming culinary staff, it is top notch,
Here Arthur J's serves up Beef Sirloin Steak Tartare, Green Peppercorn and Rye Toast.  The chef (like all the star participants) did everything to please guests, here stopping to pose.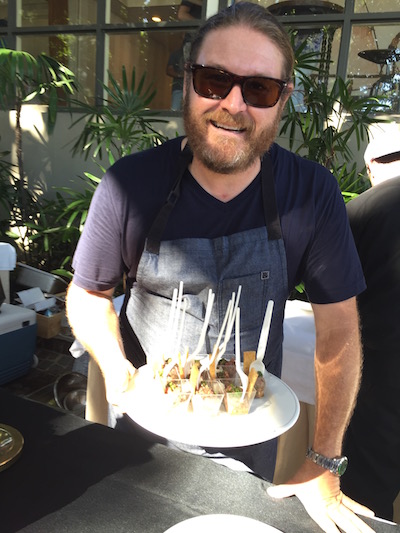 Old friends like Spago reminded us why they stay on top with new concepts and dishes like the Grilled Beef Tongue, Baby Octopus, Salsa Verde and Ciabatta shown below.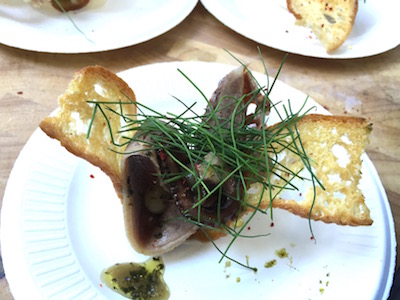 Startlingly elegant and colorful chefs and piles of lobster appeared at the stand of Knuckle & Claw,  the newest  Silverlake area star. The ladies and lobster took us back to Cape Cod in feeling and abundant tastes with full length rolls.  (ww.knuckleheadandclaw.com)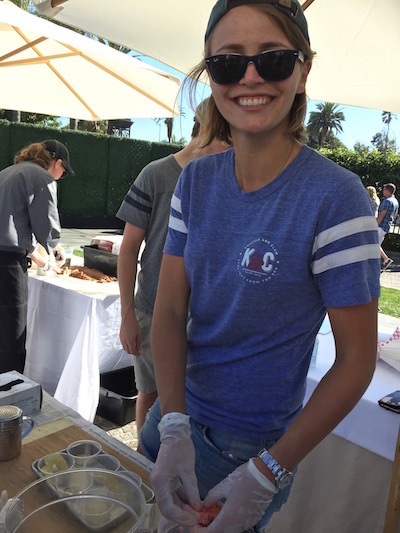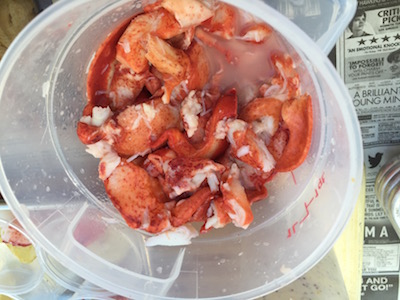 They A-plus 2015 list: Aestus; The Arthur J; Baltaire; Barrel & Ashes; The Bazaar by José Andrés; Belcampo Meat Co.; Bestia; Bombo Foods; Chaya; Drago Centro; Duke's Malibu; Faith & Flower; FIG; The Front Yard;The Hungry Cat; Knuckle & Claw; The Little Door Santa Monica; Love & Salt; Lucques; Mainland Poke Shop; MARU; Meal and A Spiel; Montage Beverly Hills; Ocean Prime; | Oliver's Prime Steakhouse; The Oyster Gourmet; Playa Provisions; Spaghettini & The Dave Koz Lounge; Spago Beverly Hills; Starlite Catering; Terrine; Toca Madera; WEST Restaurant and Lounge and You Are Loved Foods.
The Miramar resort's long u-shaped side garden driveway once more evolved into the party venue with additional space devoted to the interior design and Modern Luxury lifestyle portrayed in the publication. The last sixteen years of Angeleno's signature style, fashion and luxury lifestyle content, captured with vignettes inspired by the most memorable covers of years past and outfitted by Angeleno's fashion and interior design partners were on display. In the background guests will enjoy live entertainment by the Golden Coast All Stars, international sensation DJ Zen Freeman and Grammy-award winning artist Macy Gray.
The Project Angel Food van was on display. A portion of the ticket proceeds from Live & Dine will go to Project Angel Food, an organization that delivers 10,000 meals a week to individuals with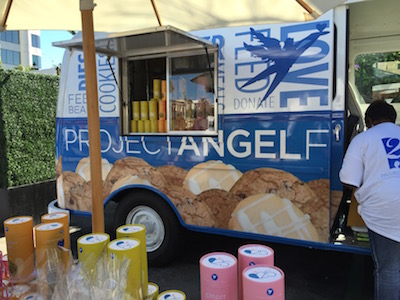 HIV, AIDS, kidney failure, heart disease, all forms of cancer and other terminal illnesses, who live below government poverty level.