Argentinian MALBEC Restaurant Honors Argentinan Beef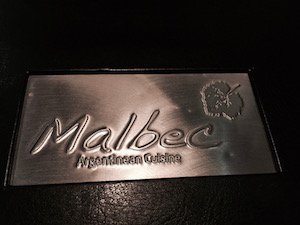 MALBEC RESTAURANTS are so pleased to offer traditional and updated dishes to complement their namesake wine that they are celebrate it regularly with special Argentinian menus, such as this current one.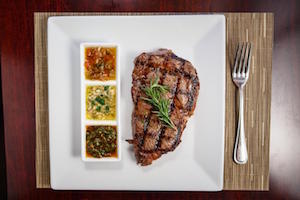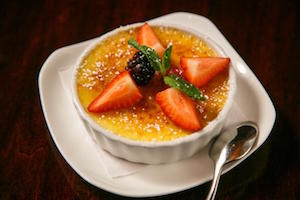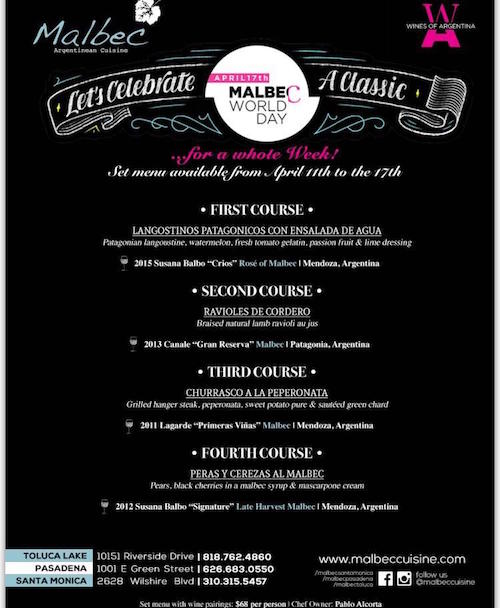 Argentina has always been known for having the best beef in the world.  Now under the MALBEC RESTAURANT name, high quality steaks and side dishes remain the mission at the Santa Monica location previously known as Ushuaia Steakhouse.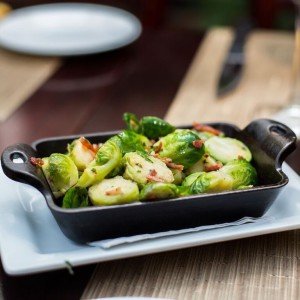 In fact,  the many vegan and vegetarian options on the new MALBEC restaurant menu inspired the removal of the word "Steakhouse" from it's title, along with the market. The restaurant affectionately labels residents of the surrounding neighborhood,  "green-living locals."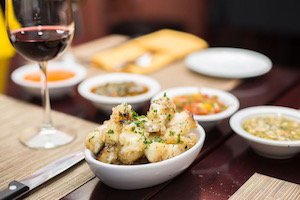 "The quality of the food will remain exquisite, however the price-point will decrease as we streamline all three of our venues to have the same menu," reports dedicated Argentinian owner, Luciano Alcorta, Malbec Cuisine CEO.  "And it will still be seasonal, still Argentinian, and still fresh." If the food, inviting atmosphere and friendly, knowledgeable staff  on site are any indication, his words are proving true.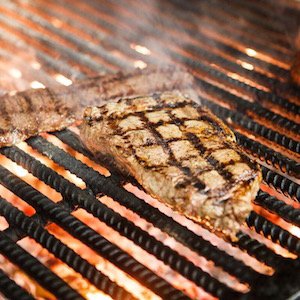 One  representative dish of the food he is describing is an unusual mixed grill that includes short ribs, chorizo and morcilla.  In it are tender, perfectly cooked sweetbreads, sausage and blood sausage – a meal in itself with the juicy white lentil salad plus fries.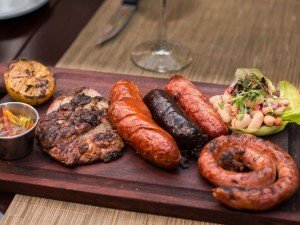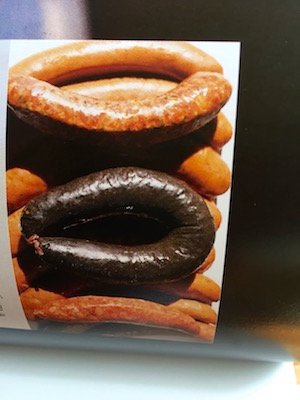 Sweetbreads is the culinary name usually for the thymus, though sometimes the pancreas is used.  Then it is also called heart, stomach, or belly sweetbread).  The "heart" sweetbreads are more spherical in shape, and surrounded symmetrically by the "throat" sweetbreads, which are more cylindrical in shape.
In Europe and the Americas, typical fillers include meat, fat, suet, bread, cornmeal, onion, chestnuts, barley, and oatmeal. In Spain, Portugal, and Asia, northern-climate cereals are often replaced by rice.
Morcilla is served in many areas of Latin America. Morcilla is sometimes made with a filler of rice and/or onions, and seasoned with paprika and other spices. In some countries of South America, morcilla is a component of the asado, a regional mixed grill or barbecue meal. Latin Americans are so fond of sweet or salty morcilla that most restaurants and supermarkets carry both versions.
Unlike the "bad boys" of the last decade who show-offed offals to show off in the kitchen, here at MALBEC RESTAURANT they are at home, grilled. This is because sweetbreads are very popular in many Latin American cuisines, such as in the Argentine aside.   In this dish the most  common preparation of sweetbreads involves soaking them in salt water to tenderize and them, then poaching them in milk, , after which the outer membrane is removed. Once dried and chilled, they are often breaded and fried. They are also used for stuffing or in pates  and served in bread in Turkish cuisine.
The word "sweetbread" is first attested in the 16th century, but the origin of the name is unclear. "Sweet"  is perhaps used since the thymus is sweet and rich-tasting, as opposed to savory-tasting muscle flesh.  "Bread" may come from
Gnocchi is served with Argentinean stew and a hearty porcini sauce, while a skirt steak benefits from the ubiquitous chimichurri. Chicken arrives with a lemon-herb sauce. Almejas Y Mejillones Provenzal (Clams & Mussels with butter, garlic, parsley, lemon juice, white wine and grilled bread).
Or for those who love street food and smaller bites, begin with the popular Argentinian favorite,  empanadas,or a chorizo and morcilla skewer with white bean salad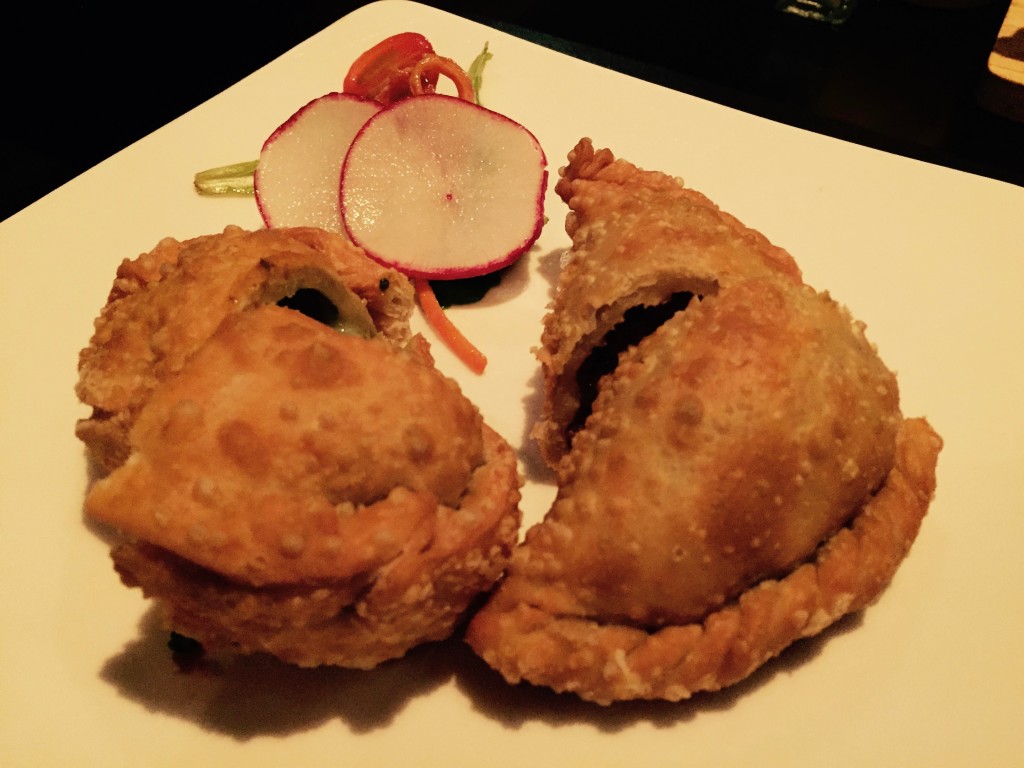 The Malbec Salad will win over the heart of any diner, whether health-conscious or just looking for a satisfying dish layered with flavor and textures.  This salad includes Hearts of romaine, radicchio, goat cheese, avocado, cucumbers, frisée, grilled bread and special dressing.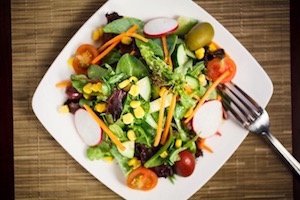 Fresh Fish is also an option, such as the dish below, served with greens and mashed potato.  Grilled fresh natural Scottish Salmon, salsa mia, Spanish rice, sautéed vegetables is also a very popular dish on the menu.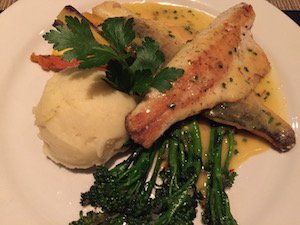 And, of course, the most popular items feature  beef, such as the Lomo Con Compota (Grass fed primes beef tenderloin, bacon, oyster mushrooms and gorgonzola compote, roasted potatoes and sautéed spinach).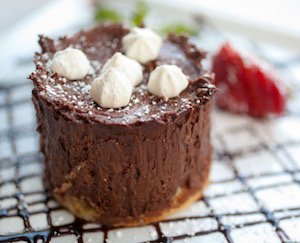 Desserts are thick, rich and luscious. Mousse De Chocolate (at left) is apparent even from the picture.  Classic flan, sponge cake layered with chocolate mousse, or crêpes with apples and dulce de leech are also options.  To accompany a meal, respectable yet very affordable Malbec among the selection of Argentinean wines are offered, with friendly suggestions from the server so the spirits complement the meal.
Open for lunch and dinner, Monday through Friday, Happy Hour from 5pm-7pm.  Dinner only on Saturday and Sunday.
Malbec Cuisine, 2628 Wilshire Blvd, Santa Monica, CA, 90043, www.malbeccuisine.com/santa-monica.  Malbec Cuisine is also at:  Malbec Cuisine, 10151 Riverside Drive, Toluca Lake, CA,  91602, and in Pasadena at 1001 East Green St,  Pasadena, CA, 91106