Asian Author Uncovers NY Food Scene in "Food Whore" Book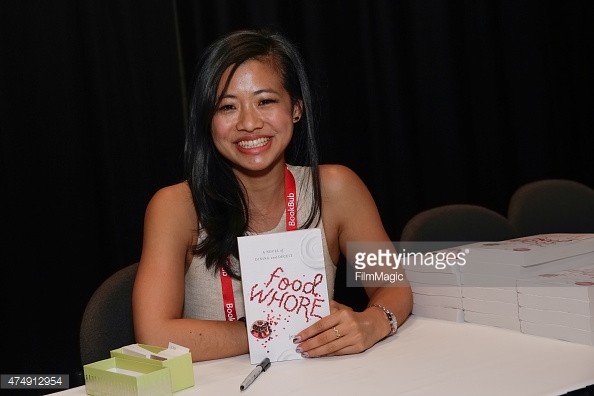 Jessica Tom's first novel, Food Whore, published this fall by William Morrow made recent news when Dreamworks acquired the rights to it; Lisa Rubin will write the screenplay.
Food Whore follows the melodramatic graduate student life of Tia Monroe, an "aspiring cookbook author" seeking an internship with revered cookbook Helen Lansky in graduate school.   She fails, despite a major article about her in the New York Times when she was a student at Yale, and the supposed help of New York Times Restaurant critic, Michael Saltz. Then life takes a new turn – as if juggling her classes, an intern job at Madison Park Tavern, a trendy restaurant, a devoted scientist boyfriend and a bizarre roommate are not enough. It turns out that Saltz had sabotaged Monroe's potential job with Lansky because of his own ulterior motives.   Since he can no longer "taste" food, Saltz seduces her into lurking around with him as his ghost writer, with the added perk of an all-expense paid high fashion wardrobe plus meals at NY's finest and most expensive.
Tia is also lured into the position because she had tasted a brief moment of fame by way of a feature story in the New York Times about her essay on making a healthy Dacquoise Drops cooking for her ailing grandfather when she was at Yale. Having the political clout and power as a critic, rather than a food writer, was also appealing. Tom knows this firsthand. Her experience is impressive and includes positions as a restaurant reviewer for the Yale Daily News Magazine work with food truck plus, restaurant and culinary program initiatives.
Tom's experience as a blogger and newspaper critic  keeps the descriptions and dialogue crisp and moving, although the food descriptions are so dense and detailed and over the top they border on satire. Her description of the clothes hardly reveal any passion for them. This is a novel designed to be commercial – and it is! In that line of thinking, we would have preferred her working title, Bad Taste. Relationships are superficial and there are many holes in the story.
For one, a food critic who can no longer taste could have either been more realistic –though this could have been a really fun idea to toy with and lampoon critics in general. Here Michael Saltz' disorder feels contrived and unreal when it actually occurred quite famously with renowned Chicago Chef Grant Achatz of Alinea who lost his sense of taste in 2007 when was diagnosed with stage 4 squamous cell carcinoma of the mouth and by the end of the year went into complete remission, by way of aggressive protocol of chemotherapy and radiation.
Tom's own story is more intriguing if not commercial. She gives hints both in her bio and in the book about a Sengalese and Asian background and we would like more of this!  Here she is with her parents.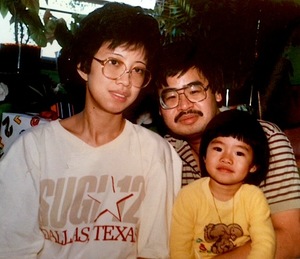 It would also have been fun to read more about her own experiences.  Reading the book and its timeline brings up the notion that it was geared toward commercial sales more than Tom's own reality.  The two images below tell the story.
Tom was an intern at ZAGAT Survey and writes in her bio outline that she ate lunch with Tim Zagat at Jean-Georges and saw "first-hand what its like to dine with a big-time food critic.
When she was 22, Tom pitched an idea for a food show to fellow airline passenger, Emeril Legasse, with the help of her mom's first class ticket that she swapped with her and a class of champagne for courage. (The show never materialized)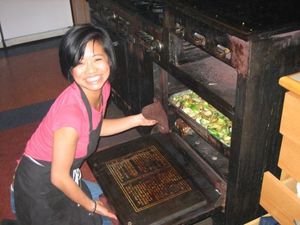 Two years later, in 2008, Tom "had an idea to merchandise a plant from my mother's native country, Madagascar. It's called anamalau, paracress, or Spilanthes, but we called it 'Tickle' because of the buzzing sensation, similar to a Szechuan peppercorn, it creates in your mouth. I chatted with every farmer at the Union Square Greenmarket who sold leafy vegetables, asking if they'd grow it. I gave some to Wylie Dufresne, NYC's master of modernist cuisine, in a plastic baggie. After deciding I'd make mints instead of growing the vegetable, I talked to candy manufacturers and prototyped a box using old matchboxes I took from restaurants. In the end, One greenmarket farm grew 30 plants, liked them, but didn't sell at market because there was no demand. Wylie gave the seeds to his personal farmer, but there was a labor issue and they were never planted.
In 2011, Tom talked the company she was working for into answering a request for culinary incubator proposals from the City of Brooklyn and the NYC Economic Development Corporation for an institution to create a home base for Brooklyn's food producers, complete with facilities, education, and community even they had no culinary programming or industrial kitchen background.  Jessica spearheaded our proposal, dreaming up a 20,000-square-foot space and won the $1.5 million grant.
We would love to read about her ten years of making her food passion pay off – including the "calculated risks plus hard work (that) will pay off." And also vow to follow her advice, "And for the times when you're too scared: Champagne."