Asian Fusion
Asian Fusion Brings Banh Mi to the Westside
(Lisa Deutch) There's a new Asian spot that we've driven by at least a dozen times without noticing it.  We  stopped in at Asian Fusion today and were beyond surprised to find an impressive Vietnamese kitchen tucked inside.
The menu is an eclectic mix of Vietnamese, Chinese and Thai with tiny nods to Korean and Hawaiian cuisine.
The first thing we had to order on  the Vietnamese-dominated menu was the Banh Mi.  This unusual sandwich puts forward the best of French and Vietnamese cuisine,  with grilled marinated beef, chicken, ham or pork nuzzling up to pickled vegetables, cucumber and jalapeños, all packed into a soft french baguette.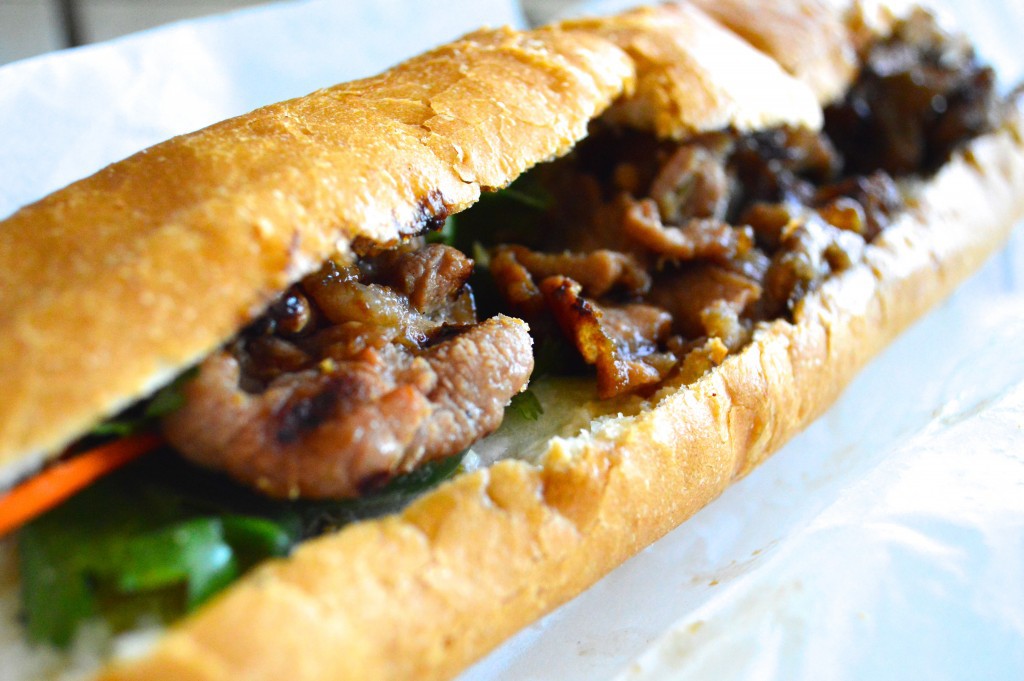 Asian Fusion's version combines everything that we love about the dish, and made it so popular. Juicy, tender flavorful pork grilled crisp at the edges  plays well against the green vegetables and the tang of picked radish and carrot, while the jalapeño gives a kick of heat to the combination.  And the staff was happy to accommodate our usual request for extra vegetables.
The menu include classic  pho, noodle soup and bun, noodle salad topped with your choice of protein, vegetables and greens all tossed together in a sweet and tangy dressing,
Chinese dishes are also on the menu, making this new Chinese voice on the westside especially appreciated.
Lunch specials are available for $7.50 to $8.95.
For a very respectable banh mi sandwich, Asian Fusion brings the flavors of Vietnam to the westside of Los Angeles , saving us a long drive down to Little Saigon and for that we are grateful.
Asian Fusion, 1710 S Robertson Boulevard, Los Angeles, CA 90035
Phone – 424-298-8247
web site – asianfusionla.com