Asian Sweet Potato Noodles, Tofu for the Home Cook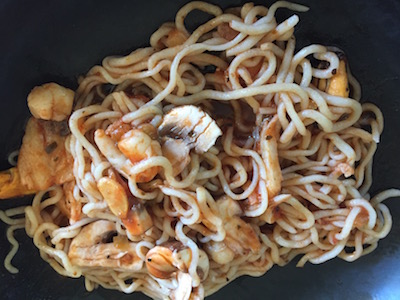 (Gerry Furth-Sides) You'd never know it to look at these delicate, almost ethereal noodles that they are made of yam.  We prepared them in a tomato-based cioppino sauce and dotted them with seafood and fish.  Shirataki in Japanese means "white waterfall."  They are the House Foods American version of the traditional translucent Japanese Shirataki made of konjac yam, also known as the "devil's tongue" yam or "elephant" yam. Once only available in Asian markets, they are now going so "mainstream" that popular Italian noodle cuts are being used.
Shirataki is used in such popular dishes as home-style Sukiyaki in Japan, a winter comfort food dish served at year-end parties, and recognized for the flavor of soy sauce, sugar and mirin in the classic broth.  Vegetables accompanying it are dipped in a small bowl of raw, beaten eggs after being cooked in the pot, and eaten with the dish.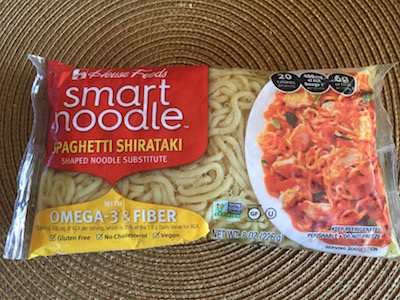 We used the package shown here to make the dish.  The suggested recipe is for Chicken Pasta with Creamy Marinara. It calls for heavy cream and "low sodium" diced tomatoes in their juices, plus shredded Parmesan cheese.  This recipe seems to contradict (or allow such rich ingredients because of ) the key nutritional terms on the package:  20 calories, 400 mg of ALA Omega-3 and 6 grams of fiber per serving.  It reminded me of a dear and brilliant friend who was a vegetarian who ate large bags of potato chips at a time.
The Noodles, billed as "a noodle substitute"  are mostly "water, oat fiber, yam flour, milled flaxseed, rice bran fiber and calcium hydroxide," still send a message of health. Add to that that they are "cholesterol and gluten-free plus vegan."  The low starch, low carb noodles are a natural these days with the popularity of paleo-type American diets (my natural preference, I admit), even though they provide more of a background for a dish (like broth, but more filling).   They are even billed as  "points" for carb lovers on certain diet programs.
Noodle and pasta lovers should love the healthy aspect because they provide omega -3 and fiber (25% of the daily suggested requirement for fiber, 10% of calcium). Two servings per package are listed.  I was completely happy  with half the portion for a meal, along with a mixed green salad.  These noodles do fill, and I stayed satisfied for hours – minus the cravings that arrive all too soon after other high carb dishes.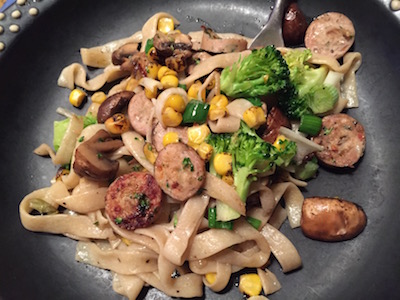 The selling point to us in the end, paleo or not:  it  turned a balanced dish into a lovely, colorful, satisfying and healthy meal. Our Italian kale and herbed chicken sausage, mushroom, broccoli in roasted Fettuccine (pictured above) was a variation of  the package suggestion.  We omitted the kale, heavy cream and red pepper from the recipe on the package.
A cautionary note here.  The barcode square on the package to "scan for recipes" is awkward to use because of the damp package containing liquid.  Also, the recipe on the bag to make the noodles reads:   "follow the directions on the bag." It took a bit of looking with the Fettuccine package.  We didn't even find the directions on the Spaghetti package because they are located under the crease on the back of the package, not visible unless you raise a folded flap secured at each end.  Also, "rinsing thoroughly and draining and boiling for a couple of minutes" is recommended "to reduce the authentic aroma" before "cooking as with regular cooked noodles.  The "(unappealing) authentic aroma" of the yam noodle is common knowledge, but we did not smell it.
We drained and dry roasted the noodles after reading that it got rid of the bitterness (which we also did not notice in our spaghetti noodles).  We simply placed the noodles in an All-Clad skillet (non-stick is indicated) on high for a minute or two — the trick is to hear a slight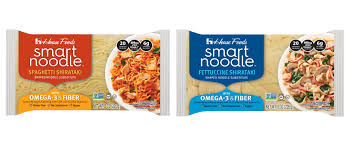 squeaking noise when moving the noodles around.  It does squeak! Then we added the ingredients plus grapeseed and chili oil seasoning.  Simple. We dotted the pasta with hard boiled Quail eggs over the other portion to emulate the Japanese version.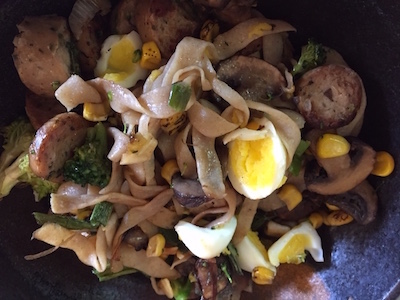 House Foods Tofu is as carefully manufactured as the Smart Noodles, with equally high standards.  It comes in soft , medium, firm and extra firm, and has a much denser consistency than freshly made tofu.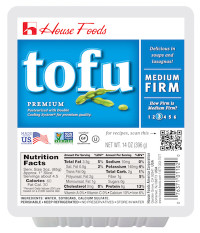 All products are made from U.S. grown, Non-GMO soybeans of the highest quality. Having production facilities on both east and west coasts enables House Foods to provide the freshest on the market.
The noodles and several boxes of tofu were, in fact, delivered with an assurance of freshness, in person and in a styrofoam box with dry ice, by Ernie Peraza, Regional Sales Manager of the American Sales Division in Garden Grove, California.  This certainly follows the brand's mission:  "delivering healthy ingredients for home cooking to generations of health-conscious families is our number one priority." (Noodles in liquid naturally don't store as long as dry.)
Dr. Bob Hansen, professor at LaVerne College and Walnut, California resident, described the The Pioneer Brand Tofu as "exceptionally flavorful and fresh-tasting.  It made me want to eat Tofu more — this is now one of the rare, if only, packaged foods in our fridge that is healthy and that I love."
Owner Katy Noochlaor of Tuk Tuk Thai in Los Angeles flash-fried the tofu and "really liked the texture.  It was delicious."  Professor Annetta Kapon of Otis Art Institute did the same and found it "not the prettiest crust, but wonderful."  Like my House Foods  Tofu at home, the chunky tofu tasted much better than it looked.  Not so at SlowfishLA, where Korean Chef An laid a row of serrated squares of the tofu next to the seaweed salad tower shown here.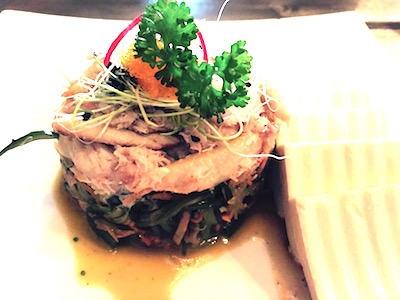 The following is a Useful Plant-based Tofu Product:
Organic Soft Tofu
Smooth block that has a delicate body and a mild, milky flavor
Great alternative for dairy and eggs in desserts and baked goods; works well in savory dishes
Good choice for dishes that require braising or boiling
Great for soups and dressing
Also available in Premium Tofu (non-organic line)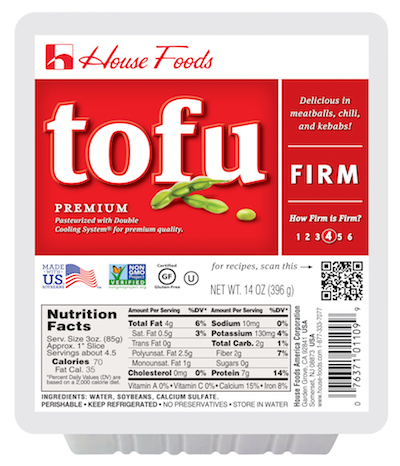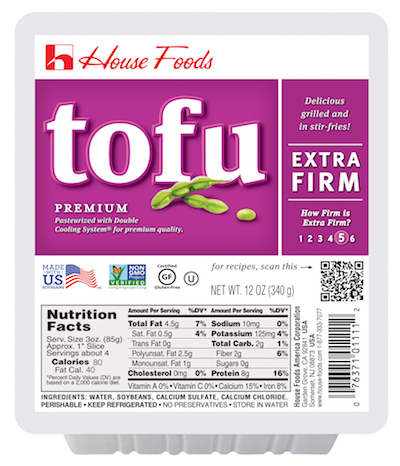 Organic Firm and Extra Firm Tofu
A go-to choice for tofu newbies (because of the texture)
Great for savory dishes
Holds up well to frying and grilling
The firmest of all tofu; highest amount of protein (8g per serving)
Consistency makes it suitable for heartier dishes and replacing meat
Firm and extra firm tofu can be used interchangeably in many recipes
Products with the House Foods Tofu label are available at Sprouts, Kroger and Costco nationwide, and select Whole Foods and other local retailers.
Suggested retail price: $1.99 – $2.49 per package
For more information, recipe ideas and nutritional facts, visit: www.house-foods.com. A  Tofu Shirataki was the original version.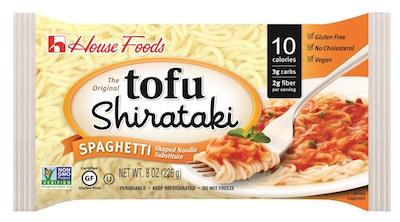 For home cooks who want to make their own Tofu, Morinaga makes a Tofu Kit in a carton.  See the video below.Morinaga
 Nutritional Foods recently released a "Make-Your-Own Tofu Kit". Traditional Japanese silken tofu can be made in 4 easy steps in the comfort and convenience of your own kitchen.
Each kit includes:
6 packages of Make-Your-Own TOFU KIT Soy milk
6 pouches of Make-Your-Own TOFU KIT Nigari (coagulant)
and 1 Tofu Maker Kit (momen tofu press)
Morinaga Tofu is always:
Free of preservatives
Non-Dairy
Gluten Free
Made with non-GMO soybeans
You can see how how easy the process is and read about it at: