Award-winning Chicken Pankhuri at India's Oven, Brentwood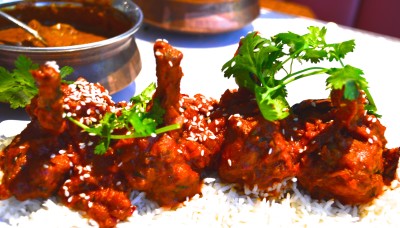 (Gerry Furth-Sides) They are described simply as "Wing-shaped chicken drumsticks marinated in Chef's Secret Sauce" under the "Non-Vegetarian Appetizer section of the menu. But India Oven's Chicken Pankuri earns "best starter," award, chicken or otherwise, anywhere as soon as they arrive at table — a spunky row of drummettes demurely posed over a bed of rice on a narrow plate. The "Secret Sauce" provides a smooth permeating heat. (all photos are courtesy Lisa Deutsch, Essential Wanderings)
"Pankuri" means flower petal in Indian, and usually describes a girl who is pure and free like a feather. It applies as well in this case to Chef Dewan Bisht's Chicken Pankhuri. The chef beams but keeps the sauce ingredients pretty much of a secret.   Like most of the menu, this is a unique dish is not commonly found on Indian Restaurant menus.  This is a a chef who presides over a large and highly qualified kitchen.
"Delicacies" on the menu also accurately describe the dishes under the categories of Tandoori and Bar-Be-Que, of Lamb, Chicken, Seafood or Vegetarian and Rice. Vegan, Soup, Raita and Salad; Combos, Breads and Dessert comprise the rest of the sections.
Indian's Oven meat selections are halal, which in Arabic means "permissible," and refers to how meats are slaughtered and carefully prepared according to Sharia or Islamic law, as described in the Koran. Halal menu offerings can be very exciting because they often boast ancient roots and are steeped in centuries of histories, not to mention the evolution to perfect them and the chefs who prepare them each add their own special touch.
The team is impeccable.   Owner Sham is at the restaurant on a daily basis to ensure the high quality and hospitality. Formerly trained, Chef Dewan Bisht of New Delhi is one of the few Indian Restaurant chefs with a name and a following. He is a well known master of vegan and desserts.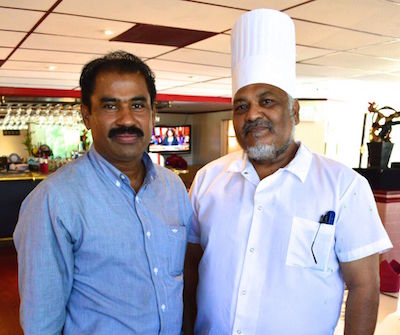 Serving Northern Indian for 30 years in the same location, India's Oven the defines itself accurately as "The Ultimate in Indian Cuisine." You can feel this spare, elegant sophistication as soon as you enter the large double space room with mirrors on one wall and windows on the other two, overlooking the city from the second floor. The white tablecloth room with colorful appointments feels both calming and festive at the same time.
Proof of the superlative vegetarian Appetizers, start with the Papari Chat, mini crispy Indian pappadum wafers and variety of naan, served with a trio of refined chutneys and rait.
Hara-bara Kabab may be rare on the menus of local restaurants but the , patties fashioned out of a combination of spinach, paneer, green peas and nut are considered the most popular vegetarian kabab of Hindi cuisine in North India, and found on every restaurant menu there. Hara-bara Kababs are fairly mild and so an inviting way to start a meal and whet the appetite. Crunchy and light and substantial, they are also healthy and rich in Iron, Folic Acid, Calcium and Fiber.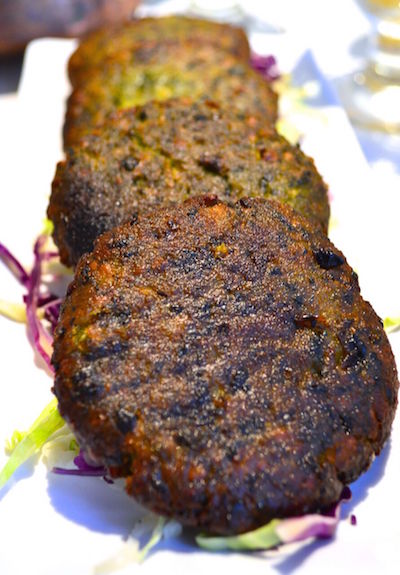 Saag paneer at India's Oven is like eating it for the first time — super silky smooth with balanced flavors, it is considered one of the best, if not the best, in the city. Traditional Chicken Curry also turns out to be refined, clearly tasting of the careful preparation, fresh ingredients and myriad of fresh spices in the dish.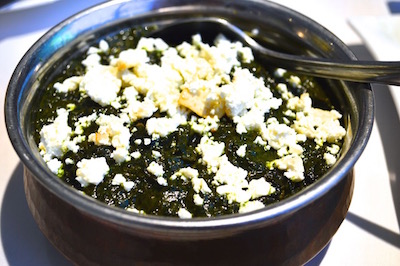 Gobi Manchurian is a more southern dish, Indo-Chinese and evolved into a fun dish of cauliflower fritters, bell pepper and onion woven together in a tangy sauce.   This is a perfect side dish because it combines all the elements of a crunchy appetizer and healthy and until recently, an unusual vegetable for a restaurant menu – proving once again the rich history of Indian cuisine where cauliflower has always had a welcome place.
Silky Lamb Hyderabadi, a lamb in curry leaf flavored with coconut milk reflects the royalty of its history. The Hyderabadi was a Indian princely state in the south-central area of the country with rulers known for being great patrons of rich food, literature, art, architecture, culture and jewellery. Many of the dishes have a Persian influence since the Nizam rulers patronized the Persian culture. What is the definition of rich? The last Nizam was considered the richest man in the world. A feeling of this luxury definitely permeates India's Oven's ambiance and cuisine.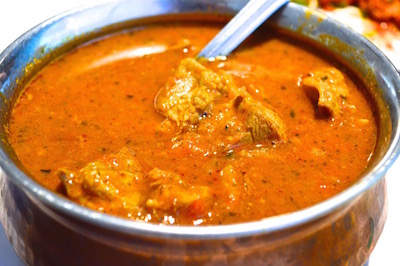 Prawn Biryani aromatic rose water flavored basmati rice with tail on black Tiger Shrimp. India's Oven elevates this already sumptuous Biryani rice dish by adding the seafood.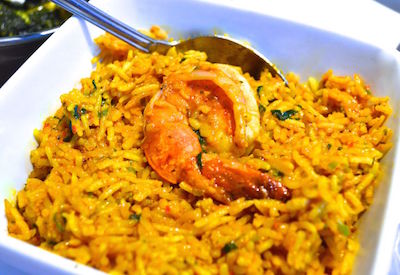 Examples of the India's Oven menu selecting dishes from all regions of India with Goan Fish Curry from the south, a Fish of the Day Cooked in Coconut Milk. The dish is a specialty of Goa, which in itself was highly influenced by Portuguese occupiers.
A beautiful presentation of Kulfi (Indian Ice Cream) of pistachio, mango and chocolate completes the meal — if you still have room.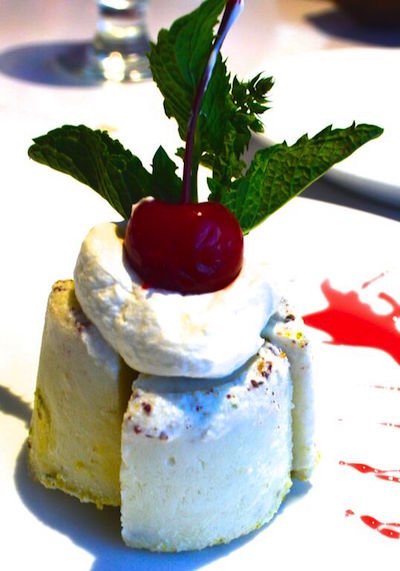 In addition to the challenge of limiting choices on the enticing India's Oven menu, it is so easy to linger over meals, where service is effortless and the food so satisfying. There is 90 minutes free parking in the building and this is rarely enough for diners who do not want to leave.
(http://laindiasoven.com/)11645 Wilshire Blvd, 2nd Floor, Los Angeles, CA 90035