Meat and SO Much More Star at Fogo de Chão's Brazilian Steakhouse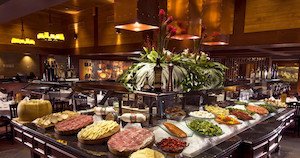 The biggest surprise about our meal at Fogo de Chão, ("fire on the ground"in Portuguese),the world's leading Brazilian steakhouse/churrascaria, were the superb side dishes that stood up and sometimes above the Brazilian-born gaucho chefs' authentic, superb grilled meats – from beef filet mignon to Brazil's signature piranha.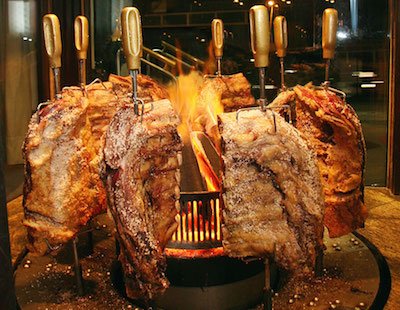 The experience is as straightforward as a gaucho campfire only magnified a thousand times and done in the most tongue-in-cheek, theatrical manner.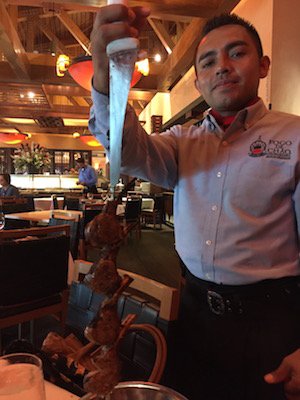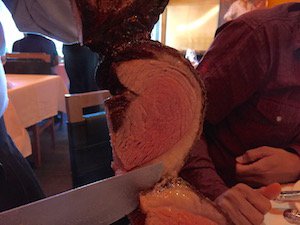 Yes, the show is all there with gaucho's bearing filets and steaks of beef, lamb chops, shrimp and seafood carving off the exact slice you choose, rare, medium or well-done. A small plate and a pair of tongs at every place setting is there to nap the sliced off meat from the skewer when the gaucho slices it off for you.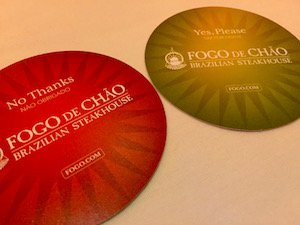 The fun of the experience is simply placing your cardboard disc as a sign to the passing gauchos on the table as they pass by with skewers.  The green disc signifies  "yes" (sim, for favor) to have them stop by and red for "no Thanks (obrigado)." The steady offer for more food is one of the churrascaria.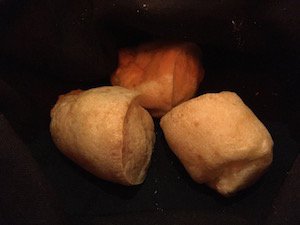 What can you say about cheese dinner rolls?  Baskets of Brazilian yucca-flour cheese puffs, pão de queijo, put mini-popovers in mind with their paper-crisp exterior and spongy interior and are as addictive.  We are paleos who adore beef, shrimp, lamb chops and every kind of beef.  We could have made a meal of these freshly baked little beauties, we stopped wondering whether it was the buttery, puff pastry texture or something else instead in order to go on with the meal.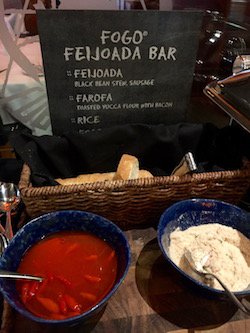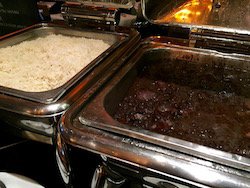 We could also have made a meal of the national dish of Brazil, at the Feijoada Bar where half-pans are replenished filled with warm Black Bean Steak Sausage and Farofa (Roasted Yucca Flour with Bacon) and "dirty rice" of rice with beans and special seasonings.  But, oh those seasonings.   This dish is a ritual every Saturday for all Brazilians.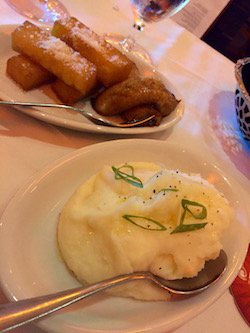 Caramelized bananas, hot, warm cheese polenta, and garlic- mashed potatoes are also places on each table in the dining room.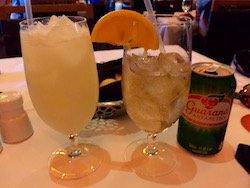 Fresh lemonade and the Brazilian national drink start off a meal although there is a long wine list. Fogo de Chão is the only restaurant brand in the Americas to have at least one level one sommelier in each restaurant and one of the largest lists of South American wines.  Caipirinha is usually the order of the day, the national drink of a lime juice-infused cocktail prepared with a sugar cane liquor, cachaça.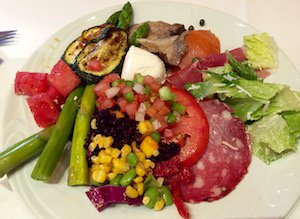 This is a salad plate from the buffet table and a fraction of what is available, all made from farm-fresh ingredients and seasoned perfectly.  Again, yes, we could have made an entire meal of the salads – perfect for vegetarians.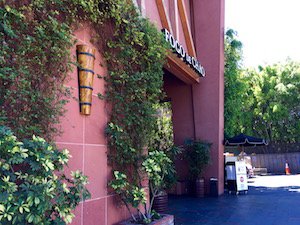 The Fogo de Chão experience begins as you enter the magnificent restaurant facade with soaring ceilings inside and host Dan to welcome you.  A smiling valet gave us the option of parking our own car that us happy. It was the beginning of hospitality that lasted through the meal.  It is a "show" with a warm spot for its audience.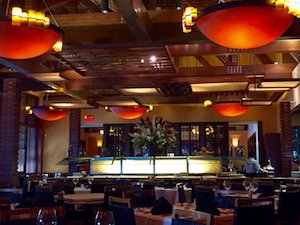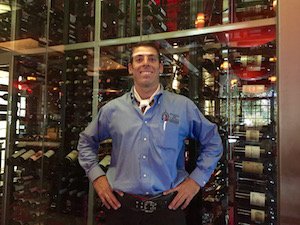 Inside Manager Leo, Leonardo Bauer (above) and Host Dan (below) took over the hospitality inside.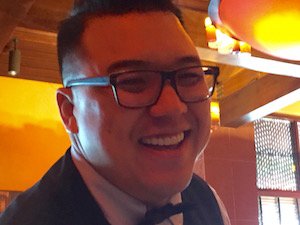 Fogo de Chão is a leading Brazilian steakhouse, or churrascaria, which has specialized for more than 36 years in fire-roasting high-quality meats utilizing the centuries-old Southern Brazilian cooking technique of churrasco.
 The company was founded in 1979 in Porto Alegre, Brazil, and expanded into the U.S. in 1997.  There are currently 42 locations throughout Brazil, the United States, and Mexico For more information, visitFogo.com.   "The Gaucho Way,"  video shot through the eyes of real Fogo de Chão Brazilian gauchos  explores the restaurant's deep cultural roots in Southern Brazil.
FOGO DE CHÃO –  133 N. La Cienega Blvd., Beverly Hills 90211 (310) 289-7755