Best Easter Banana Bread with Gluten-Free BLENDS BY ORLY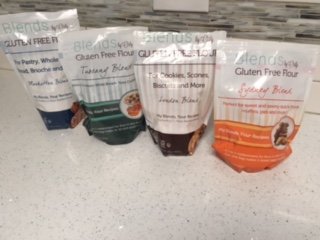 (Roberta Deen) Sydney Blend in the line of Blends By Orly gluten-free flours turned out an irresistible, moist, India-inspired banana bread in our kitchens.
Continuing the theme set by the London Blend for Maharani Curried Scones, (that wowed the crowd), the Sydney Blend also really came through for me..   The Sydney flour is designed for sweet and savory quick-breads, muffins, pies and more.   Using a new technique developed by Cook's Magazine and my own banana bread recipe allowed my imagination to soar.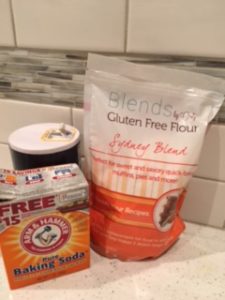 PRINCESS BANANA TEA BREAD
Preheat the oven to 350 degrees.
Line the bottom and two short ends of an 8-1/2 by 4-1/2-inch loaf pan with a strip of parchment or waxed paper.  I like to use my enameled Le Cruset pate pan. It gives the loaf the right shape for tea sandwiches or dainty bites and it bakes the bread very evenly.
5 large, very, very ripe frozen in-the-skin bananas (You know the ones in the back of the freezer that you were                   saving to make banana bread.)
Thaw and squeeze them out of their skins into a fine meshed sieve set over a bowl
Squeeze hard on the skins to extract as much juice as possible
Let them sit in the sieve, stirring now and then to release more juice, for 15 minutes
You should get a scant ¾ cup of juice and about 2 cups of pulp.                                                                                        Simmer the juice in a small pot over medium heat until reduced to ¼ cup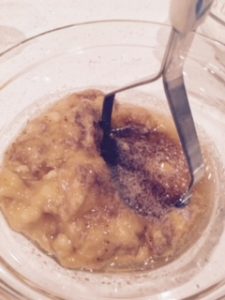 In a medium bowl, whisk together:
1-3/4 cup Sydney Blend                                                                                                                                                           1 teaspoon baking soda                                                                                                                                                                         1/2 teaspoon salt                                                                                                                                                                                     1/2 teaspoon ground cinnamon                                                                                                                                                           1/2 teaspoon ground cardamom                                                                                                                                                         1/2 teaspoon ground nutmeg
In a large bowl, whisk together:
8 Tablespoons sweet butter, melted and cooled
2 large eggs
1 teaspoon real vanilla
¾ cup dark brown sugar, packed firmly
2 Tablespoons Sweet and Spicy Crystallized Ginger (Trader Joe's)
2 Tablespoons minced, dried, unsulfured, unsweetened dried mango (Trader Joe's)
2 Tablespoons chopped pistachio nuts, preferably unsalted
¼ cup reduced banana juice
The banana pulp
Gently stir in the flour mixture only just enough to blend.
There will be some flour streaks still showing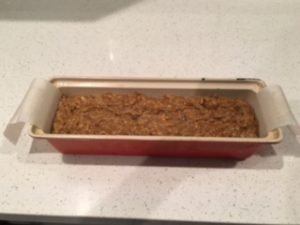 Turn the dough into the prepared pan
Bake for 55 minutes, minimum.
Check to see if a toothpick inserted into the center of the loaf comes out clean
If necessary, add time, 5 minutes at a time, as needed to get a clean toothpick
Cool loaf in the pan, on a cooling rack for 10 minutes
Run a small thin knife down the sides that have no paper lining
Keep the blade of the knife turned toward the pan to avoid cutting the crust
of the bread
Turn the bread out of the pan on to its top, remove the paper, and turn the loaf over
Let cool for at least 1 hour before serving or cutting
If not using right away, cover snugly in plastic wrap
Can be refrigerated for a day or two (If it lasts that long!) or freeze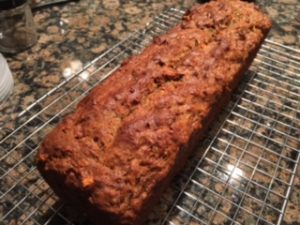 I cut the bread into 1" cubes which I topped with a dollop of Mango Greek yogurt.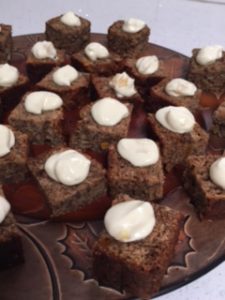 It would also be great as finger sandwiches with a cream cheese and mango spread.
No one would believe this was gluten-free. All the tasters thought the mango yogurt was the perfect touch.
Note: The entire line is usable 1:1 in place of regular wheat flour. Each 20 ounce bag comes with a recipe on the back and more recipes are available from the website – www.blendsbyorly.com. The production of Blends by Orly is impeccable – made in dedicated factories that are never shared with gluten, tree nut, dairy and corn and all natural. I recommend this brand of flour blends to all true celiacs and to the people who love them. The product is packaged in zip-top heavy-duty bags that extend the shelf life of the flours.
Each flour is cleverly named after one of the great cities of the world. After receiving her formal patisserie training from Le Cordon, Orly Gottesman went to work in a bakery to learn recipes to give her husband back his beloved pastries, found she liked the work, became a baker, opened a bakery and developed these blends to give a proper taste to gluten-free home baking. Although each blend contains nearly the same ingredients, the mixtures are designed with the proportions needed to give the correct balance for a certain outcome.
(You can see the video with Orly's story and recipes on the website) http://blendsbyorly.com