"Recipe in a Bottle" – Rice Pudding Dessert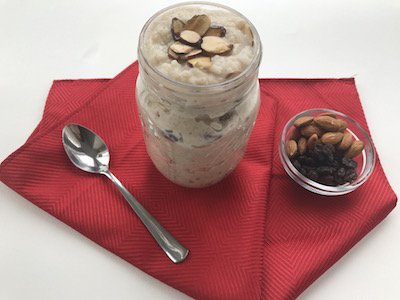 (Gerry Furth-Sides) Basmati Rice is becoming all the rage these days because it is gluten-free.  The global basmati market continues to grow at an average rate of 15% to 18% a year because of its delicious taste and nutritional value.
Dessert Rice Recipe in a Jar
For an easy recipe in a mason jar or any bottle, pick up a small bag of Basmati rice and put together a novel Rum Raisin Rice Pudding recipe. The jar layers will be the following:  Rice goes into the bottom; into the middle go the raisins, and the top layer has almonds.  Tied to jar: mini rum bottle in which to soak the raisins.
Rum Raisin Rice Pudding recipe.

Ingredients
•         1/2 Cup uncooked Basmati rice
•         2 tablespoon of dark rum
•         ½ tsp. Vanilla extract
•         2 cups Milk (can be substituted with almond milk or soy milk)
•         1/3 Cup Sliced Almonds
•         ½ Cup Raisins
•         1/2 tsp. Salt
•         ¼ tsp. Cinnamon
•         Dash of Nutmeg

Directions
1.     On stovetop, toast almonds, stirring frequently, for 3 to 5 minutes. Set aside to cool.
2.     In a small bowl, soak raisins in dark rum.
3.     In a saucepan, heat milk, rice, cinnamon, nutmeg and salt to boiling.
4.     Reduce heat to low, cover, and simmer 25 minutes or until tender, stirring occasionally.
5.     Stir in raisin mixture and toasted almonds. Serve warm.
Nicely nutty in flavour yet sweetly fragrant and delicate, Amira Pure Basmati's natural-white rice grains stay separate when cooked.
Most basmati rice consists of mixed grains; some pure; some not. Natural  basmati rice is grown in the foothills of the sacred Himalayas, and aged, true to tradition, for 12 months.It contains no gluten, which makes it one of the best non-allergic foods this makes it possible for people who are allergic to gluten to take in many great nutrients.  Diabetics can also eat rice since they need these proteins and rice inherently does not contain sugar (though sushi rice is prepared with sugar).
Rice contains different types of Vitamin B, D, calcium, fiber, iron, and a variety of minerals that are essential for our bodies.
Another health benefit of rice is heart-related. Bran oil made from rice contains powerful antioxidants that can aid in making our heart more resistant to heart-related diseases. Although "bad" cholesterol can be damaging for the health of the heart, rice, can help you lower cholesterol levels because  it does not contain bad cholesterol.
Rice contains all the amino acids essential for building and maintaining muscle tissue, and make up antibodies, enzymes, and hormones. These amino acids also help maintain healthy skin, hair, eyesight, and nousish the heart, lungs, tendons and ligaments, brain, nervous system and glands.
Rice also contains many energy-enhancing carbohydrates while it remains very low in fat, salt, and sugar.  The essential amino acid methionine found pre-dominantly in rice helps mobilize fat from the liver.  The Indian diet is dominantly vegetarian, getting proteins from rice, especially the essential amino acid methionine and the conditionally essential amino acid (which becomes essential under conditions of stress) tyrosine is crucial.
The pudding recipe was offered by Amira Rice, owned and operated by the Chanana family in the United Arab Emirate since 1915.   Chanana became CEO and chairman in 2006, making him the fourth-generation family member to run the company.
The fascinating story is that this United Arab Emirate conglomerate has evolved into a leading global provider of branded packaged specialty rice, including Basmati and other food products, with sales across five continents around the world.  Amira buys roughly 5% of India's annual basmati harvest in the form of rice paddy (the unprocessed grains) and supplements that with purchases of semifinished rice to meet demand.
The Company primarily sells Basmati rice under its flagship Amira brand as well as under other third party brands.  New to the United States market,  Amira products are available online and in several  restaurant and consumer wholesale outlets.  Nature Foods Ltd is listed on the New York Stock Exchange (NYSE) under the ticker symbol "ANFI."