Best of the Best Spanish Artisanal Meat at La Española Meats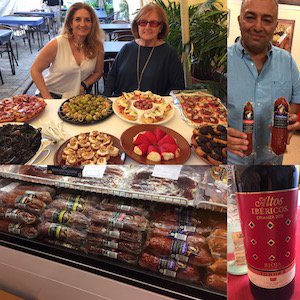 (Gerry Furth-Sides) The day we visited La Española Meats in La Habra one sunshiny fall day, a special envoy delegation from Spain was visiting with a tasting of newly imported artisanal products.  This hints at the importance of the small boutique store that makes the Doña Juana brand of chorizo right in the adjoining building.  In fact it is the boutique and the lovely side garden dining area that accent the factory itself.  It transported us to a leisurely afternoon in Spain. http://www.donajuana.com
We food writers were enchanted with the products and the hospitality.  I even found myself choosing Barcelona as the city  I most want to eat a meal on in a recent quiz because of it!  And this was over Paris and New Orleans!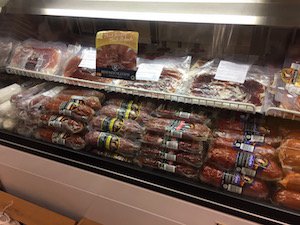 Founder-owner Juana Gimeno Farone founded La Española because the rich sausages and hams from Spain were not allowed to be imported in the 70's.   So Faraone began making her own, packaged under the Doña Juana brand.  The artisanal products being introduced into America today include meats, cheese, wines and sweets but still exclude pork products from pigs raised in Spain.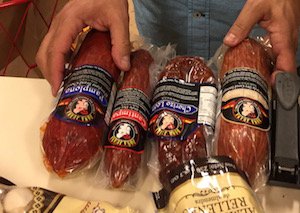 It is very different from Mexican chorizo because it is more like hard salami — and so can be served as you would meat on any charcuterie board without cooking.  Each salami is slightly different in terms of spices and texture.
Paella is served every Saturday to guests in the outside area – a cordial gesture and one that enhanced every food lover's attention to the company.  Because the product was not allowed to be imported even in the early company days, Farone did her best to acquaint food lovers not only with the chorizo but how to prepare and use it. A live flamenco performance makes the last Saturday of the month even more special.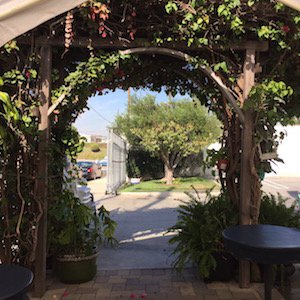 Outside in the magical garden dining area, founder-owner Juana Gimeno Farone, and her daughter, Mari Carmen introduce a table of tapas highlighting the products.  In Spain the small, perfect salty bites are served with complementary wines and beers.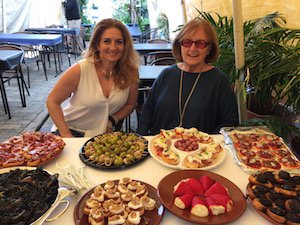 The paella arrived from the back room in a copper pan, burnished from use. Bomba rice, cooked beautifully, has the golden glow of saffron.  It is dotted with several kinds of chorizo, chunks of pork, chicken, mussels, shrimp, piquillo peppers and squid.   Mixed spiced olives, freshly sliced, artisan chorizo, dried fava beans cooked with tiny clams and croquettes add to the mix.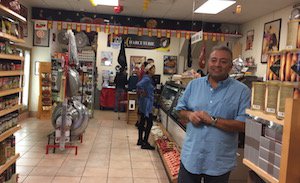 Faraone's son-in-law, amiable Iranian (!)  Alex Motamedi, operates the business with his wife.  He is passionate and detailed about explaining the Spanish meats, cheeses, wines, olive oils and assorted conservas of vegetables and fish on floor-to-ceiling shelves in the compact little store adjacent to the plant.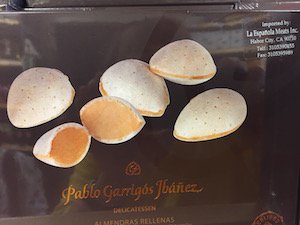 As the the holiday shipment of special artisan products were being placed on the shelves,  Alex was adamant we try a sample of whatever caught our eye.  We purchased boxes of as many of them as we could, including the Almond-shaped confection above with a kind of marzipan paste filling inside the papery-thin shell.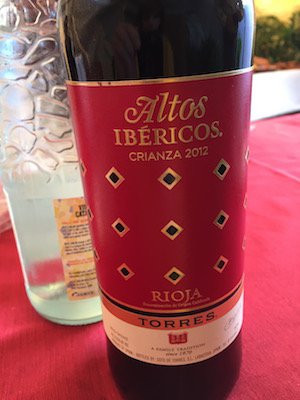 The red wine from Altos Ibericos was only available at La Espanola Meats this season.  It had a rich, fruity flavor and we purchased several bottles for gifts from the shipment.
The GPS had a "field day" with the address of La Español Meats. It directed us exit the 110 freeway  (off the 405 toward San Pedro) at an early exit on a complicated route to the factory, including a field tour around the block from the street behind it.  So much simpler to exit at Sepulveda right in Torrance, take a quick left to Vermont, straight and a right on Lomita.  And you are there – in Spain –  in a few minutes!
(http://www.donajuana.com) ,La Española Meats, 25020 Doble Ave., Harbor City, (310) 539-0455.  Hours: Mon-Fri, 8:30 am-5:30 pm; Saturday from 9AM to 5 PM.  A short sandwich menu is available everyday, and the ladies will add product you purchase in the store, like special cheeses.  Please call ahead to make Paella Saturday reservations.  The House paella is $9 plus tax.