Blue Moose American Regional Dips from Colorado
(Gerry Furth-Sides) All anyone needs to do to get my devoted attention is mention the state of Colorado and I am there.  My dad in the 10th Mountain Division trained at Camp Hale in the Rocky Mountains and we drove cross country to spend two weeks on the slopes every spring.
And so it was with Blue Moose of Boulder cheese spreads. (www.bluemooseofboulder.com).   When this very American company told us about their ethnic-inspired flavors  (hummus, pesto) and the news that some of the spreads are available at the epicurean Gelson's Market in southern California, we agreed to try them.  A box was at our doorstep in not even two days– just what it used to take to drive cross country!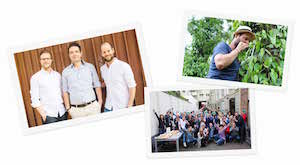 The spreads are rich in taste with a creamy texture,  with the main ingredient clearly and boldly standing out, whether it is red pepper and ages cheddar cheese or basic pesto, or smokey classic or green chile hummus –with no fatty residue afterward.  The density and depth of flavor is singular.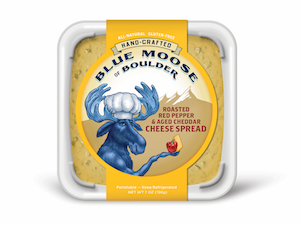 Above to enhance a platter of charcuterie and credit is the Roasted Red Pepper & Aged Cheddar Cheese Spread – Sweet roasted red peppers and earth artichokes are mixed with cheddar cheese.  It almost looks like the texture of egg salad because it is so packed with cheese and peppers.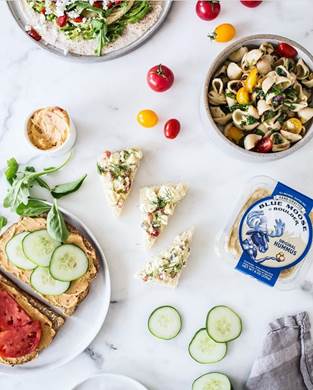 It simply takes fresh veggies such as tomato and cucumbers on a crustless piece of chewy bread to have the perfect middle eastern bite.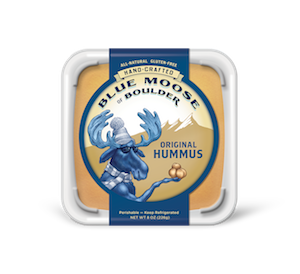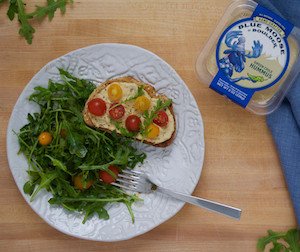 To keep up with the 2016 top trend of "anything on toast,"  try  Blue Moose of Boulder Green Chili Hummus on a piece of toast with arugula and teardrop tomato.  We can't wait to try it on an egg omelette.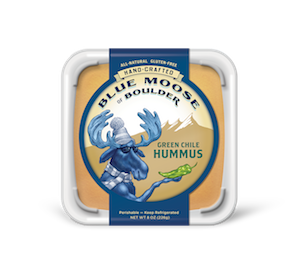 Green Chile Hummus – Colorado green chilies add a mild kick to this hummus.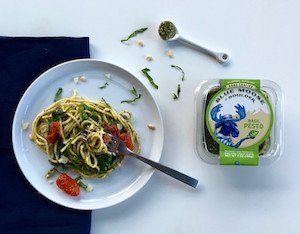 For the home cook, spreads that enhance pasta and other dishes are available.  We used the rich, dense Basil Pesto on leftover turkey, lettuce and tomato sandwiches during the Thanksgiving eeek-end.
Basil Pesto – A classic Italian pesto comprised only of fresh basil, grated parmesan cheese, extra virgin olive oil and pine nuts.
Nut-Free Basil Pesto – This pesto was created "for our friends" with nut allergies, because everyone deserves to be able to eat pesto!
Other flavors include:
Roasted Red Pepper Hummus  – Balanced with bits of roasted red pepper in every scoop.
Garlic Hummus – A balanced, subtle combination of chickpeas and roasted garlic.
Lime & Black Bean Hummus – Rich black beans and a squeeze of fresh lime combine for a tart and dense flavor.
Smoked Chipotle Hummus – Smoked chipotle peppers add some heat to this hummus.
Green Chile & Aged Cheddar Cheese Spread – A savory spread balanced with mild green chilies and cheddar.
Tex-Mex Smoked Gouda Cheese Spread – a bold fusion of Mexican and American flavors in this spread.
Southwest Pimento Cheese Spread – with  bites of pimento pepper heat
The R & D department has these dips in the works.
Boulder Onion Cheddar Dip – A bolder (and Boulder) take on the traditional onion dip; made with toasted onion, a bit of greek yogurt and cheddar cheese.
Mile High Fig Spread – A naturally sweet spre
Canyon Veggie Asiago Dip – This is the ultimate veggie dip; a perfect combination of roasted tomatoes,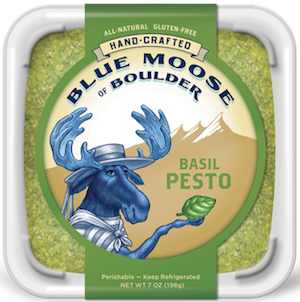 Every product is hand crafted  in small batches in the Blue Moose kitchens, using only natural ingredients.  Not a single preservative is used.
To maintain vitamins and minerals, Blue Moose of Boulder uses Cold Pressure, also known as High Pressure Processing (HPP). This process ensures that the consumer always gets the highest quality product.
In May2016, BlueMoose was rectified by the  Safe Quality Foods Institute for SQF Level 3; the highest level of certification.