Bodhi Kosher Thai: Gourmet That Happens to be Vegetarian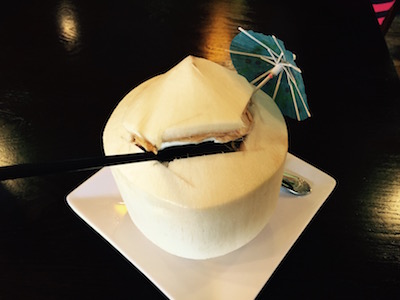 Bodhi Kosher Thai is one of a trio of ethnic kosher cafes in the Pico-Robertson "hood" with owner-chefs devoted to authenticity and bright flavors known to be the best kosher restaurants in Los Angeles.   Add "colorful" to this restaurant's description and "vegetarian." Since Bodhi Kosher Thai serves dairy, the challenge is to use kosher ingredients, and to please carnivores. The results are impressive. The chicken, for starters, has the absolutely uncanny taste and the texture of actual poultry. When you say, "gee it tastes like chicken," it's not some rare exotic animal but its soy or other faux protein ingredient.
Meet Owner Tommy Phornpituck, the owner behind Bodhi Kosher Thai, who very candidly told us he had never thought of the idea of having a kosher restaurant (and in fact owns another non-kosher one). But like all Thai people, who are the most hospitable, Tommy soon realized this was what the area diners wanted. "these days my goal is to make my customers forget they are eating vegetarian." (Kosher doesn't seem to be a problem at all!) Tommy has come to admire the concept of Kosher and have a great affection for his growing regular clientele.
Dishes star tropical fruits and Thai ingredients, authentic and gourmet. They are of the best because Tommy's mom is a chef who co-created the menu and keeps it updated with him by way of seasonal tweaks on classic dishes.
A Thai street food favorite, whole coconut with a straw to sip up the milk inside, is perfect to sip on while perusing the menu. One of the diners who had asked to take the coconut home to crack it for the fruit, later reported how delicious and different it tastes from anything canned.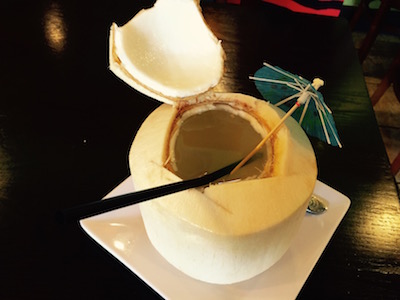 The Soy Beef and Chicken Sate skewers on the menu continue the idea of coconut milk, since they are marinated in it. They are served with little dishes of a dense peanut and a cucumber onion sauce. The fanciful garnishes around the plate are a small reminder of what made Thai carvers famous, in this case resonating, contrasting colors of shredded orange carrots and purple cabbage, making the dish almost a meal in itself.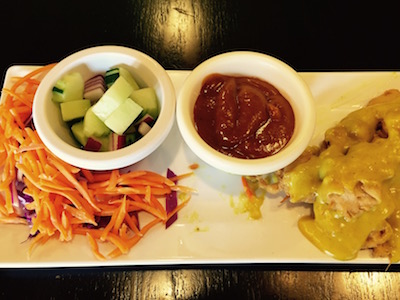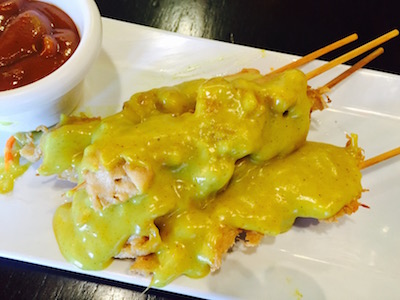 The Fresh Roll appetizer promises "A touch of Asia." It arrives in the form of rice paper roll cylinders stuffed with minced cucumber, romaine, mixed greens, carrots, rice noodles and soy chicken standing erect on a long rectangular plate with a painted squiggle of hoisin sauce outlining it. Looking over them at one end are rice paper wrappers filled with romaine lettuce. A bowl one end of the plate holds hoisin and crushed peanuts for dipping.   The presentation is as satisfying visually as the dish is tasty. Again, it is impossible to tell the difference between the faux and real chicken.
The Green Mango Salad is a magnificent collage of color, and billed as Gluten-Free (as are many of the dishes on the menu).  Slices of avocado, fresh from the morning market, fan across a mountain of gleaming mango slices, red onions slivers, shredded carrot and just enough mixed greens and romaine to lend a crunch. The ratio of cashews, lime juice mixture and kosher salt sprinkled into the salad is exactly the right ratio to act as a catalyst to bring out flavor.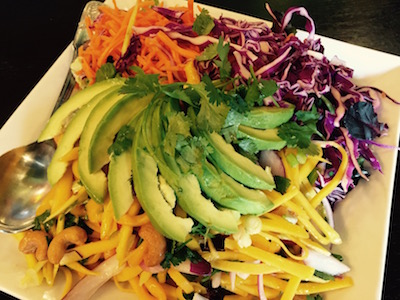 Tommy brought out the dish we most wanted to try, and turns out to be one of the diner favorites, Pumpkin Curry, also Gluten-Free. He explained that "Pumpkin is a great ingredient that provides a rich creamy texture in the kabocha squash, without fat, with our preparation that adds Thai basil, other herbs and spices, along with broccoli and thinkly sliced bell peppers to the slightly sweet gourd."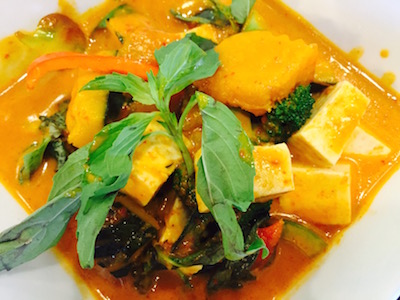 Rice is a staple of Thai food, to complement and to soak up all the flavors in a dish. The menu points out, "one of the advantages of being a vegan or vegetarian is a well balanced diet of whole grains.   The brown rice alone was substantial although Bodhi Thai Kosher offers Fried Rice with in a number of combinations with Vegetables, pineapple, pumpkin and a signature preparation of tomatoes, white and green onions, plus a choice of protein (Tofu, Soy Chicken or Beer, or Seitan).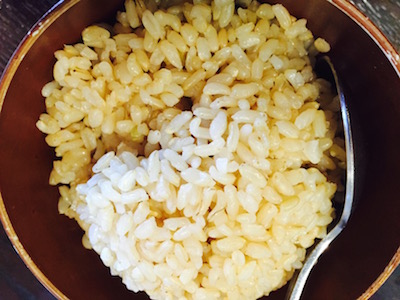 Paradise Beef is on the Bodhi signature list, prepared with marinated soy beef seasoned with kosher sea salt, lightly browned on the outside and splashed with a special season. It is served on a bed of baby bok choy, broccoli and carrots with a garnish of cilantro for the final pop of flavor.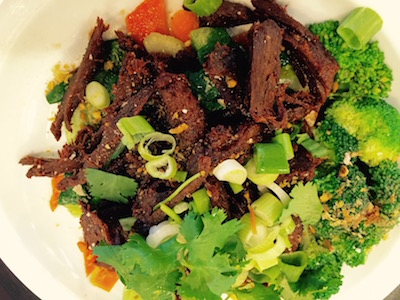 A Chinese- influenced Asian dish is Orange Soy Chicken, lightly battered soy chicken chunks coated with a citrus sauce rich in orange flavor.   And for burger buffs, there are five burgers (soy beef, soy chicken, lentil, veggie and BBQ) on whole wheat buns, served with lettuce, tomatoe and Gluten Free Vegenaise.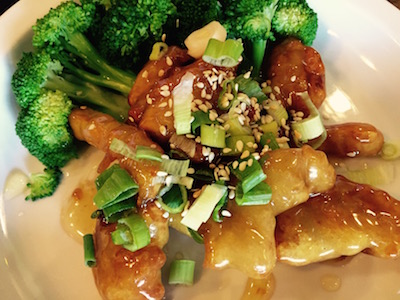 The natural, straightforward Sweet Sticky Rice with Mango was so addictive with the rice's dense nature contrasting with  silky smooth mango that it's Gluten-Free merits only came across later in reading the menu.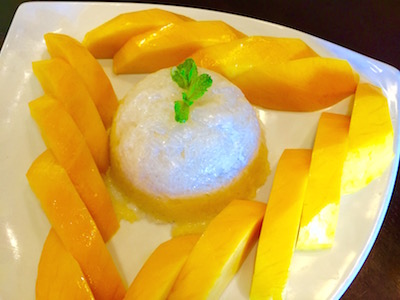 Bodhi Kosher Thai Lunch Specials ($8.95) are served Sunday through Friday, a reminder that all kosher restaurants are closed Friday evening and Saturday. The entire row of restaurants along Pico are closed during this time.

Bodhi Kosher thai (bodhikosherthai.com), 9303 W. Pico Blvd., Los Angeles, CA 90035. Order online for pickup or delivery below.