BON APPÉTIT VEGAS UNCORK'D 2017 – THE GRAND TASTING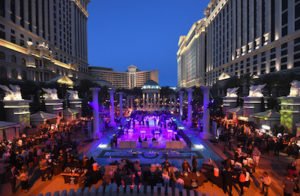 (Roberta R. Deen) The Grand Tasting took place in the massive, five-acre Garden of the Gods Pool Oasis at Caesars Palace Hotel & Casino on the famous "Vegas Strip". Such a vast venue is required to house the 109 vendors and the eager 2,500 paying guests ($260.00 for the later entrants). There were at least 50 world-class chefs displaying their widely renowned restaurants' most coveted menu tastes.
The atmosphere was electric once the the doors were opened and the hungry guests flowed in. There was, between the tireless chefs and the endless crowd, a powerful sense that this was a "once in a lifetime" experience.
Chosen by Bon Appétit as the best in the world, each vendor earned respect as a totally worthy temple of dining.  Yet four stood out to me, each because of a distinct aspect. Focusing on them tells the story best.  I have been a catering chef,  "done" events like these and know what the chefs went through to create such stellar efforts to showcase their specialties in the open air, far away from their gleaming kitchens and full staff.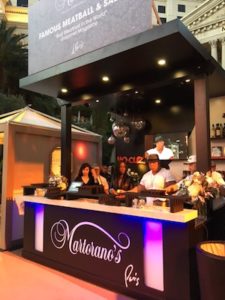 The first vendor we stopped at was Martorano's. We soon learned that the top sign meant what it said.  And "FAMOUS" for good reason.  (https://www.cafemartorano.com/)(https://www.caesars.com)
We were very impressed to find the big, bold, bald, tattooed, Chef/Owner Steve Martorano and his wife, Marsha, were front of the house this time, serving up a meatball salad and red velvet cupcakes.
Steve was giving instructions on how to eat – a bite of meatball with a bite of salad, a dip of bread in sauce and Parmesan.
It seemed that he knew everyone who came by. If he didn't know you when you arrived, you were his friend when you left. And you wouldn't be in a hurry to leave.
Marsha was delivering angel-light deep red velvet cupcakes with airy cream cheese frosting and white chocolate discs that would win "Cupcake Wars" in a heart beat!
Steve was displaying his cookbook "It Ain't Sauce, It's Gravy" which is a personal memoir, an inspirational story and a damn fine cookbook promoting Italian-American cooking from South Philly. It includes the meatball salad recipe and instructions for eating it. I know because he generously gave me a copy inscribed "Never give up" with his signature "Yo cuz".  Martorano's can be found at the Rio Hotel.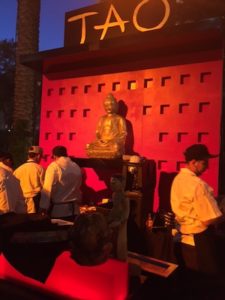 Tao Asian Bistro  was a stand-out with its innovative Crispy Pork Bao Buns. The layout included free-standing wok stoves, with bamboo baskets sending plumes of fragrant steam into the air as the bao cooked.
The bao were then pressed down into a disk and fried on one side to a crispy, savory crust filled with the most elegant barbecued pork and thick, sweet sauce. Totally familiar and totally new at the same time. Not your usual dim sum experience. You can visit Tao Asian Bistro at the Venetian Hotel.

 Eggslut also provided one of the most innovative and flavorful tastes of the evening.
The efficient chefs put eggs, cheese and cream into miniature screwtop jars and cooked them in sous vide machines into one of the most indulgent, most comforting breakfast dishes possible. When you dipped your spoon in, that mixture had been transformed into a warm, satisfying custard unlike anything else.
It is no wonder the venue is such a wild success in L.A. 's Central Market, Glendale and Venice. It is a bit pricey for breakfast but well worth the occasional indulgence at any time of day. Make your reservations in Las Vegas at The Cosmopolitan Hotel.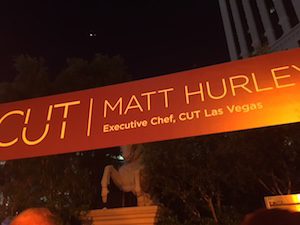 Last, but not least, for sheer shock and awe, is the famed  Cut Restaurant.  One of the advantages of attending an event such as this one, is that you get to see scenes from the kitchen up very close that you might miss while eating in the restaurant, even with Cut's open performance kitchen.
Cut Restaurant  is all about meat, mainly beef, but when you see an eight-inch thick Porterhouse rack grilling over open flame you really get the point. The talented carvers separated the meat from the bones in a few deft cuts and put them on miniature plates in what seemed like seconds.
It took much longer than seconds to eat the tender slices simply because you didn't want to hurry through the deep, elementary flavors and textures of such a "man vs fire" experience. Cut, like many of the fifty plus restaurants represented is definitely a special occasion dining event. You can have yours at Cut in The Palazzo Hotel.
Overall, I would say this would be the event to choose if you have limited time or opportunity. The best of Las Vegas and most of the world is here for your pure pleasure. The setting is divine and the food would bring the gods down from Olympus.