Moqueca Restaurant Brings Brazil to Oxnard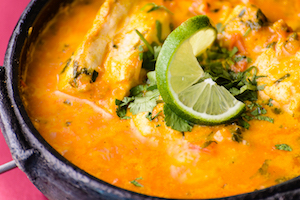 (Gerry Furth-Sides) Brazilian Moqueca Restaurant in Oxnard honors its namesake dish, moqueca, with with no less than eight of the original clay pot  versions, lovingly prepared from family recipes at this lively, spacious, glassed-in restaurant overlooking the water.  It begins by sipping Caipirinha, while purusing a descriptive full-color menu designed by the Reis son, Rodrigo.  Other gold-worthy items on the menu at Moqueca include Caldo Verde soup, Quibes, and versions of the famous Caipirinha cocktails made with cachaca (Brazilian brandy), and spicy Malagueta.
A famous regional specialty of Espirito Santo, the tiny Brazilian state along the country's southeastern coast, Moquecas are cooked at high temperatures and carefully presented in handcrafted black clay pots.  The family travels back to the area for new pots and recipes every year.
They arrive steaming with seafood and fish in a reduction of tomato sauce that is brightly flavored with cilantro, coconut milk, limes, onion, garlic, olive oil and urucum.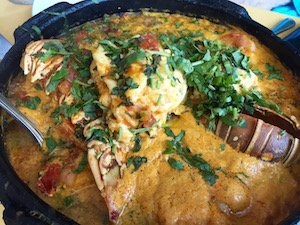 Here owner welcoming Gloria Reis presents the most luxurious version, made to order, Moqueca de Lagos Com Camarao, lobster tails Moquette with large shrimp.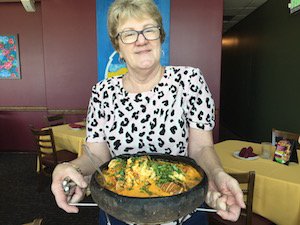 Moqueca Capixaba, makes such a popular star out of this regional cuisine. The black bowl looks very Asian in its rustic yet refined appearance. Lobster tails with shell on, perfectly cooked local shrimp and fish bobbed up throughout the rustic pot, as solid as prow of a ship ($36) There are single, double and triple portions but two bowls are substantial enough for three people, especially with the rice.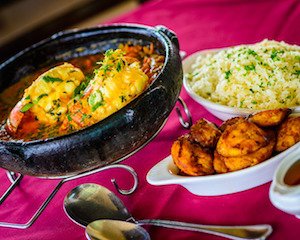 Plantains star in the vegetarian version of the dish, and there are many vegetarian dishes on the menu to choose from as well, including soups and salads, including several with mixed greens.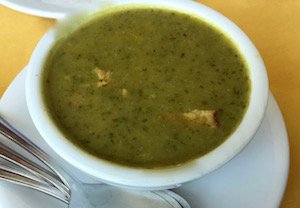 The Caldo Verde Soup is rich with pureed potatoes and collard greens cooked with bacon and sausage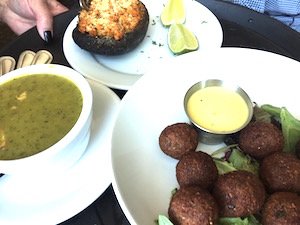 The spice highlighting the dishes is  "urucum" (shown below), rich in proteins, iron, calcium and vitamins. It comes highly recommended scientifically as treatment for high cholesterol, hypertension, digestive and skin problems. The Cosmetic Industry also uses the "urucum" to produce beauty and tanning products. Espirito Santo-style moquecas with this ingredient reflect the Portuguese side of Brazilian cooking rather than the more African-influenced ones.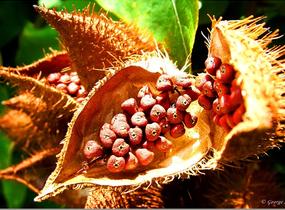 Caipirinha, national drink of brazil, starts the meal. It originated in Brazil and is a common Carnaval drink.  The main ingredient is cachaca, a Brazilian brandy made from sugar cane.  Here hospitable server-manager, Bonnie, serves it alongside a variation,  caipifrutas.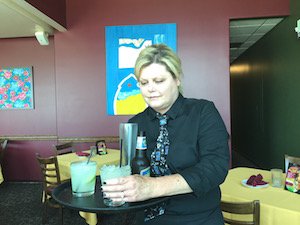 Caipifrutas, a variation of caipirinha prepared with vodka (instead of the usual cachaca), Sky Vodka, limes and sugar.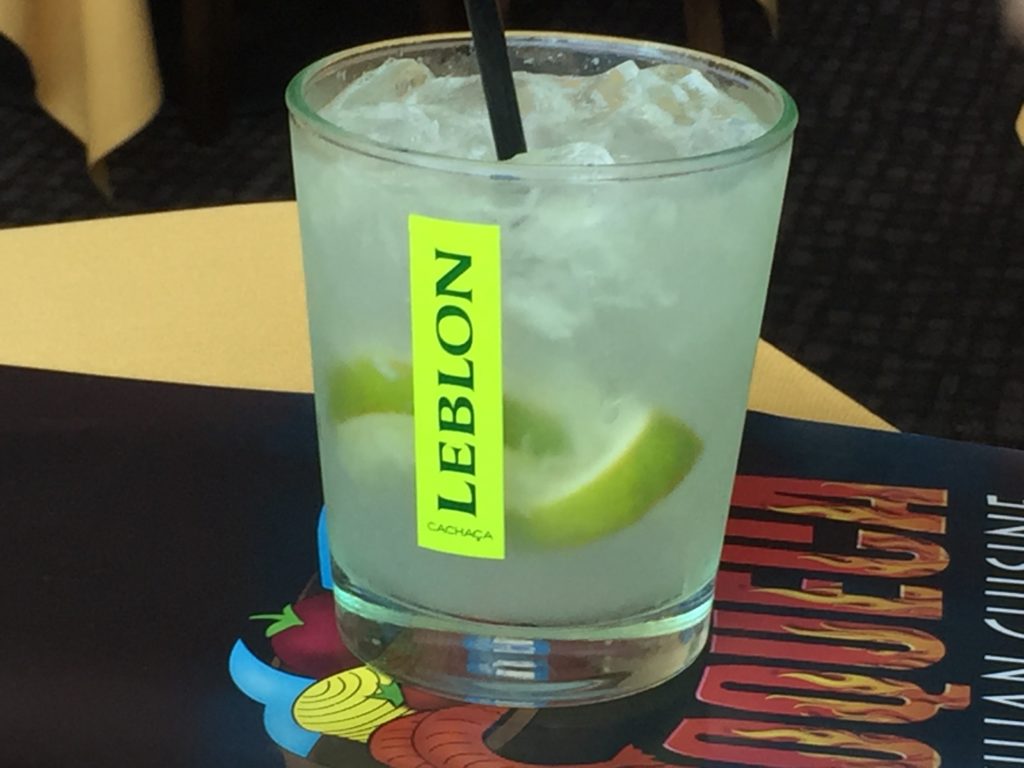 To go with the drink, complimentary bowls of Beringela, pureed eggplant, arrive on the table to spread on  toasted French bread. Malagueta, Brazil's favorite "hot" pepper, also arrives in oil, ready to raise the heat in any of the dishes to individual taste.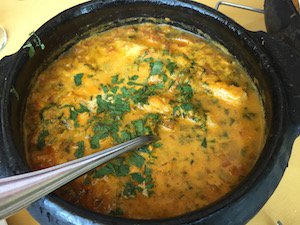 Three family favorites are among the aperitifs (appetizers), including our favorites, Quibes (yes, it is related to the middle eastern Kibbeh), made of minced beer and crushed bulgur wheat mixed with mint leaves and green onions.  It is deep fried and served with a honey mustard sauce.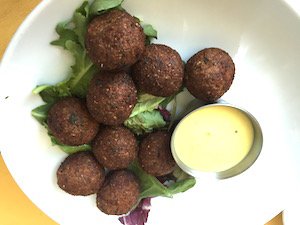 Capa Santa Granada adds an oven-baked element to lightly seasoned scallops in a half shell crusted with parmesan cheese.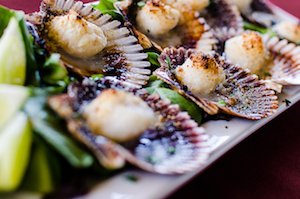 Casquinha de Caranguejo has a western appeal.  The crab meat is cooked moqueca style in its own little pot, mixed with cream cheese, then crusted with parmesan and oven-baked.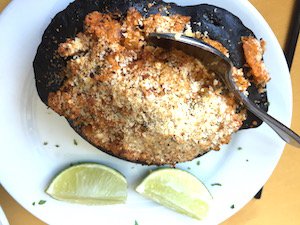 Another rich aperitivos to share is the Coxinhas, chicken filled turnovers, and moved to the deep-fried category.  It is served with the traditional malagueta sauce.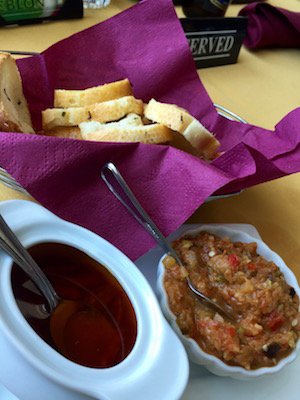 Channel Islands Harbor in Oxnard has always been "gold" with its billions of dollars worth of boats bobbing in the sparkling water. These days, authentic Brazilian, Moqueca Restaurant, gifts diners overlooking it with a gold medal worthy experience.
The menu (artwork by the Sarcinelli family) is a travel story of the food, the ingredients in the food and the pots is beautifully introduced and described in words and glorious color pictures even on the takeout version.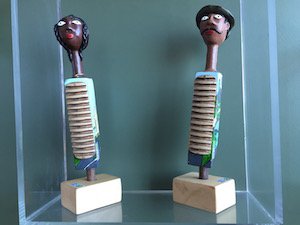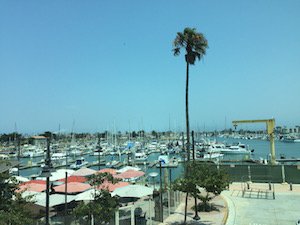 Moqueca Restaurant, 3550 S. Harbor Blvd., No. 201 (upstairs in the Emporium Marine Landing), Oxnard, (805) 204-0970,
http://www.moquecarestaurant.com/