Breaking the Rules at India's Tandoori Brentwood
(Gerry Furth-Sides) The dessert that arrived on a long, narrow plate was a mystery until we tasted it.  The Gulab Jamun in a couli of Rice Pudding combined freshly made milk balls, deep fried to a rosy brown in ghee and simmered in a light rose water syrup, and a pudding of basmati rice cooked with sweet milk, cashew nuts and light raisins. Just enough to end the meal on a sweet.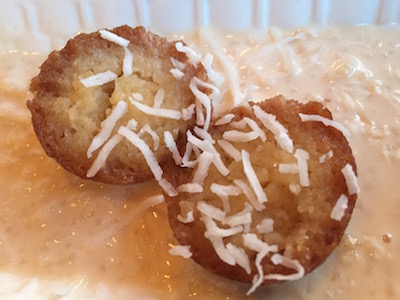 Once in a while Martin Shah "just likes to break the rules,"  he laughs. This week at India's Tandoori he's "bringing Italy to diners" with special-made biscotti of almond and black cumin with citrus zest the chefs bake in their regular ovens bake (not the tandoor). The biscotti are served until the generous supply is gone.
Explains Martin, "In India, chai is a very popular drink to have at any time of the day: as a morning pick-me-up, as a mellow treat after a meal or as a late night complement to dessert. Traditionally, people have their chai with different tyes of cookies and biscuits, because the texture of most biscuits tend to mesh well with that of chai. As India was exposed to outside foods and cultures, they adopted them into their own. Biscotti, with its hard, crunchy texture, goes exceptionally well with the smooth, mellow texture of chai."
And this is why Martin "would like to be one of the first Indian restaurants to popularize this delicious cross between cultures and bring biscotti to Indian Restaurants." And it would be perfect with the Gulab Jamun and rice pudding, too!
India's Tandoori Brentwood (www indiatandoorila.com) Order online for pickup or delivery below.