Brent's Deli: Eating 50 Years of Culinary History
(Gerry Furth-Side) It's always reassuring to know you are being efficient when you eat the life-affirming historic Brent's food – one sandwich is the equivalent of packing in three meals at once.  So you can imagine how happy I was to learn how much history is a part of the mouth-watering package.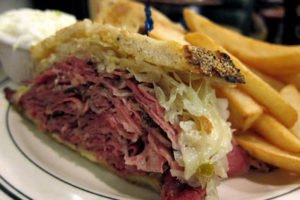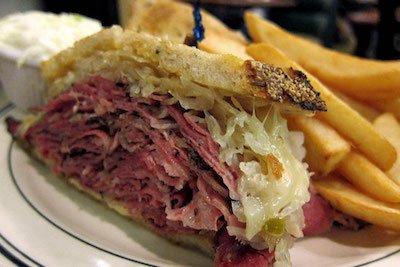 For starters, take the astonishing Monte Christo sandwich and the Black pastrami. I am always happy to do so.
The Monte Christo has been popular in small restaurants and diners across the country since it was first invented in Los Angeles in the 1960s.
This was about the time the first Brent's Deli opened.    The story is that when young deli man Ron Peskin, a recent newcomer to California, took on a failing deli (debts and all) in Northridge in 1969 for $1700.  At least the name was right; Ron had a young son named Brent.    The rest is history. "For eighteen months I never took a day off. I made every sandwich, I wanted every one to be perfect," said Ron, reminiscing.
Today son-in-law Marc runs the second thriving Brent in Westlake (see the full history at: http://www.brentsdeli.com/aboutus.aspx). His partner is a former server who worked his way up over the decades.  My non-deli going Westlake friend looked askance at my suggestion of "splitting a sandwich." When two sandwiches came to the table, she was speechless.
As for me, a devoted Langer's deli fan long before Nora Ephron put it on the world map, I thought I'd give Brent's a try because the venerated food maven Merrill Shindler touted it often and loudly.  So one Saturday evening, we arrived at the Northridge store – just as they were putting the CLOSED sign in the window.  What they did next, to me, explains their longevity.  Instead of turning us away, they asked if it was OK to have to-go sandwiches made for us.  Yes, thank you!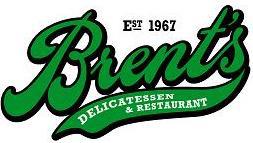 The "traditional" Monte Cristo begins with deli ham and Swiss cheese, and the entire sandwich is then lightly dipped in egg batter and grilled. Just for good measure – and maybe its health benefits? – Brents adds turkey to the mix.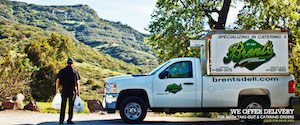 If you think this sandwich is outrageous, just remember that this tribute to Alexander Dumas' French novel, The Count of Monte Christo is an offshoot of the French sandwich, croque monsieur, which has the same ingredients and satisfies more senses than any gourmet dish.
But wait; there's more. Powdered sugar is sprinkled on top, joined by a ramekin of raspberry or strawberry jam on the plate.
Another popular and almost equally outlandish dish is also historic: the addictive Black Pastrami Sandwich. For starters, pastrami traveled to America by way of Romania after being invented by the wild Turks centuries ago. Very lean dry cured beef is rubbed with a wet paste of spices, usually brine, brown sugar, garlic, black pepper, parsley, onion and cloves, and smoked.
It is then sliced thinly as possible to be packed as thickly as possible between two pieces of rye bread. If this is a trick to make the diner think it is less fat, so be it. A deli favorite from the first, its original preservative purpose has long been obsolete.
Like the goulyas (Hungarian cowboys who rode the plains and cooked the meat they stored under their saddle in kettles) it was tough Turkish horsemen who rode with this meat, the pastryma, over the steppes and plains of Eastern Europe and Western Asia.
For centuries, a spicy, smoked meat known as pastyrma in Turkey was made from Beef or camel meats. It was smoked, salted, dried, and covered with a paste of garlic, chilies, and other spices to preserve and flavor the meat. Horsemen carried the meat in special saddlebags. The pressure of the riders' legs and the motion of riding tenderized it and worked in the spices!
The resulting pastyrma (the name may be related to the Turkish word for 'pressed') was exceptionally tender and usually sliced thin and eaten on bread with eggs, tomatoes or in bean stew. This delicacy spread throughout the Near and Middle East and then on to eastern Europe.
In the Romanian language, the word pastrami is actually a verb. You'd say, "On Tuesday, I'm going to "pastramo the meat," or "she would pastrama the meat."
For the most part unknown outside of Eastern Europe until the late nineteenth century, pastrami was introduced to Americans because of a chance meeting.
In 1887 immigrant Mr. Sussman Volk, a former classy Lithuanian miller, now demoted to role of kosher butcher on New York's Delancey Street, was determined to earn his place in history.  He was not thinking about this when he stored the trunk of an immigrant acquaintance in exchange for a family pastrami recipe.
And so it was that Mr. Volk's fell in love with the easy-care pastrami that required no refrigeration, selling it first as slabs and then between two slices of rye bread (look ma, no packaging!). It was a hit from the beginning.
I raise a pickle in praise.