A CHANCE TO LEARN ABOUT AFGHAN FOOD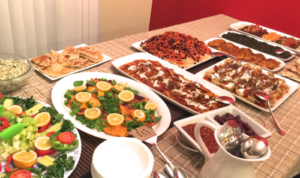 Imagine a magic carpet of food, sumptuous dishes scented with cardamom, cumin, saffron, mint and turmeric, plates of succulent meats, fish and vegetables, handmade breads and stuffed dumplings, followed by sweets and heaps of fruit.
This is the food of Afghanistan, which flies far under the radar in Los Angeles. There may be a handful of Afghan restaurants in and around the city, but these are drops in a very large bucket.
If you are lucky enough to have an Afghan friend, though, you may be treated to a feast at home, prepared with no regard for expense, effort and time.