Chao Krung: LA's Historic Thai Restaurant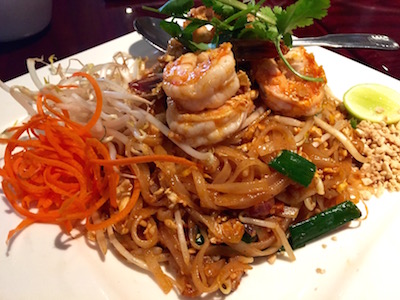 (Gerry Furth-Sides) Chao Krung Thai Restaurant is such a landmark across from The Grove that owners, Boon and Supa Kuntee haven't changed their anniversary sign out front for two years.  Founded in 1976, Chao Krung holds the distinction of officially the second Thai restaurant in L.A. and since the first Thai cafe at 8th and Vermont is long gone, it reminds the oldest longest running Thai in the city.  It's is the kind of place where children of longtime customers are as common as the troops of employee ambling over from CBS Studios across the street.  Supa Kuntee continues to supervise the kitchen to retain the consistent food that earned Chao Krung their reputation.  Daughter Katy, who grew up learning the business first hand, now has three contemporary Thai restaurants of her own across town.
The Fairfax Avenue mainstay still features the original dark ornate interior, and classic Thai dishes with an annual special food event or two to thank customers.  Framed newspaper articles document the events through the years.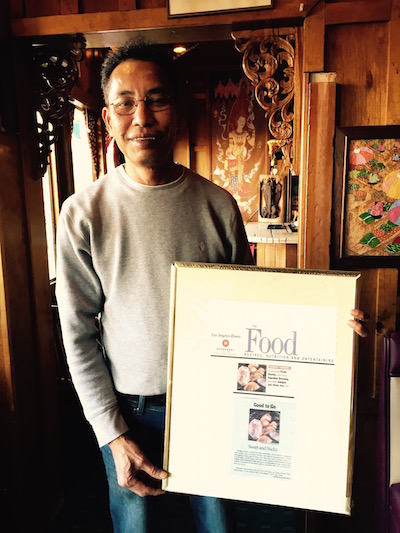 Pad Thai, Mint Noodles and Angel Wings, the whimsical and refreshing stuff of Thai cuisine was first to win over Los Angelenos in the late 70's, and remain menu staples.  Imagine looking for the first time at a plate of Angel wings, a chicken wing that appears simply breaded and fried. It turns out to be boneless and  surprisingly stuffed with ground chicken, mushroom, carrot and vermicelli and served with a sweet chili lime sauce. The variety of flavors and textures carries over into the long Chao Krung menu, which includes sections of salads, soups, noodles, curries and desserts.
Shitake Mushroom Salad on a bed of mixed greens, including lettuce and cilantro, with slivers of sliced red pepper, dotted with small meaty mushrooms and spiced up with a Thai salsa dressing that lifts it into an more exotic southeast Asia category.
 Tom Kha Soup served steaming hot and staying hot in a majestic brass container that sits high on the table, holds Coconut milk soup with a citrusy tang from kaffir leaves, galangal, lemongrass, along with  substance from peppers and mushrooms.  It works for warm or cold weather.  The trick mastered here is preparing a thick, creamy curry, which means not overcooking the coconut milk (otherwise it breaks down and the oil separates out, making the mixture greasy).
Crying Tiger heaped with medium rare beef, onions, coated hari covert, roasted red peppers that are charred in stripes to resemble the coat of a tiger and topped with cilantro sprigs.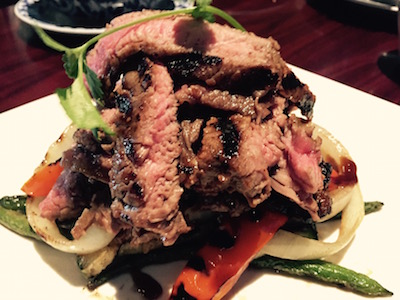 Pineapple Red Curry with Duck.  Chunks of pineapple in a red curry paste blended in coconut cream curry, Italian squash, bamboo, bell pepper and sweet basil.  The Thai red curry paste is what gives the dish a brilliant party orange color and flavor pizzazz.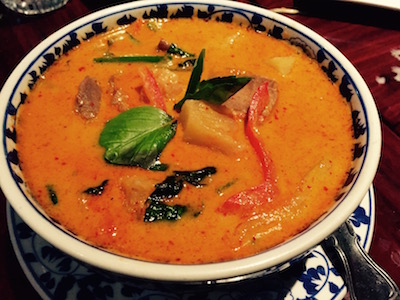 Eye-appealing Larb Chicken Thai Wrap is presented on a plate that can be eaten as a wrap or salad with knife and fork.  Lara is ground meat and here joined by chopped scallion in a spicy lime sauce and roasted rice powder on a bed of lettuce.  Sprigs of deep green fresh mint set it off visually and also on the palate.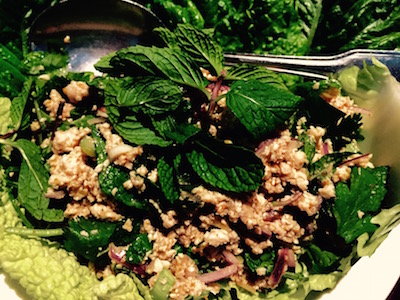 The traditional Pad Thai (pictured at top of page) with rice noodle stir-fried with bits of chicken, shrimp, baked tofu, scallion, bean sprouts and egg with crushed peanuts.  "It's very common on every Thai restaurant menu but not that easy to prepare, " laughed Chef Sontee.  The variety of flavors and textures  are so universally appealing that Pad Thai makes the list of the five most popular dishes in the United States almost every year.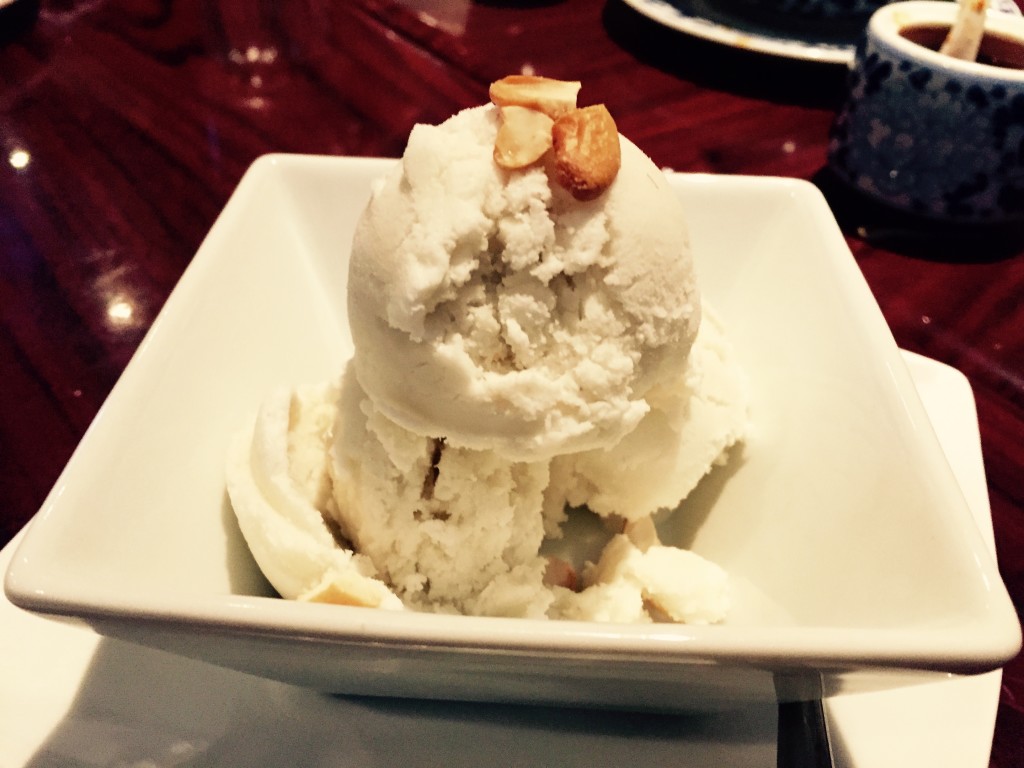 Homemade Coconut Ice Cream, studded with rich toasted cashews, with sticky rice paste lining the bottom, elevate this light dessert.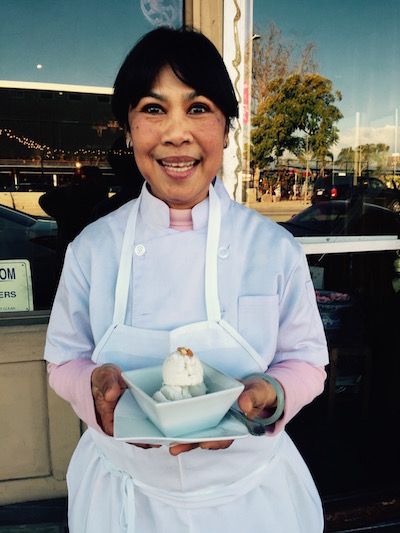 www.chaokrungla.com, 111 N. Fairfax Avenue, Los Angeles, CA 90036, 323-939-8361.