Chef Oliver Ross' New Zealand Snapper: "Whole for the Holidays"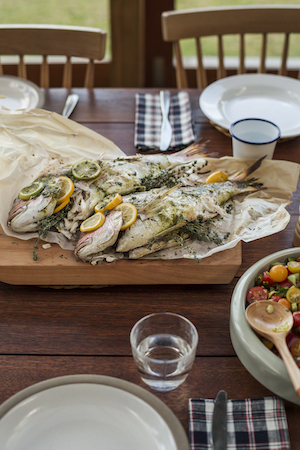 (Gerry Furth-Sides) Award-winning New Zealand celebrity chef, Chef Oliver Ross, shares his simple and foolproof whole roasted snapper recipe that is sure to impress every holiday party guest.  The healthy dish is a novel and refreshing departure from preparing roasted fowl.   This  New Zealand Snapper brought to the table with head and tail intact is also visually dramatic and incredibly tasty.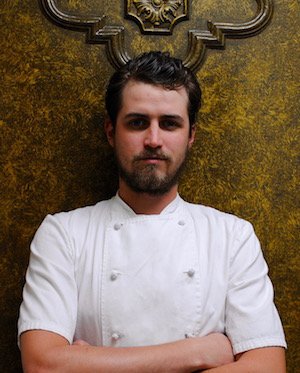 Given that Christmas in the Southern Hemisphere is in the height of summer, seafood plays a big part in the holiday meal plans of New Zealanders and Australians.    And Snapper boasts  sweet and flaky flesh that is perfect for retaining any additional flavors you want to add.
Whole fish is considered a good luck dish for Asian holidays.  It is also an easy dish to eat since the fish just breaks apart and the major bone is left on the table.  see: http://localfoodeater.com/top-whole-fish-dishes-los-angeles-eyes/ And we've written how easy it is to prepare, especially considering how dramatic a presentation whole fish makes, in addition to how well it can incorporate the seasonings, spices and accompaniments of many different cultures, such as Mediterranean and Latin American. http://localfoodeater.com/eyes-best-whole-mediterranean-fish-la/
The first question is: "How big to go?" Bigger fish always look more stunning on the table but most people are limited by the size of their oven. ½ to ¾ of a pound per person when cooking whole fish will give a good portion size and not leave you scraping the bones.
Chef's Tip: Have the fish monger scale it for you.
Next, Take a good hand full of fennel tops (the long green bits), a large pinch of salt and ½ a cup of olive oil and blend together until smooth.
Pre-heat oven to 400 degrees Fahrenheit.
 To Prepare: Stuff the belly and gills with fresh thyme, place sliced citrus inside and a top the fish then drizzle generously with the Fennel oil mix.
Chef Ross's tip for those who are a little squeamish:  place one slice of citrus over the eye of the fish so it can't look at you.
Place the whole Snapper in a high sided baking dish lined with a single sheet of baking paper and into the oven for 10 minutes or until you can put a fork in the side and pull out a  piece easily.
To finish: sprinkle with fresh parsley and lemon juice. Lift the cooked fish out of the pan using the paper and serve family style with your favorite salad, wine, and people.
Chef Oliver Ross is a multiple award winning chef from New Zealand. He was the creator, host and Chef de Cuisine of "Cooking for the Continent" (South America), a notable show featured at the world-renowned Cannes Film Festival in 2015.
Chef Oliver moved to Los Angeles in 2015 to join Chef Akasha Richmond and her team. Currently with a large team behind him Chef Oliver can be seen all over Southern California at festivals (such as LA Times Taste and Share our Strength's Taste of the Nation), as well as private events stretching from Laguna Beach to the Hollywood Hills.