Chef Spotlight
Chef Aaron Robbins is the sole valley member of LA's "insiders'  Top Chefs" that have worked their solid magic for decades, including  Bruce Marder, Neal Fraser and Hans Rockenwagner.
You might know Robbins as the long-time proprietor of Boneyard Bistro http://boneyardbistro.com/down the street in Studio City, the "go-to place" for ribs.  We on "the other side of the hill" know him as the devoted valley "native" and community-minded activist we often see at events.
Robbins told us that the encourages his staff, headed by Chef Oliver Krant, to be creative.  We know that it was his own grandmother's old-school style of Jewish cooking that originally inspired his culinary career; he did not need to mention that he as overseer of the menu has mastered the basics of bold, appealing combinations, refined and totally complementary to each other.
Robbins, who was raised in  Encino, makes you believe that LA has continuity on some level.  He can rhapsodize easily and knowledgeably on each Ventura Boulevard community's identity and history.
A veteran of the Valley's culinary scene, Aaron Robins,
owner and chef of Boneyard Bistro and SOCA in Sherman Oaks,
CA, brings flavorful cuisine to Ventura Boulevard in two distinctly
different fashions. Well into its second decade, Boneyard Bistro,
serves a mix of adventurous barbecued meats and barbecue-
inspired bistro fare, and gains direction and barbecue insight
from Robins while Executive Chef Erica Abell runs the kitchen.
Robins himself helms the kitchen at SOCA, short for "Sherman
Oaks, CA," located just down the street from Boneyard. Newly
opened in March 2017, SOCA's globally inspired steak and seafood menu showcases Robins' mastery of numerous cuisines and styles amidst a relaxing coastal ambiance.
With more than 35 years of cooking under his belt, Robins knows how to impress his guests while maintaining approachability. "Foods need to be big in flavor—it's a balance of familiarity and adventure," he explains. He also balances two vastly different culinary concepts, and adjusts his management style to suit each.
At Boneyard, a more traditional leadership style sets the tone, while at SOCA, Robins and General Manager and Partner Rory Snipes look to a more collaborative style, inspired by tech start-ups.
Robins comes from Encino, CA, where his grandmother's old-school style of Jewish cooking provided an early inspiration towards a culinary career. Cooking with fire, however, is a skill he owes to his father, while his mother guided him in upscale European cooking. He also tasted Korean, Chinese, Spanish, Israeli, and other ethnic foods often, while growing up in the diverse culinary melting pot of Southern California.
After attending San Diego State University, Robins spent a handful of years working in various barbecue restaurants to bolster his home-taught skillset. He enrolled at the California Culinary Academy in 1995, and after earning his degree in culinary arts, he apprenticed at Citrus and Patina in L.A., then jetted to Chicago to stage at the legendary Charlie Trotter's, at which Arnold Wong served as his primary mentor.
Returning to the West Coast by way of San Francisco, Robins then spent two years as a cook for EOS Restaurant and Wine Bar then at The Flying Saucer, working alongside pioneering chef Albert Tordjman as chef de cuisine. After a stint at Nashville's highly praised Zola Restaurant, Robins came back to the Los Angeles area to help his father start a family business.
In 2005, he launched Boneyard Bistro as its owner and executive chef.
A toast to the chef!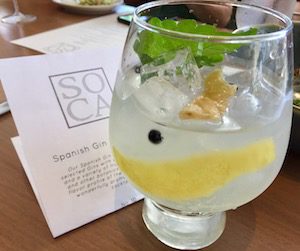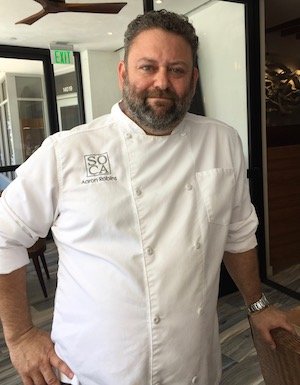 Chef Aaron Robbins LA Insider's "Top Chef" from the Valley
Chef