Chef Spotlight
(Jose Martinez)  Everybody loves a Cinderella story—rooting for the little guy. So, when someone starts at the bottom and works their way to the top we just have to cheer them on. But I fear calling Luis Nava a bartending star on the rise is a bit misleading since he's technically not even a bartender. OK, is that misleading or just missing the mark entirely? Either way, this "bartender" at The Raymond 1886 in Pasadena has made two of the best new cocktails you'll have this summer in-and-around Los Angeles. So yeah, maybe he is a bartending star on the rise.
I've championed The Raymond 1886 bar program and its bartenders for years as I think it's easily the best cocktail bar in town. And hands down this summer's MVP is Luis Nava. So just who hell is Luis Nava?
Luis Nava is a veteran of The Raymond for 16 years. He's a jack of all trades who works in the kitchen doing whatever needs to be done like AV setup for events and parties, and handyman work, yet manages to create killer cocktails. He's also an extremely shy guy who stands firm at attention and is beyond polite.
"Luis has been the backbone of our bar program for so long," says 1886 head barman Peter Lloyd Jones. "Luis has a very refined palate and his preparation and his familiarity with ingredients is a major strong point. He is constantly working with seasonal ingredients and finding new ways to engineer more efficient ways to prepare ingredients for cocktails."
Two people who know Luis well described him to me as the bar's "secret weapon."
"Luis is a man of few words but I think that is because he is a man of action," says Jones. "Luis has been at The Raymond 1886 for 16 years. It's not realistic to categorize what he does for us into one role. If I had to choose one phrase I would say he's 'the gatekeeper'. This man literally covers all bases by creating the fabric of our restaurant and bar and applies himself as the glue. Luis seems to have just one motive; maintain consistency in operations; service; upkeep. He knows every inch of the whole property and can notice the slightest change or imperfection only to be quickly fixed without anyone's notice. The story is literally endless in terms of what Luis has done for this bar and restaurant."
He also likes mountain bikes (daredevil racing downhill at speeds beyond 40mph), trucks and guns in addition to a well-balanced and boozy drink. Originally from Zacatecas, Mexico, Luis, the oldest of five children, moved to Los Angeles with his family at the age of nine. Raised with the desire to be a good role model to his siblings, Luis started working at The Raymond (where his father worked as a cook) at the age of 18.
"I started at the bottom," Luis says. "I was a dishwasher then moved up to busser then running the line and bar prep; doing little jobs here and there. Now it's my home away from home."
Looking back at past 1886 cocktail menus I realized I have liked Luis' drinks for some time now. This "secret weapon" was even a secret to me. His previous winter cocktail the Helen of Troy was a wonderful mix of Pisco Portón, Velvet Falernum, mixed berry shrub, lemon juice, and black sugar garnish resulting in a pleasing drink that was sweet yet subtle. And his Shag Party—a tea-ki cocktail made with fresh lemon juice, Jamaican, Trinidadian and spiced rum with black tea syrup with pineapple, cinnamon, and anise notes, served over crushed ice with fresh grated nutmeg—played like a tiki drink and was so well balanced.
And his two new summer libations on the bar's Cartoons & Cocktails menu made me ask, no demand, who the hell is Luis Nava?
His Woody Woodpecker cocktail is booze forward but balanced and is hands down my favorite drink on the new cocktail menu. A mix of Vida Mezcal, Angostura and Peychaud's Bitters, cedar syrup, and a double citrus peel is a winning take on an agave-based Old Fashioned.
And proving that lightning can strike twice, Luis' The Quagmire is sweet, boozy and balanced and just works to perfection. Made with Larceny Bourbon, homemade fig syrup, tiki bitters and figs used for syrup re-used for garnish, the bar likes to call this Old Fashioned style "figgitty".
So, this "bartender" who graduated from the bar's training program yet never bartends has his own unique style for creating cocktails.
"I usually start with a syrup and then go from there," he explains. "I like to play with different specs, either shaken or stirred."
A fan of bourbon and rum, Luis' new menu Old Fashioned variations came about thanks to his knack for working well with others.
"I was playing with a shaken drink but it wasn't working out so somebody told me to try an Old Fashioned."
And the result are two dynamite drinks that subtly pack a pleasing punch.
When asked what's the secret to a good cocktail, Luis takes his time when answering.
"You have to have flavor and balance."
What I like best about drinking at 1886 besides the insanely good drinks is that the craft comes first. The bartenders are void of ego. It's not about them, instead it's the hospitality and craft that get the spotlight. And ego-free Luis is the epitome of that.
Ask him who his role models were growing up and he'll squirm in his seat and sincerely answer, "My parents. They were hardworking."
Ask about his long-term goals and the amicable 34-year-old will softly say, "That was the hardest question they'd ask at school—what do you want to be when you grow up? I didn't know. It's hard to figure that out at that age."
What isn't hard to figure out is how much his peers respect him. During our conversation, The Raymond's chef Tim Guiltinan walked over and praised the "bar star" in question. Even noting that when the bar begins its new ice program, which will include staff cutting down blocks of ice with a chainsaw, you better believe it will be Luis who will get that job. There's no one else he trusts more with a dangerous weapon in his hand than Luis Nava.
So, if you see Luis Nava somewhere inside The Raymond 1886, ask if he can make your drinks.
"If I'm around I'll ask if I can make them," he confesses.
It gives him that special feeling of satisfaction.
"I feel happy and proud when someone orders one of my drinks. I just hope they like it and come back for it."
The Raymond 1886 is located at 1250 S. Fair Oaks Avenue in Pasadena.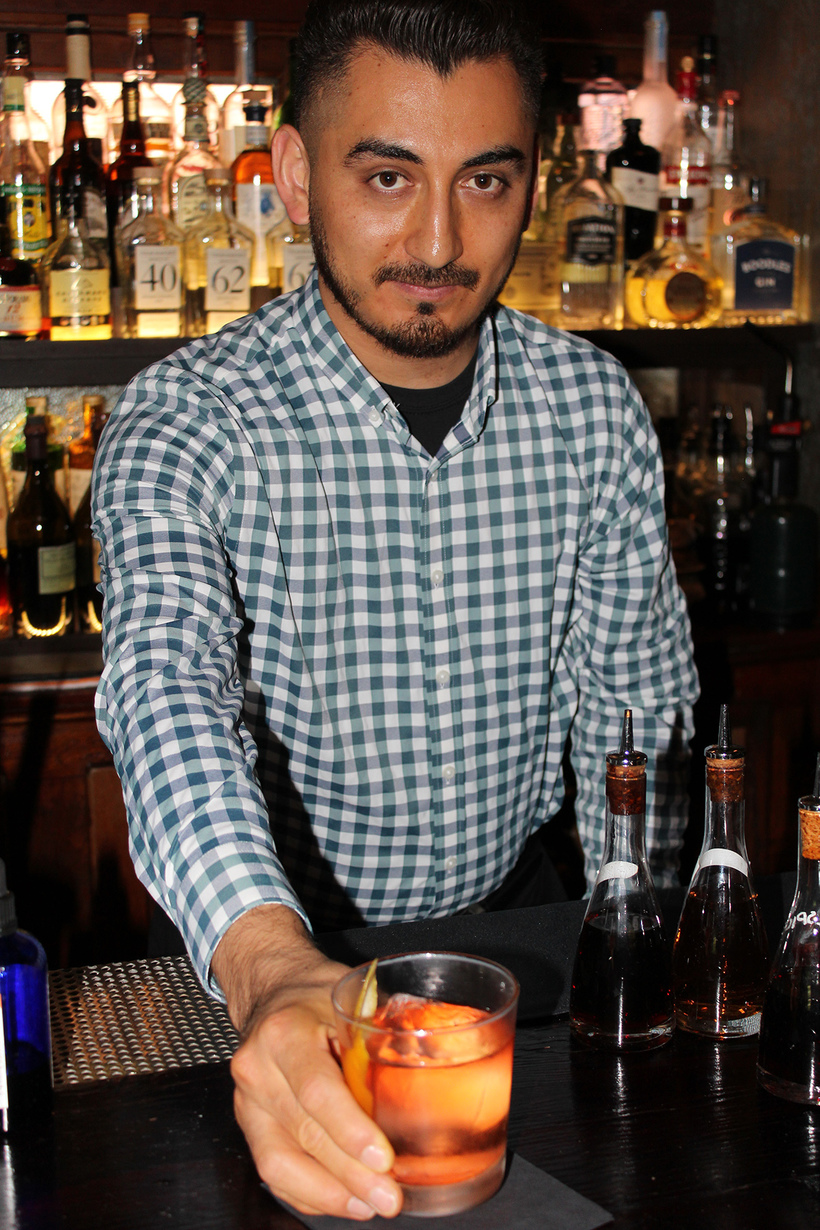 "Cinderella Story" Raymond Pasadena's Luis Nava from Zacatecas, Mexico
Chef