Chef Spotlight
(Gerry Furth-Sides) Hamid Fatemi has brought luck the luck of his native Persia's turquoise to his out-of-the-way Turquoise restaurant since it opened in 2008. Fresh ingredients, depth of flavor and collages of color in the dishes continuously earn local awards for the Pan-Mediterranean cuisine  as "Best Healthy Food Restaurant" and "Best Middle Eastern Restaurant."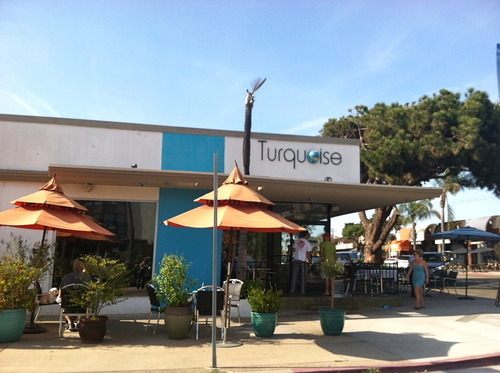 Turquoise corner bistro a block from the beach
However, Fatemi  himself has a background in finance and the restaurant business was not in his original plan either.  It does account for his business acumen.   Hospitality and his ability to please all customers comes from a long stint directing the UCLA Faculty Dining room.
As is the custom in Hameed's own homeland of Persia, Middle Eastern hospitality begins right inside the door.
Add to that a blend of the best versions of both American and middle Easter, dishes and and  UCLA faculty dining room directors for two decades, "Pan-Mediterranean" refers to many customary Middle Eastern items, such as house made huumus and babaganoush, yogourt and marinated kabobs. Unusual non-Middle Eastern Mediterranean combinations include grilled duck schwarma Panini sandwich, and American salads.
Beets, prevalent in Iranian cooking, have a place of honor in the   Mast-O-Laboo, homemade organic yogurt mixed with succulent roasted beets.  It comes as no surprise that beets are prevalent in Iranian cooking.  In winter time street vendors sell a favorite snack of steaming hot beets or laboo, peeled, boiled and skewered one on top of another and wrapped in parchment.   Persian breadmakers would also roast the beets in the bakery's huge open fire ovens (tanoor).
Persian cucumbers are one of the ingredients used in the popular  Classic Greek Salad, along with bell pepper and fresh parsley.  makes it one of the most popular on the long list.
And it is "grandma's recipe" for Torshe Anbeh, a middle eastern joy of sweet and sour mango chutney with tamarind, mango, dates and spices.  It is a dish that marries all the classic Persian flavors in a straightforward way.
Vegans have many choices.  For example, the Roasted Vegetables with saffron rice ($11.95 as an entrée), a combination of colors and textures in asparagus, portabella mushrooms, eggplant, tomatoes, zucchini and bell peppers.  It becomes a complete meal, served with rice and an organic salad.
Hameed's catering background for choosing universal pleasers and his capability to transform them into the best of what they can be is proven with the Crème Brulee, the original recipe from a Parisian pastry chef in Westwood, which he improved upon with real vanilla bean and cream.
Meticulous preparation and ingredients at Turquoise such as genuine saffron instead of yellow coloring.  Vanilla bean is used instead of extract, walnuts and pomegranate added to the hummus.
Hameed's high quality, practical sourcing is ingenious in this out-of-the way seaside restaurant "Organic and "natural whenever possible," define not only the food but the teas and coffees, fresh juices, and sodas/wine/beer. 

 The slightly higher prices are offset by the taste and generous portions.
Whole wheat ciabatta for the Panini sandwiches is baked by a company in Los Angeles and, lucky for Turquoise, delivered to a beach hotel down the street for easy access.  Not so easy is obtaining the proper cracker bread – not pita, which is not healthy according to Hameed, who regularly drives all the way to Irvine to pick that up.  Hameed also let me in on a secret of a popular café/bakery in Westwood he sources his baklava – and how he learned that the one he always uses is separately baked by another specialty company.
---
Wife Shazy Fatemi oversees the kitchen using many of her own family recipes that have become signature items in the dining room.  Photos of the Fatemi daughters, now in college, sit on the counter. When asked if his daughters would follow him in the restaurant business, Hameed laughed and said, no.
The universal warmth and ease of professional service rings true down to  staffs member intelligently answers the Turquoise Restaurant phones – always an indication of a retasurant's standards.
Hameed was raised in sophisticated Isfahan, third largest city in Iran, so historic it was once the capital.  Turquoise decor honors the area's famous with a mural on one wall.  Persian culture is the belief that turquoise has supernatural powers, such as protecting horse and rider when it is attached to a warrior's bridle.  As far as the Turquoise bringing success to the restaurant –so far so good.
There is a Persian saying  because of Isfahan's famous architecture, carpets and cuisine, "Esfahān nesf-e jahān ast" (Isfahan is half of the world).  Until I get to this magical place, Turquoise will do just fine.
Concludes Hameed, "I was born in Iran, and my experience with life in general — and at Turquoise — has been that no matter where people are from, we are all connected," Fatemi explained.
"Especially in today's world, it's important to remember this. It brings me great joy to meet people from all over. The different perspectives from different heritages make the world a richer place. '"
1735 S Catalina Ave, Redondo Beach CA 90277
Today's hours: 11:00 am-9:00 pm. (310) 362-4478
(www.turquoise-restaurant.com). Order online for pickup or delivery below.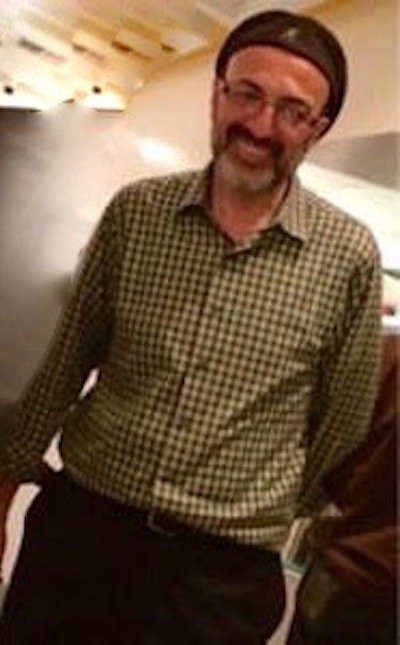 Hameed Fatemi Earns Gemstone Luck to Turquoise Restaurant
Chef