Chocolate (Honey) and Berries Are Best with — Almost Anything
(Gerry Furth-Sides) In the wonderful recurring cycles of food favorites, fruit is back in fashion and not in a fruitcake version either.   They transform baked goods and even ice cream sundaes. But best of all, with such fine ingredients, they stand alone and absolutely shine on cheese or charcuterie platters.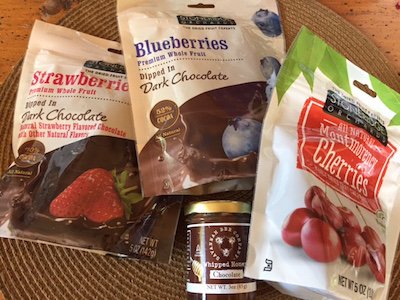 Dried fruit company Stoneridge Orchards and leading honey company Savannah Bee offer the very best variations of their perfect ingredients for at-home chefs and hosts. One is a new Whipped Honey Chocolate, and berries include sweet-tart Montmorency Cherries, and Chocolate Covered Blueberries and Chocolate covered Strawberries, big as pebbles.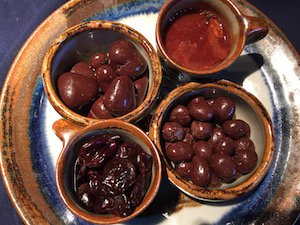 The Montmorency Cherries have been considered special since ancient times when elite members of the Chinese society enjoyed them, and Greeks discovered them. The cherry made its way from the Black Sea in Asia Minor to Europe and to America. It's double appeal came in its visually appealing ruby-red coloring and tart, yet sweet taste.
After Roman legionnaires discovered the tart cherries, they traveled with them and introduced them to the rest of Roman territory. They planted cherry trees alongside Roman roads and soldiers used the fruit for food and the wood to build weapons and repair equipment.
Upon its arrival in the New World, the cherry spread across the country over the centuries.   The most favorable weather patterns dictated that roots favored the 45th parallel because of its most favorable weather patterns. Main cherry growing states include New york, Utah, Washington, Wisconsin and Michigan. (70% of all tart cherries in the US are grown in the Traverse Bay Farms area of Michigan).
The tree was named for Montmorency, a well-to-do suburb of Paris, France with a long history of notables living in its environs. Montmorency is the most popular sour cherry in the United States and Canada, and is extensively used in cherry pies, jams and preserves.   They are the best partner with venison and also lamb.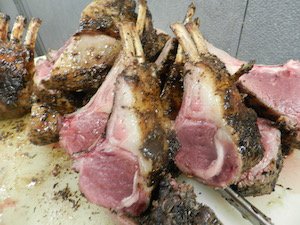 I incorporate them into salads, add them to sweet potato dishes to accompany venison or lamb, and love them in oatmeal too.  Montmorency cherries are also marketed in dried form, and Montmorency cherry juice and juice concentrate are also sold.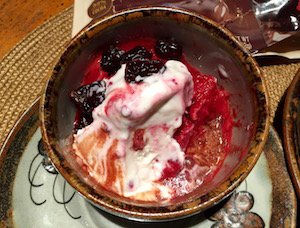 And what better than a sundae with raspberry-cream gelato, raspberry sorbet and the chocolate-covered strawberries or blueberries as a garnish?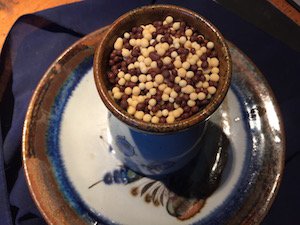 When using just the Stonebridge cherries, the chocolate-shipped honey and a sprinkle of chocolate pearls is a decadent but not overbearing dessert or partner to an afternoon tea or espresso.
Montmorency Cherries have health benefits and have been studied since the last century.   Because of the circulating phenolic acid. Cherries have a positive impact on the systolic blood pressure.
Savannah Bee has combined crystallized Wildflower honey and organic Peruvian cocoa powder to make Whipped Chocolate Honey.  Savannah Bee spins together crystallized honey and natural cocoa from Brazil. The Latin name for cacao is Theobroma, meaning "Food of the gods." Cocoa is beloved for its delightful flavor and promoting a positive state of mood and mind.
The sweet, silky combination spread provides an intriguing, natural taste to holiday cookies, cakes, warm biscuits, as well as a topping for waffles or cakes. New to market, and available in two sizes, 12 oz. for $16.55 and two, 3 oz. jars for $12.
Savannah Bee's third-generation growers well-respected for their premium fruits have operated Stoneridge Orchards for three generations. The all-natural Montmorency Cherries, Blueberries and Strawberries, dipped in delicious chocolate, all provide for a sweet, fruity treat.
Berries are harvested at the pick of ripeness and then gently dried. Premium dark chocolate made from 52% cocoa is used.
Each can be served on its own, or incorporated into an easy dessert platter when entertaining. The brand also offers dried fruit offerings, sans the chocolate, including all-natural and organic Cherries which are great for holiday desserts like Cherry Chocolate Bread Pudding or Cherry Chocolate Decandence. Its dried mixed berries, cranberries or blueberries are also perfect for a Very Berry Cookie.
VERY BERRY COOKIES
INGREDIENTS
2 1/4 cups flour
1 tsp baking soda
1 tsp salt
1 cup butter, soft
3/4 cup white sugar
3/4 cup brown sugar
1 tsp vanilla extract
2 eggs
1 cup chopped nuts (walnuts are terrific!)
1-2 bags Stoneridge Orchards mixed berries
PROCEDURE
Preheat oven to 375 degrees.
Mix flour, baking soda and salt in small bowl. Beat butter,white sugar, brown sugar and vanilla extract in large mixer bowl until creamy. It is important to mix thoroughly so that it is not too dry. Gradually beat in flour mixture. Stir in berries and nuts. Drop a heaping tablespoon onto ungreased baking sheets.
Bake cookies for 9 to 11 minutes or until golden brown. Cool on baking sheets for 2 minutes and then let cool. Serves 3-5 dozen cookies depending on serving.