"Citizen" Chef Josette LeBlond Celebrates New Cooking LA School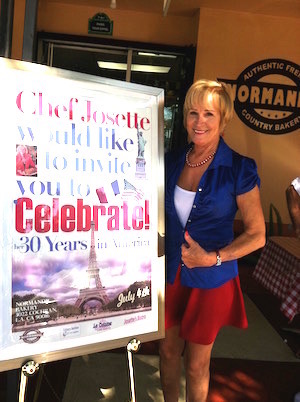 (Gerry Furth-Sides – Los Angeles)Let me introduce you to beautiful dynamo, French-born Chef Josette LeBlond, owner-founder of Normandie Bakery and Bistro. A whirlwind of energy, Josie fits the description of   "the Betsy Johnson of the Food World" – effortlessly creative beyond belief as a teen-ager and not slowing down a bit in 50 years.   "Because cooking is my life." laughs the Chef.
The U.S. citizen celebrates 30 years in America this summer and could not be more proud. And the feeling goes both ways.  California could not have been luckier than to have this blonde bombshell from Normandy decide to holiday – then stay to live- here when she didn't even speak a word of English.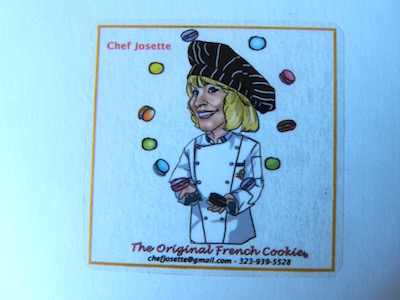 This is the lady who before she formally met me heard I was visiting a friend in the hospital and insisted on my stopping by her bistro to pick up something to take with me – turns out to be lunch and dinner for four.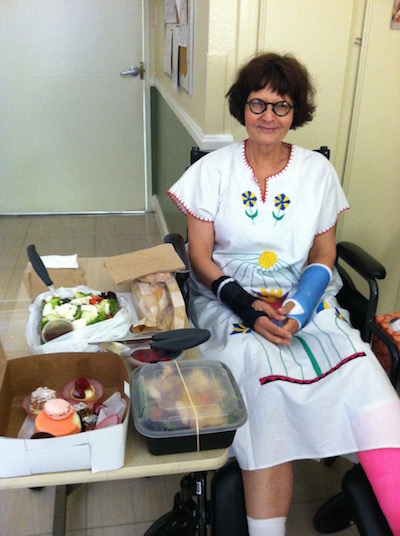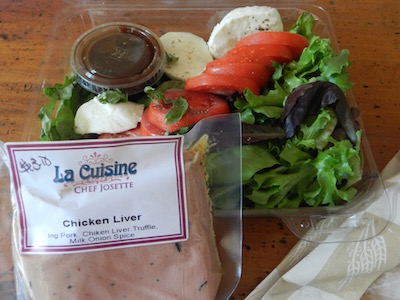 Josette commemorated her anniversary by opening the Culinary Institute of Los Angeles at her Normandie Bakery location. The chef, who literally runs everywhere, stopped long enough to say, " This is such a joy for me to teach the culinary art to those who want to understand, appreciate the art of French cooking."
Joining Founder Chef Josette's staff at the Culinary Institute are other award-winning chefs, each with their own specialized culinary fields, including Chef Bruno, Chef Jean Marc Touya, and Chef Victor. In true French tradition, each student will always have the opportunity in class to be hands on in the making, preparation and tasting of what they prepare.
Internationally acclaimed food manufacturer, Chef Josette's credentials includes being founder-proprietor of Normandie Bakery for wholesale and retail.  The bakery is where I first became a fan of her buttery croissant after all roads – or food editor articles –  seemed to lead to it as the "the best." Top sellers include a variety of breads, pastries, cakes and pâtés.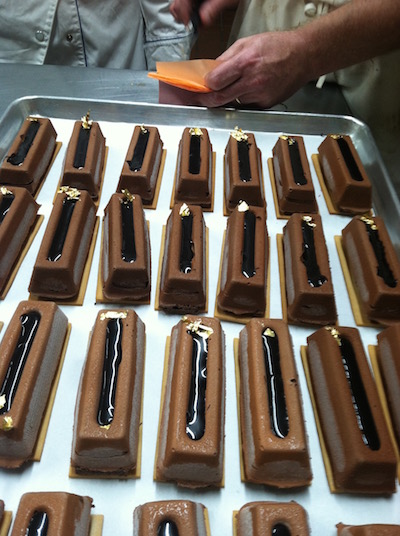 The Art of French Home Cooking will be one of the many classes taught. Classes include making crepes and Béchamel sauce with each student preparing their own batter, creating one the most famous cookies in France, the French Macaron, in many different flavors, and cooking the famous French stew Coq au Vin starting with butchering and marinating the chicken.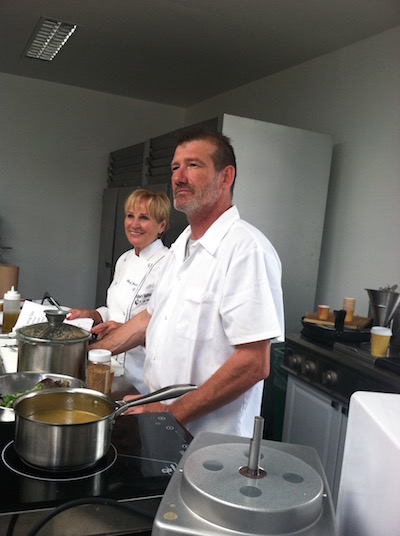 Classes cover French Charcuterie, terrine and mousse production , and the secrets to making the best Tourte, Alsacien, cheese, onion, vegetables, fish and meat, among savories. Sweets include a variety of pastries, tartes and her scrumptious petit fours.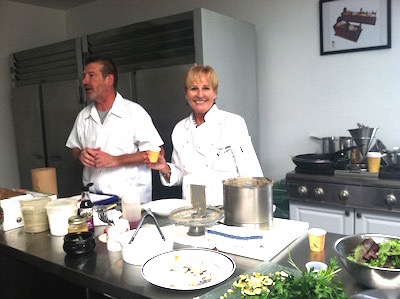 The chefs from Normandy that we've met in Los Angeles and the Ventura area all seem to have "taken a holiday in the U.S." and which somehow effortlessly blossomed into long and wildly successful careers in the U.S. (marrying an American along the way), telling the tale as though they were recounting a week-end at a neighboring village. This goes for the enormously popular , long time owner-chef of 72 Palm Court owner, Chef Didier Poirier in Ventura and Ventura Harbor's Chef-0wner Jean-Luc at Le Petit Café. What is their secret?

Josette's story is the most fun because it is filled with the most surprises. When Leblond was 13 years old, she began learning the art of cooking, food preparation and butchering. At age 18, she purchased the family business from her father and was on her way to creating a food empire, which she sold at the age of 28.
Yet when she arrived in Los Angeles on July 4, 1985, she had no idea she would embark on a journey of bringing to America her Charcuterie experience and wind up the star and host of the "La Cuisine Cooking Show" – remember, she did not even speak English. Yet it isn't the least bit surprising that this ultimate people person wouldn't let a small item like this get in the way.
Her first business endeavor in America was producing Normandie Pâté along with a variety of sausages and other meat products.  Since then she has been honored year after year for producing "the best croissant in Los Angeles." More than that, "Chef Josette is beloved in her Jefferson/Cochran neighborhood where has created her own empire. The Normandy It comes up unexpectedly among auto repair shops and warehouses.  Follow your nose to the Bistro food fragrance wafting through the air.
In other, wonderful, ways, it is another story like Virginia Lee Burton's The Little House in which the neighborhood grew up around Normandie Bakery.
These days Restaurant Depot customers a block away make a stop after stocking up for their own places, drawn in by the fragrance of baking bread, napoleons and fruit tarts and even chocolate bar cakes topped with real gold fillings.   And a literal stop is in order at the Metro Station now right across the street.
Josette's long, spacious whitewashed building holds her bistro, bakery, private rooms and patio for catered parties and, of course, pâté.   A second bistro and bakery filled with those famous croissants and classic French pastries has an Original Farmer's Market address. Chef Josie plants and retail locations, and supplies hotels and restaurants in California and Las Vegas, along with supermarket chains, including the likes of Gelson's, Whole Foods and Albertson's.
Chef Josette is in command of over three dozen varieties of cocktail pates and terrines, including vegetarian, shitake or pheasant or pate en croute and venison terrine with juniper and whisky.   However, she is most renowned for her top selling chunky pâté champagne with black pepper; silky pork and duck pâté with pistachio and nuts and cognac; and a smooth pork and chicken liver mousse with truffles. Textures and flavors differentiate one pate from another, along with the proportions of the meat and the liver that makes up their base. A ratio of 15% liver to pork shoulder makes Normandie's pate so rich it is almost unctuous while at the same time being so light. The other two contain more liver and less meat.
Customers have become more familiar with pate since Josie has been in business here in L.A. although it is not a "must have" as it in France where everyone loves it – easy to believe after you have eaten Josie's pate.   Chef Josette and her staff threw a special party to celebrate her 30th anniversary. Of course the bakery was open from morning to night welcoming friends, family and customers inside and in the back patio. Josette showed the "right way" to eat pâté the way the French do – with a cool class of Chablis or Beaujolais, though rosé and champagne is also acceptable and was cooling on the side of the table.
Normandie's French-style pâtés, breads and pastries can be purchased at their two Los Angeles retail locations that also serve hearty sandwiches, salads, and hot breakfast dishes.
For more information on Chef Josette, visit http://www.chefjosette.com/.
Normandie Bakery and Culinary Ins, 5277 Jefferson Blvd. (Entrance on Cochran), Los Angeles, CA 90016 (323-939-5528) or at the Original Farmer's Market location. Telephone orders can be made by calling 323-939-5528. www.normandieusa.com