New SAFE CATCH Tuna Processes Mercury-Free Fish
(Gerry Furth-Sides)  High levels of mercury found in common seafood dishes has turned people away from buying it.  This why Safe Catch, a new brand of canned tuna fish, based out of Marin County, California, was created.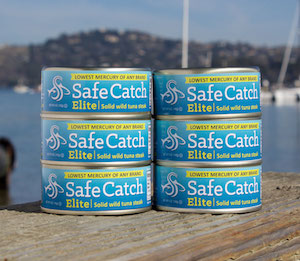 Safe Catch tests every single fish for their mercury content. Their mercury level is 90% lower than the FDA's mercury limit, there is five times the omega 3s compared to leading brands and the tuna has no fillers, GMO's, gluten or additives.
It is a hard sell:  Shark Tank this week turned down the company for an investment, saying the evaluation was too high.  Here is a detailed explanation of what happened: http://heavy.com/news/2016/11/safe-catch-tuna-fish-organic-low-mercury-shark-tank-products-episodes-new-season-8/.
Fish is such an important source of omega-3s, and it makes such satisfying dishes!  The famous Tunisian Sandwich above makes the case.
All nutritionists have always agreed that eating fish can help the development and growth of the brain, keep your heart healthy and possibly help in the difficult process of weight loss.
I even started my TV career representing the Fish Association and salmon with recipes easy enough for "kids to cook." Tuna, however, still remains easiest and most pleasing from the simplest to the most complex dish.
We tried the Elite Wild Tuna ($3.50 per can) , which is Safe Catch product with the lowest mercury tuna available in 6-packs. It was deep in color and meaty in texture (see photos).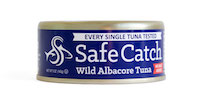 Safe Catch is also available in Wild Albacore, with and without salt. We loved the idea of having tuna sandwiches  prepared with tuna caught in Thailand and processed plus tested in California.  Here is the classic Tunisian Sandwich.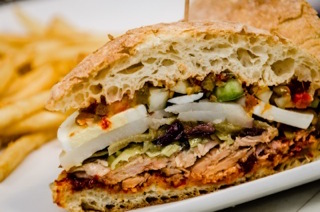 Classic Tunisian Sandwich
 Ingredients
3 tbsp. olive oil
2 cloves garlic, minced
1⁄2 small yellow onion, minced
1⁄2 small green bell pepper, stemmed, seeded, and minced
1 (15-oz.) can whole peeled tomatoes in juice, drained, crushed by hand
1 bay leaf
Kosher salt and freshly ground black pepper, to taste
4 (8″) Portuguese or hero rolls
2 medium Yukon gold potatoes, boiled until tender, peeled and thinly sliced
1 small English cucumber, thinly sliced
1 medium ripe tomato, thinly sliced
2 (5-oz). cans tuna in oil
1⁄2 cup pitted black olives
1⁄4 cup capers, rinsed and drained
4 pepperoncini peppers, drained, stemmed, and halved lengthwise
1⁄2 cup harissa
instructions
Instructions
Heat oil in a 10″ skillet over medium-high heat. Add garlic, onion, and pepper, and cook, stirring, until soft, about 6 minutes. Add tomatoes and bay leaf, and cook, stirring, until sauce is thick and slightly reduced, about 3 minutes. Remove and discard bay leaf, season with salt and pepper, and set aside.
Assemble the sandwiches: Split rolls horizontally, leaving them intact on one side. Divide tomato sauce among rolls, top with potatoes, cucumber, and tomato, and then tuna; top with olives, capers, and pepperoncini. Drizzle the top of each with harissa; halve sandwiches crosswise to serve.
Sean Wittenberg and Bryan Boches started Safe Catch a little over 10 years ago. Growing up near Mount Tamalpais, Muir Woods and the Pacific Ocean, the two childhood friends and next-door neighbors each had a passion for the environment, ocean conservation, and healthy living, which prompted them to create a unique brand of canned tuna. Our proprietary testing technology was originally created with the notion of bringing it to the forefront of the big tuna companies and seafood industry as a solution to the mercury contamination problem; which is still occurring in our oceans today. The industry in general did not want to admit that there is a mercury problem in our oceans, and that it is getting into our food supply. So we decided to take a leap of faith, and combat the industry head on.
Safe Catch products were launched in stores in Mary, 2015. The founders were pleased that the public response has been more than gratifying and matches the company slogan, Eat Pure. Live Pure. In less than a year Safe Catch has experienced a growth in demand both locally and nationally.
Kevin McCay, company director, sums up the success this way, "At Safe Catch we are more than just a tuna company, we care immensely about what goes into each and every can; the product, the environmental impact, the fishing method, the canning and processing method, and the workers who packed it. We take everything to heart and truly believe that what you are getting is a can of tuna like nothing you have ever tasted before. We are truly humbled for your support and will continue to create a product that helps you enjoy."
Safe Catch products are available in stores, on the company website and online at Amazon.
You can keep up with news on their BLOG: https://safecatch.com/blog/
Recipes are at: https://safecatch.com/tuna-recipes/