COCHON 555 Crowns CHEF JONATHAN GRANADA OF OTIUM Prince of Pork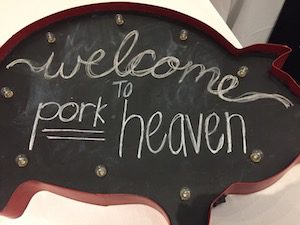 (Gerry Furth-Sides) Even the weather cooperated with a cool fog in the hot LA March heat for a decadent afternoon of feasting on over 1,500 pounds of heritage breed pork raised on family farms.
Afterward, cooks and close to 500 guests raised a glass to toast Winning Chef Jonathan Granada of Otium restaurant in DTLA, crowned by Cochon 555 founder, Brady Lowe, "2017 LOS ANGELES PRINCE OF PORK."  Chef Granada will go on to compete in the finals in October.
the competition features 5 chefs cooking 5 whole, heritage breed pigs with innovative flavors and timeless cooking techniques, Cochon555 challenges chefs to use every bit of their accumulated knowledge and inspiration.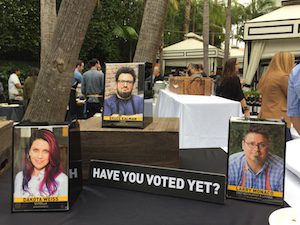 Each chef is given a 200-220 pound heritage breed pig and tasked to create, prepare and present a "Judge's Plate" of 6 dishes scored on utilization, global influences, cooking techniques, and overall flavor, among other categories.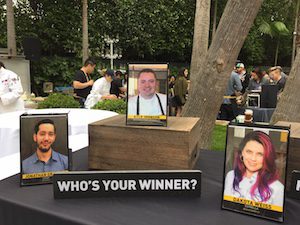 The National Culinary Tour Announces 2017 Competition Winner In Los Angeles at Viceroy Santa Monica.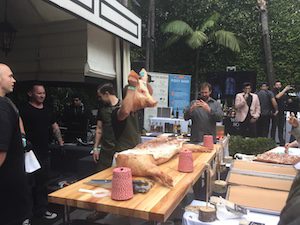 The Piggy Bank Raises over $8000 for Farm Devoted to Gifting Heritage Breed Pigs to Family Farms.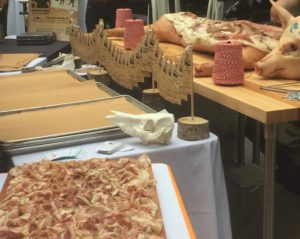 Sales are from tickets and butchered (or not) auctioned pork.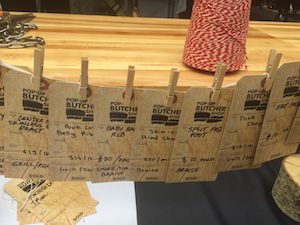 Chef Granada's pig breed from Peads & Barnetts Farm was a Berkshire that yields a brighter pork than most, and features a thick, delicious fat cap.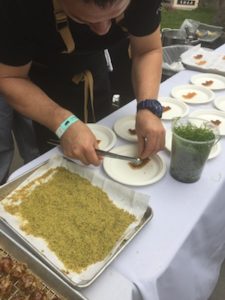 The meat is sweet and creamy with hints of nuttiness, which is a by-product of the finishing process in several areas.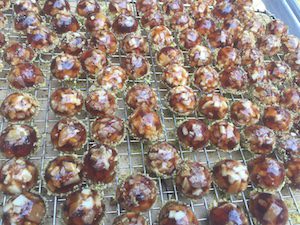 Representing the Berkshire breed of pig raised by Peads & Barnetts, the winner was Chef Jonathan Granada of Otium.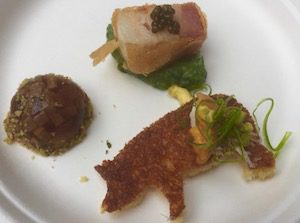 These aspects worked in tandem with his six winning menu items, including a Head Cheese; Pork Belly with Feuille de Brick, Stinging Nettle and Caviar; Whipped Lardo with Sea Urchin, Pistachio and Brioche; Pork Shoulder with Artichoke Barigoule and Vin Jaune; a Croquette with Mojo and Potato; and finished with a Cider – Eric Bordelet Poire Granit from France.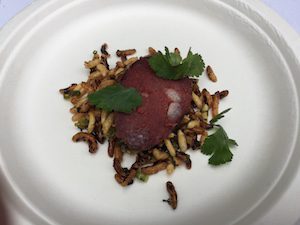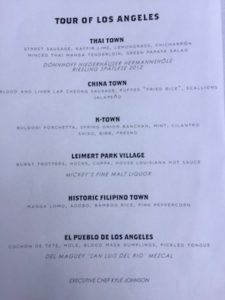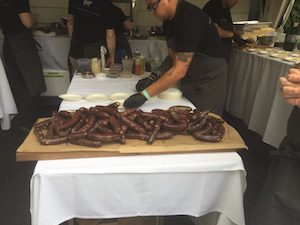 Glasses full of everything from Franciacorta and Pinot Noir to Smoked Old-Fashioneds and Angostura Rum Swizzle cocktails at Viceroy Santa Monica, Official Host Venue.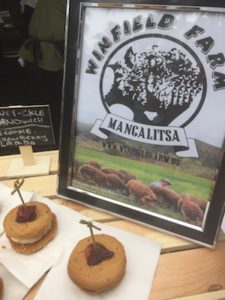 Communal feasting is an integral part of the Cochon555 culinary fabric. Beyond the 30 chef-competitor dishes – all told, some 1,500-plus pounds of heritage pork from family farms – guests also sampled beef tartare prepared by the Chef Walter Manzke of Republique featuring Sabatino truffles paired with the wines of Antica Napa Valley; a farmhouse cheese spread from Savile Row, Divina, and DTLA.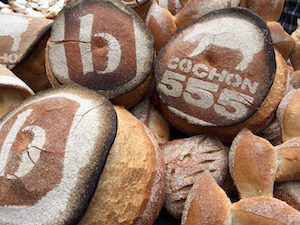 A pop-up bakery from La Brea greeted incoming guests
A Salami Snack Bar from Creminelli and Divina paired with Nielson Wines; a ramen noodle soup bar featuring the racy Wines of Germany.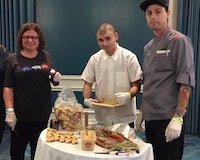 Organic pâté offerings from Les Trois Petit Cochons (photo above) ; a Luxury Butter Bar featuring Sabatino truffle butter, foie gras, and more.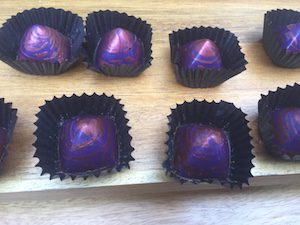 Finally for dessert: an innovative and whimsical take on pastry presented by Perfect Puree of Napa Valley and Chef Christopher Ford of The Beverly Wilshire (shown below).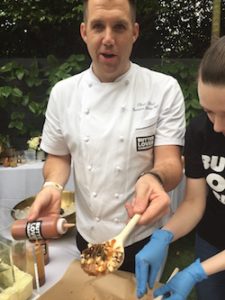 About the Cochon555 US Tour
The Cochon555 US Tour executes a yearly host of authentic, hyper-local food events focused on raising awareness for heritage breed pigs through an innovative nose-to-tail pig cooking competition. This epic pork feast visits 20 major cities in North America annually and stages over 60 events. For more details and videos of events, visit www.cochon555.com.
About Piggy Bank
Launched in 2015 by Cochon555 founder Brady Lowe, Piggy Bank is a pig farming sanctuary. Harboring a Noah's Ark-worthy selection of heritage breeds, it provides free genetics and access to shared business plans to emerging family farms. Piggy Bank aims to change the future of food by creating a community in which small farmers can learn about safer, more responsible practices and benefit from the sharing of genetics, livestock and information to make this successful.  For more information, watch the video http://j.mp/PIGGY_BANK or visit www.piggy-bank.org.