Cocina Condesa Elevates Mexican Street Fare in Studio City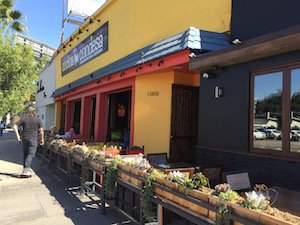 (Gerry Furth-Sides wth Chef  Roberta Deen) The inviting, open air front of Cocina Condesa sports a whimsical street-cart  sign advertising "Street Food and a Mezcalaria."  The sophisticated, rustic new restaurant fulfills its promise in every way. A warm, professional Latin sensibility in the waitstaff matches bold, contemporary flavors of multi-talented, Executive Chef Eddie Garcia overseeing this kitchen of this new restaurant, the name aptly describing "Kitchen of the Contessa."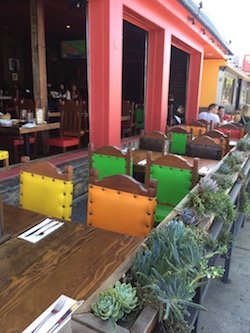 Cocina Condesa's lively, cavernous double storefront could be the baby of Ciudad downtown and the much-missed old studio hangout, Cabo Cantina in Culver City (now Tender Greens).  It calls out, "Welcome!" on a drab section of Ventura Boulevard across the street from car lots.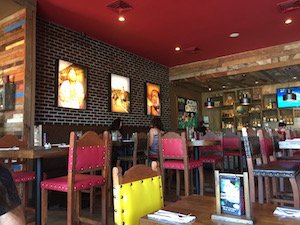 Well -thought out detail also set it apart, from the charming hand-carved wooden plates to the careful arrangement of brightly colored chairs in the multi-level dining areas.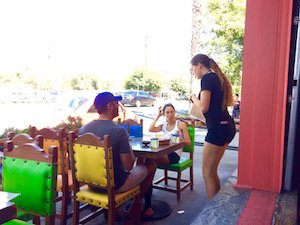 Look closely. The outdoor, lower level seating  is just at the right height for the server to perch on the wooden building wall at a friendly eye-to-eye level with diners.  I missed the shot because the staff can move fast- though they are there the absolute minute they are needed.
Here is a glimpse of the changing, backlit images of Baja projected on one of the wonderful reclaimed wood walls.   Carlisle explained to us the menu, complete with ingredients, of ANTOJITOS or "Little cravings", Guacamoles and Salsas, Tacos, Ensaladas and "More Good Stuff" (Burritos and Enchiladas) and Big Plates (which are big, with practical prices).  And she reminded us of the special Happy Hour events.
Street food is at the same time authentic and elevated.  The stunning (huge) Oaxaca  Chocolate Mole Chicken Enchiladas was the star, making a grand entrance  ($12 at lunch; $16 for dinner) on a wooden platter.   "This is a dish to pay attention to while you're eating it," says Chef Roberta Deen.  She explains, "The gorgeous presentation of chile cocoa mole spreads over three enchiladas, topped with a coat of wavy Zebra striped crema.  The texture is so refined and light, thick enough to coat but not gluey,  the opposite of the usual and accepted"muddy" texture.   Little bowls of refried white beans made the dish even more uncommon, with  some of the best Mexican rice (moist, firm when it is cooked right in the kitchen)I've ever eaten.  And I've had legendary Mexican food expert Diana Kennedy's version of this. I would been happy with just a bowl of this Cocina Condesa mole and some chips."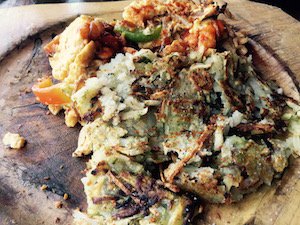 All it takes for me to be happy is Machaca and Eggs, here with plenty of heat without being spiky in the mouth. Chef Eddie's Machaca is not the traditional air-dried beef but a scramble of braised beef brisket, augmented by sautéed peppers and a crispy poblano hash.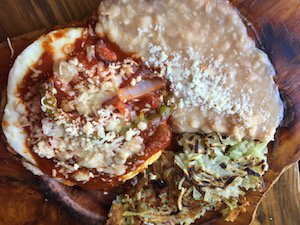 Huevos Rancheros is described by Chef Roberta as "layers of sunny side up eggs, the yolks were not runny but still custardy, superbly done, and homemade salsa on a house-made corn tortilla.   A big plate of hash browns, though crispy and flavorful, became an odd addition  to this Mexican dish."
Desserts are sumptuous and also clever, the petite churros even served in their own ruffled brown bag, sitting next to a tiny pot of melted caramel sauce for dipping and pieces of fresh fruit — all covered with a shake of powdered sugar.   "I wish I had thought of doing mini-churros for my parties," laughed Chef Roberta who was the opening chef of the legendary Along Came Mary, Inc.   But, she noted, " like all great street food, the "just-out-of-the-fryer taste is key.  And this plate has such perfect balance of sweet-to-tart."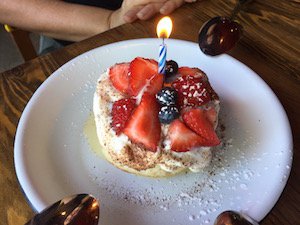 We mentioned a birthday upon arrival and had to say "no more."*  Out arrived the Tres Leche Cake. Chef Roberta:  "this cake (a classic because of the three different forms of milk it is prepared with) was moist, thoroughly soaked, but not over soggy.  The fruit provided just the right hint of tart to balance the sweetness of the cake for the dish." It's fitting and a bit of a homage in terms of Chef Eddie, who studied with the legendary Mary Sue Milliken,  who once revealed that baking was her favorite thing to do, and tres leche cake her favorite to make.
The Mexican version of Cayenne Brownies glazed with vanilla sauce, come as four-inch squares of perfectly cooked, gooey, fudgy brownies (the cayenne not really noticeable), accompanied by a big baseball of fried vanilla ice cream covered in crunchy crushed walnuts (which tasted like coconut toasted), fresh fruit and a creme glaze, ample enough to share.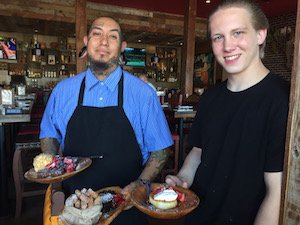 Chef Eddie holds Churros and Brownies.  The server here holds densely textured Dark Rum Flan with Pineapple Whipped Cream, fresh cut berries.
Cocina Condesa Executive Chef Eddie Garcia discovered his passion for cooking as a teen and "to this day continues to draw inspiration from the common cultural tradition of traditional Aztec dancing after having the privilege of being raised within the rich and deep-rooted history of Mexican culture."
Garcia is dedicated to infusing each dish with this culinary heritage, "instilling into each original dish bold flavors and fresh and seasonally conscious ingredients entwined with pieces of Aztec cultural history."
Hard working and talented (his career flourished from the age of 16) Chef Garcia remains emblazoned with with the edgy symbols of the Pacoima streets in which he grew up.   His  attitude of curiosity and his capability quickly resulted in his partnership with prominent restaurants and bars, ranging from the eastside Malo's (Silverlake) to City Tavern (Culver City).  At Sweeney's Ale House and The Woodman, put he put together impressive,  unique bar food menus.  To broaden his range, Garcia studied some of the city's most influential chefs, including Mary Sue Milliken and Susan Feniger of Border Grill and Ciudad.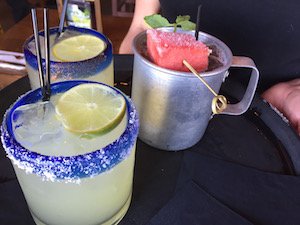 Mixologist David Rubin, Cocina's  Executive Beverage Director and Mezcaleria curator, brings back from a recent New York City stint,  yet sophisticated cocktails that combine the southwestern flair of Mexico and straightforward, fresh seasonal ingredients of California.  A Caipirinha cocktail, Brazil's national drink, shows his cutting-edge contributions and adds a little touch of the Olympics.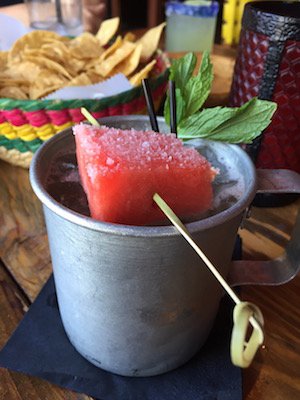 Above in a tin cup topped with a watermelon cube, David Rubin's  Bronco is prepared with Whisky, Fresh Ginger, Soda, fresh Watermelon Juice and Fresh Lemon Juice.  The drink is as refreshing as a just-squeezed farm lemonade but the punch it packs hits an hour after it is finished!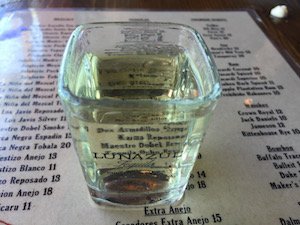 True to its restaurant description of a Mezcaleria, the list of Reposed and Anejo and Double anejo tequilas (so good that list at up to $50!) and mezcals fill one entire menu page.
Please see the website for Happy Hour and events. Cocina Condesa http://www.cocinacondesa.com/
11616 Ventura Boulevard, Studio City, CA 91604 (818) 579-4264.