Magnolia House's "Cool" Hot Summer Cocktails
Pasadena weather is always 10-15 degrees hotter than Los Angeles – this summer add "hotter" cool cocktails to the description. The little bungalow bar, Magnolia House, has already earned a reputation for being tranquil and cozy with unique small plates and craft cocktails.   Now brand new Bar Manager, Brian Klemm's "cool" cocktails turn up the heat.   The Indiana native has worked such local hot spots as Los Balcones and Spear, as well as recently operating his own mobile bartending service at private events. The following stunning collections of cocktails was photographed by acuna-hansen.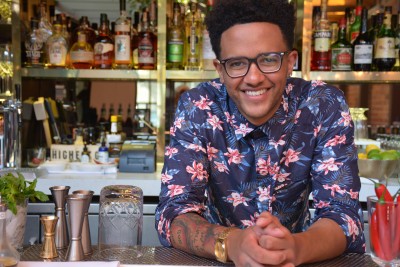 Brian's sharp sense of colors and flavors comes through right away the Marigolds at Magnolia. Served in a coupe, the concoction of pisco, fresh lemon juice, marigold syrup, honey, rose water spray sports a snappy garnish of yellow and orange marigolds.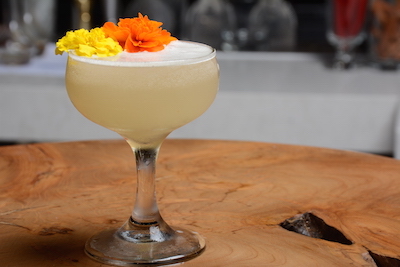 Notes from Granny is served on ice in a blue-lipped white mug and crafted with gin, a Granny Smith apple juice mixture of lemon and cucumber with pinches of basil and mint, then garnished with a creamy cube of blue cheese (perfect for pairing) and a handwritten note from Granny Smith! Klemm explains, "each note is individualized to the guest and contains greetings or fun advice from Granny Smith. For instance one will read, 'Frankie (Sinatra) says 'alcohol may be man's worst enemy, but the bible says loveyour enemy.' So I spiked your apple juice. Love Granny Smith."
Bartender Brian's The American Dream is "simple and clean," in his words, and his interpretation of summer in a glass. It bleeds in refreshing bright red color (and taste) and is mixed with fresh strawberry-infused bourbon, lemon, simple syrup and mint.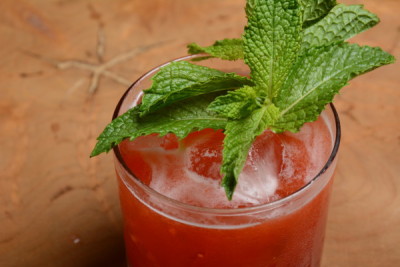 Luscious and dreamy, Mag House's Badass Coffee is a creamy elixir of rum, Ancho Reyes chili, cinnamon, cream, and coffee with a Holland red chili garnish, which can be found under the Desserts section of the menu. Shaken up tableside in a silver thermos, it is meant to resemble that canteen you pack for a summertime camping trip, albeit a spiked one.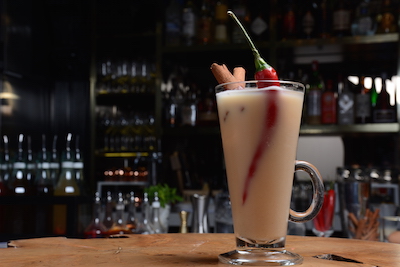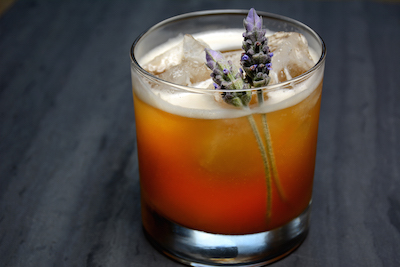 Remaining on the menu are popular favorites, such as the fragrant Mendocino Sour mixed with bourbon, Amontillado sherry, lemon, rooibos tea and lavender (shown above).  Klemm will also continue to craft  other pre-existing cocktails originally created by Colin Shearn, including the Everyday Sunshine with vodka, pineapple, raspberry, lime, Aperol and Vermouth  The spicy Wicked Game shaken up with gin, jalapeño, watermelon, honey, lemon and Vermouth is still available, and the drink designed for scotch lovers, The Lumberjack's Breakfast made with blended scotch, apple brandy, maple and cardamom syrup, lemon and egg whites is here to stay. Rounding out the menu, the tropical Crown City with rye, Jamaican rum, bitter orange, cacao, banana and bitters is still present and boasting a little Pasadena pride – and the Revel in Raspberry (below).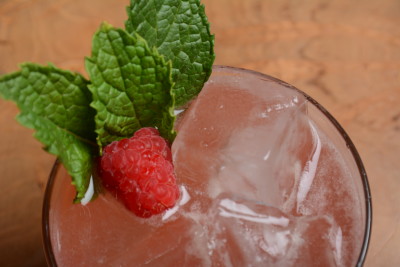 "The bar is a place where we try to focus specifically on hospitality and educating our guests about what goes into their glass," says Klemm. "With that comes a great responsibility: the cocktails must be spot on. We really care about the overall guest experience, and because of this, we make sure their experience is spot on as well."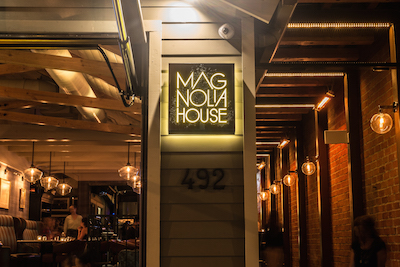 Neighborhood Hour is Monday through Friday from 4:30 pm to 6:00 pm where Klemm comes up with a clever Cocktail of the Moment. An additional list of discounted beers, wines and bar bites is also available.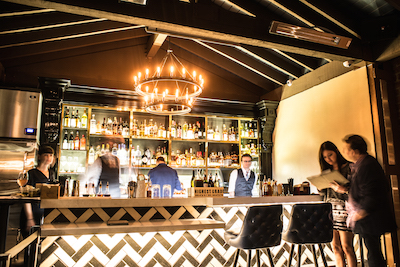 Magnolia House is open from 4:00 pm to Midnight every Monday through Wednesday, 4:00 pm to 2:00 am on Thursday and Friday, 10:00 am to 2:00 am on Saturday, and 10:00 am to 10:00 pm on Sunday. For more information, please visit www.TheMagHouse.comor call Magnolia House directly at 626.584.1126.