New Knifeworks: The Cutting Edge of the Knife World
(Gerry Furth-Sides) Any professional chef will tell you there are only two really essential pieces of equipment a cook needs other than a heat source: a good pan and a high-quality chef's knife. At one time chefs wore their knives in a belt holder to have them nearby at all times.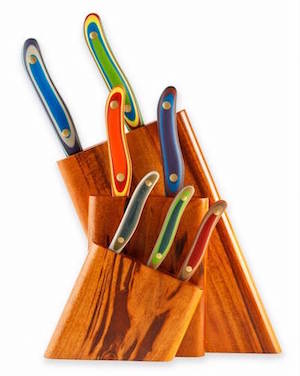 Cocobolo Knifeblock Set
Watch a chef carry his knife kit gentle as a baby. It is, in fact, an extension of a chef's hand.   The tip can mash garlic into a smooth puree, its back can crack the toughest lobster claws, the heel is able to penetrate tough tendons and small bones, and the wide blade doubles as a scoop.

G-Fusion Mini-Chopper
There are only two types of knives: stamped and forged. Stamped are cut from a piece of sheet metal, the latter is actually forged from a solid piece of metal, much the same as they have been for centuries. New West knives are forged; you can tell by their heavy blade and pronounced heel.

G-Fusion Mini-Paring
Knives come in many sizes but an 8-inch knife suffices for most tasks. In the past, there were only two styles: German and French. You can recognize the more common German style by its slightly rounded blade that enables the user to use a rocking motion when cutting and slicing. The French blade is more angular and pointed, resting solidly on the cutting board, which is great for fine slicing and mincing.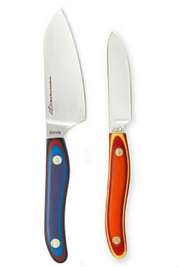 Former professional chef, Corey Milligan, is so passionate about precision knives that he started to make them with now retired partner, Michael Merriman. Corey got his start under the practiced eye of his mother in Ohio. He recalls, "Since then I've used many different qualities of blades and have the scars to prove it! It inspired me to design the finest quality, most beautiful tools. More importantly, they are functional and durable and made with my own hands with modern precision tools."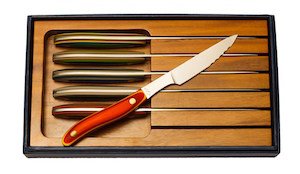 G-Fusion Six-Piece Steak Knife Gift Set
Handling the knives proves that New West KnifeWorks knives are the culmination of countless hours of hands on work, intensive study, and instruction by knife-makers in the U.S. and Japan.  They also work for the dining table.
"Quality steel is the most important ingredient in creating a superior knife," according to Milligan. "We import premium, high-Carbon stainless steel from Sweden, known internationally as the best. A high Carbon content takes and retains a razor sharp edge. Chromium, Nickel and Molybdenum alloys make the blades stainless and increase hardness. The steel is precision heat-treated and then cryo-treated to -110 degrees Fahrenheit. "
Fusionwood™ Handles are created from select hardwood veneers that are vacuum impregnated with advanced penetrating dies and engineering grade phenolic resins for a beautiful, highly engineered and crafted material that will last a lifetime.
A rugged athlete, Corey now operates the worldwide headquarters of New West Knifeworks in pastoral Jackson Hole, Wyoming. He grows, hunts and gathers fresh, natural ingredients for a cuisine he labels 'New Western.' He laughs, "It constantly inspires me to create, test and refine my cutlery into the finest tools available anywhere."
Still his carny skills rival Jody Moroni hawking sausage on Venice Beach. . The award-winning knives have also been accepted at many of the nation's top juried fine art shows.
JH Elk Antler Santoku
In recent years, Corey has been excited about a new knife he has manufactured in Japan. "It may lack the artistic myriad of colors in our signature inlaid wood knife handles, but the larger kitchen knife lends itself to widespread marketing," he reports.
Corey often cooks with his brother-in-law, Chef-Owner Chris Kiddor, of the highly esteemed Literati II restaurant, and a James Beard Foundation award winner. Says Chris, "I use them all the time. They hold up and have a nice weight for the kitchen."
Celeb chef Govind Armstrong of Table 8 also uses New West knives now. Govind was introduced to them at a charity event at Jackson Hole, where Corey donates the knives.
Early lessons in preparing Asian cuisine paid off for Milligan in another way. Executive Chef Sean An of e3rd Steakhouse & Lounge reports, "A good kitchen knife is not cheap at  $100. But its worth it, and they can last a lifetime. I look for a well balanced knife that feels good in my hand. That's where it'll be most useful. And I find that the new Japanese knife from New West KnifeWorks is perfect for the kitchen- and the sushi counter."
I've had my two for ten years and still find that are the most useful tool in my kitchen.  And they are the most beautiful.

For the knife that you need in your kitchen, read: http://www.newwestknifeworks.com/content/information/what-knives-do-i-need
Contact New West KnifeWorks: (877) 258-0100 or www.newwestknifeworks.com, preferable since Corey travels so much.