East India Grill Defines "Hole-in-the-Wall"Treasure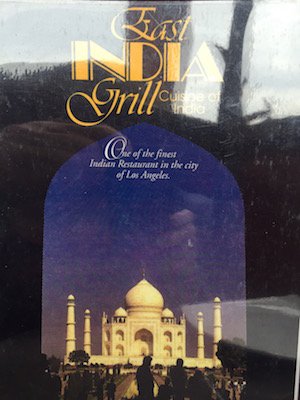 (Gerry Furth-Sides) East India Grill  has aged gracefully from its original 1986 cutting-edge format, complete with performance kitchen and fresh ingredients geared toward the lighter California palate, into a funky hole-in-the-wall ethnic landmark.  But its classic menu with consistently strong, clear flavors, along with friendly, considerate service have kept it on the list of most popular Los Angeles Indian restaurants to this day.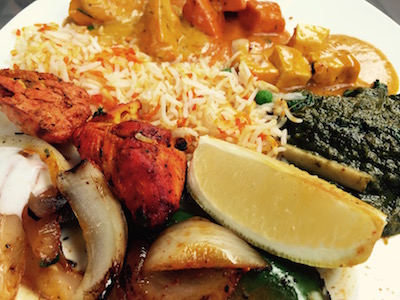 One example of pure graciousness was being offered Indian wine.  It also turned out to have the honor of enjoying one of the East India Grill's last bottles of Grover Vineyards Viognier Clairette (2005).  It turns out that the 400-acre vineyard "at the foot of the misty Nandi Hills in Bangalore," was established in 1988 to revive the Indian wine industry in India using French grapes.  It succeeded to such an extent that it attracted a French market.  This Claret, known to be high in alcohol and low in acidity, was a beautiful example, tasting very much like a crystal clear sauvignon blanc.
Meat Samosas with peas are an off-the-menu offering in the Appetizer Section, the dough thick as a pie dough crust and pinched in a sweet way as in a pie.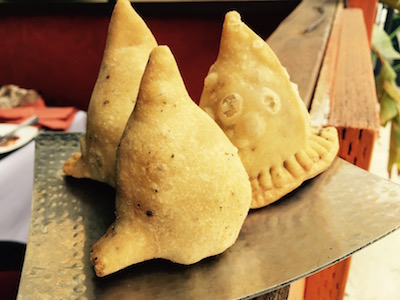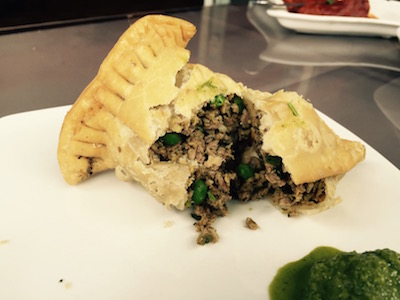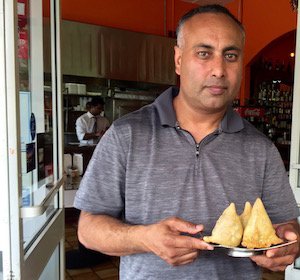 The "must-try" Wings from Hell, from the original 1986 menu, give a new meaning to "wing" appetizers.   The sauce is about finished while you try to figure out the ingredients of the thick, thick, thick hot tomato chili sauce as fiery as you would like it.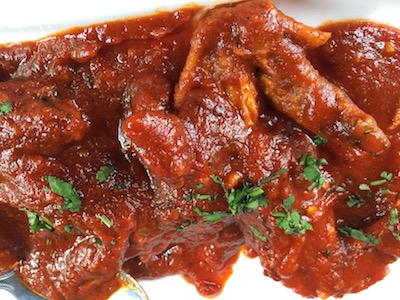 Calamari (squid) Rings in a three-flour batter have an American appeal, especially with a squeeze of lemon and a dip into the mint chutney.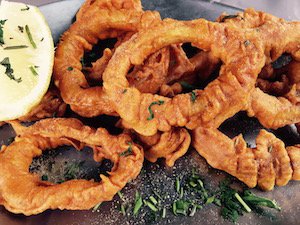 The Curries are a simple choice. The menu reads, "Choose a curry, vegetable meat or seafood flavor and you come up with a dish. "  A thoughtful addition:  "Also please specify how would (you) like it prepared: mild, medium or hot. If you do not specify we will make it mild."
We tried the Makhani Tikka Masala with a flowing tomato cream sauce, silky and non-acidic.  Complementing this dish was the fragrant, perfectly balanced, affron and cashew nut- infused Chicken Korma curry.
The classic Saag Paneer provided healthy, light vegetable and protein, here with generous chunks of cheese (paneer).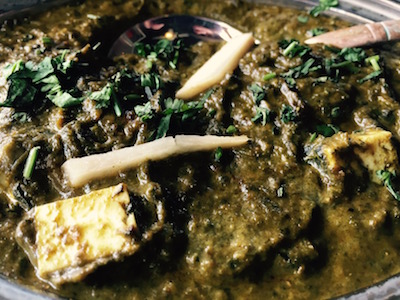 Karahi, an Indian curry stir fry with onions, peppers and tomatoes, proved glorious in both color and straightforward flavors.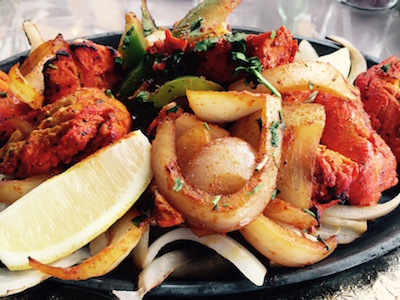 Basil, cilantro and garlic Naan prepared a few feet away in the tandoor oven makes it taste even more chewy and crunchy.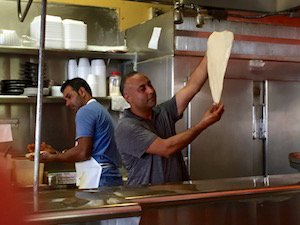 Roti (a name derived from the Roma gypsies that carried it from India through Persia, where it was renamed Naan) is baked with whole wheat that lends it a more rustic taste and appearance.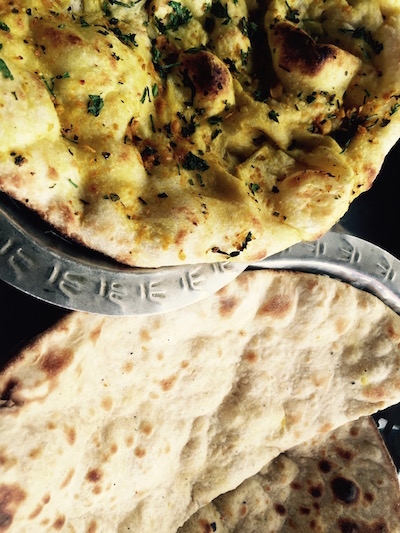 Dessert saffron kulfi, was a beautiful muted saffron color. It has the feel of a creamsicle all in one bite, and East India Grill adds slivered almonds to enrich the little bars with a royal touch.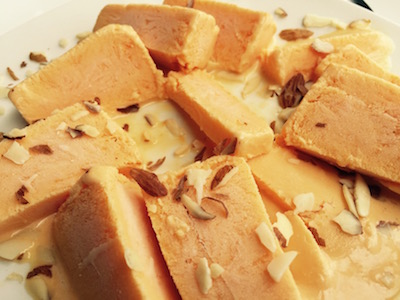 That East India Grill began its long history and reputation as one of LA's best Indian restaurants, is in the very name, "Grill," de rigueur in 1986 when it introduced a whole new generation of foodies to the California version of lighter Indian cuisine in the shadow of the very pop culture landmark, Pink's Hot Dogs. It was one of four restaurants in a then very contemporary, one-story architectural complex, all with the same minimalist, bold style that seemed very bold among the brash car dealerships and high end restaurants just beginning to sprout up on the street. And it has endured for 25 years. The latest reinvention of La Brea Avenue into a yuppie yet funky neighborhood is also the newest and perfect setting for East India Grill.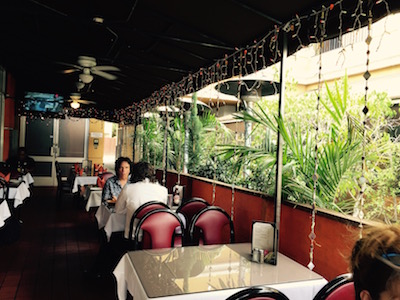 I remember when an especially condescending L.A. Times restaurant writer complained that "the Wings from Hell were more like the wings from heck." Maybe she did not read the fine print about choosing the level of heat. She also complained that, "everything is explained."
Which is exactly what I love about the place.
East India grill, 345 N. La Brea Avenue, Los Angeles, CA 90035, www.eastindiagrillla.com. Click below to order online now for pickup or delivery.
We even had a reminder of the past with a timeless Indian madras print shirt on the motorcycle rider next to our car!