Eastern European Cooking in "My Fat Dad" Book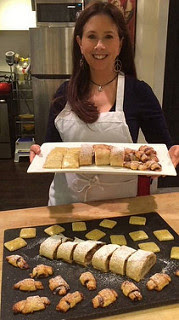 Eastern European pastries and heavy foods play an uplifting, sentimental part of Dawn Lerman's insightful book, My Fat Dad.  Author of the witty, informative New York Times Well Blog series of the same name, Dawn shares her own food journey and that of her father, a wildly successful copywriter from the "Mad Men" era of advertising at Leo Burnett and McCann Erickson – who struggles with his weight. The book (Berkeley; Trade Paperback/$16.00), complete with enticing recipes, is a quick-read and very visual, a sort of real life "World of Henry Orient."  It would be so much fun to see Dawn's astonishing Manhattan adventures as a film. This is a (on-trend) memoir about food and so much more.
In the six degrees of separation I learned that Dawn's "favorite older cousin, Linda," who introduced her to new cuisines, happens to be a bigger-than-life brash beauty and prolific cookbook author here in L.A., and a long-time, brilliant food friend. Linda was the first to proudly direct me to the book. She was Dawn's catalyst to delve more deeply into the world of healthy food, and most of the important recipes in the book are from Aunt Jeannie, Linda's mom.  Note:  I appeared at a tea party with 103 temperature that Linda hosted for her mom because I felt I "had to meet" the mother of the force of nature.
Dawn spent her early childhood in Chicago in an emotional and actual state of hunger  as her ad man father—responsible for such iconic slogans such as "Fly the Friendly Skies," "Coke is It," and "Leggo My Eggo"—pursued endless fad diets from Atkins to Pritikin.  At 450 pounds at his heaviest, he insisted Dawn and her mother adopt to his saccharine-laced, freeze-dried food plans to help keep him on track.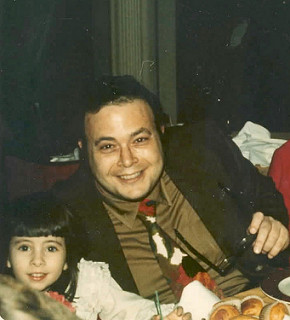 The chapters about Dawn's dad's health experiences alone were worth the read, first with her family at the famous Duke University, with its infamous rice diet when McCann Erickson suggested Dawn's father spend six months at a Fat Farm in North Carolina in order to get a promotion.  The family with ten-year-old Dawn joined him for a part of the stay.  When they returned, Dawn tried to help him maintain his 175-pound weight loss by cooking her grandmother's recipe cards with a healthy twist. It turned out to be the beginning of a new food career for her.
MY FAT DAD is as much a coming of age memoir as it is a recipe collection from Dawn's upbringing and culinary adventures in Manhattan. Her recipes include some of her grandmother's favorite traditional Jewish dishes, to healthier interpretations and creations.  Some of the appealing, straight forward recipes found in the book include:
Aunt Jeannie's Apple Strudel
Chocolate Chip Mandel Bread
Bubbe's Sweet Brisket with a Coca-Cola Marinade
Mushroom Barley Soup
Sweet Potato Latkes
Beauty's Baby Shell Kugel with Golden Raisins
Duke University "Fat Farm" Approved Parchment Paper Salmon with Leeks and Lemon Slices
Macrobiotic Apple Pie
Sweet Potato Hummus
Strawberry Pancake Sandwiches
Her father's life-long struggle with food, along with her grandmother's love of cooking fresh foods, led Dawn to become a well-respected nutritionist and NY Times blogger.  Board-certified nutrition expert (MA, CHHC, LCAT), she is the founder of Magnificent Mommies and contributor to the New York Times Well Blog.  Her company Magnificent Mommies provides nutrition education to student, teachers and corporation. Today her dad is a healthy 230 pounds and vegan.
The last very dramatic chapter tells about how Dawn actually saved her father's life with a strict diet to support his immune system after researching and studying the subject thoroughly. He used the same kind of "pure conviction and focus with which he approached every new diet or ad campaign, to change his habits of living on white rice, liquid diets, low-carb, high protein, high fat and low-fat regimens" in between what amounted to fatty, rich or junk foods. He added only healthy foods, and did elimination cleanses and he "sautéed, steamed, pureed, broiled, and juiced all of it. Mainly, he asked Dawn for advice on how to do this.   And he be regained his health, continuing his quest for healthy regimes. The experience empowered Dawn and led her to a career focused on nutrition. In her words, "While my dad was still the funny guy and I was still the emotional girl, we both could agree that when you cook a pot of mushroom soup just the right way, miracles can happen."
Dawn wrote the book because, "Every story and every memory from my childhood is attached to food. Our relationship with food starts at a very young age: what and how we eat is often determined by our environment and our upbringing. Our eating habits and tastes are cultivated by our family members' relationships to food, for better or worse. Everyone has a food story to tell.  My Fat Dad is mine."
So, of course this reminded me of my own relationship with my dad, who was always trying the latest diet fat. Like Dawn's father, he was a "gourmand," who could never quite master the concept of "portion." Unlike Dawn's dad, my father was an athlete and burned off the calories.  It was "portion" that was the culprit, not the Austrian or Czech cuisine that made him heavy.  The dishes we ate derived from the Austro-Hungarian Empire, which included the best of French and Italian technique (my mom's family had croissant delivered to their home in Europe!)  This book made me realize that although I was always wistful that our family rarely ate out in restaurants (we even bought food and cooked it in our motel room on ski trips) I'm more than appreciative of  the food we did eat — and the passion and love that my mom always put into it every meal.