Elevated Asian Cuisine at THE TASTELA "Field to Fork"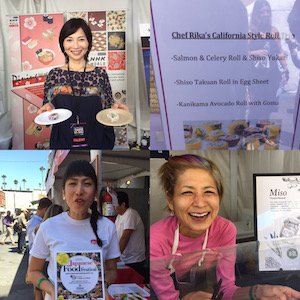 If Ethnic cuisines have cooked their way into the hearts of Los Angeles mainstream food events, Japanese reigned this past week-end at
TASTELA's Field to Fork,
 hosted by 
Amy Scattergood, Times Food Editor, and Michael Cimarusti, Chef/Owner of Providence and Chef/Partner of Connie and Ted's.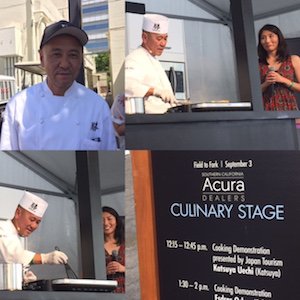 Representative of the talent courtesy of Japanese Tourism is Los Angeles legend
 Katsuya Uechi of
Katsuya
(Studio City, West Hollywood, Encino), and a number the sushi academy, making a rare appearance, proving himself still both masterful and engaging in a SRO cooking demo.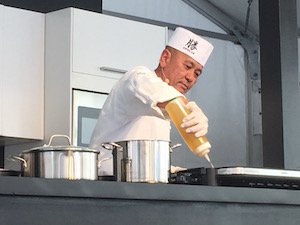 Chef Katsuya 
earned the biggest laugh of the day with his Emeril-style "bam" as he added garlic to his Hokkaido-style Grilled Salmon and Vegetables and showed how he made his own sauces.  The chef revealed that he "knew when the salmon was done because I've been doing this so long the food talks to me."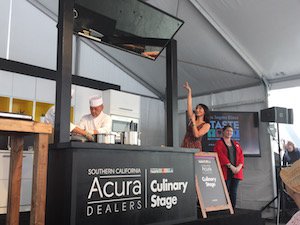 Professional interpreter and teacher, Riskako "Saki" McCarthy made it even more informative, here showing how high on among  the Japanese islands the northern-most Hokkaido is  on the map.  She charmed the audience when she explained how her nickname "Saki" differs only a tiny bit in inflection from the drink, Sake!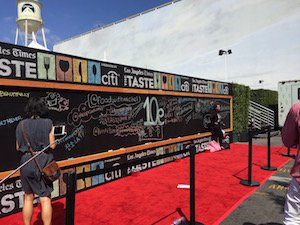 Afterward
Katsuya
 greeted fans and friends, including me.  When I told him I had done a project for his company, he took off his hat and bowed deeply.  This is what makes events like TasteLA so memorable. And the welcoming Paramount staff!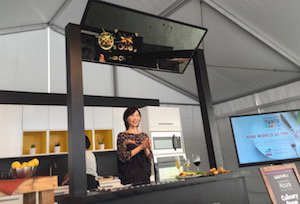 "There is a food revolution (going on) here in LA," cookbook author and TV star, 
Chef Rika Yukimasa 
exclaimed
.  
NHK WORLD TV* flew her to town for the weekend event.  "When it comes to food, people in LA are willing to change, accept different things and go onto another level," she added.  "For instance, while I was here, I visited Ray Garcia's restaurant, 
Broken Spanish.
  It was quite amazing to see how they have elevated the traditional ethnic foods.
"Many countries like to stick to their own authentic foods," she summed up. "But in LA, many restaurants like to incorporate various types of cuisines to create a brand new one. What I've learned from traveling is to use local ingredients from around the world and combine spices to create new recipes. These fusions of ingredients and recipes are really inspirational and are the future of the culinary world."
The former northern California student and resident was impressed with the enormous change from the time Sonoma chefs were starting to use natural products.   She compared Japanese cooking ingredients to Italian because they have so much coastline (and might have added the Korean peninsula).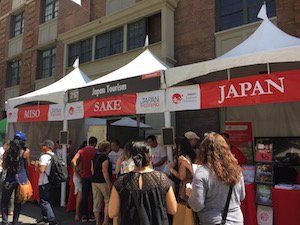 Chef Rika  made a strong if polite point about "Japanese cuisine being beyond so much more than sushi — although she laughed, "who doesn't love sushi?"  Yet  so many other types of popular Japanese dishes are simple to make at home that even children can have fun preparing and eating them, such as the yakatori in the chef demo.  "We love cabbage in Japan and add it to everything because it is so healthy and light," she explained.  "But," she added conspiratorially, "we know Americans like colorful plates and variety so I usually add carrots and asparagus to a dish."  She also pointed out that the asparagus took 2-3 minutes, the pork only three.
In order to achieve a level of satisfying umami,  or full array of tastes on the palate, the chef explained that for the "tart" one, Japanese use healthier fermented veggies or sushi vinegar (especially for salad dressings) are used instead of a lot of salt, and only a tiny bit of sugar and oil (rather than butter).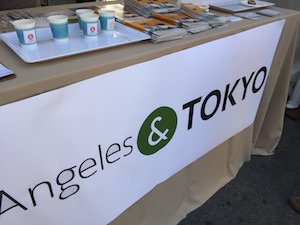 And Chef Rika leaned out to the audience at her own demo and shared her secret of Japanese ingredient shopping.  "If you don't live near an Asian market, try the supermarket — or use Amazon like I do!"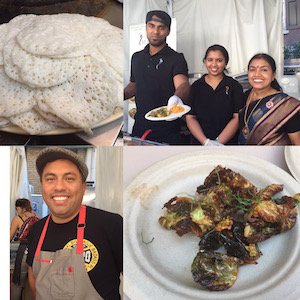 Favorite Asian and Asian-related smiles of the day come from the Southern Indian Appam among the dishes served by award-winning
Mayura Restaurant
in Culver city with owner Padmina.
On
Ricardo Zarate's
plate this day was Helping out at
Public House
with their Japanese, Korean and Indian-inspired Ceviche Nikkei "samba" help seed pasta and the crowd's favorite bite of Brussel Sprouts with Mint-pickled raisin kimchee sake sauce. Peruvian-born chef Ricardo Zarate is keeping his hand in for his upcoming fall project,
Rosaliné
, a Peruvian"street-food" focus, complete with open kitchen, open charcoal grill, ceviche and greenhouse.