Ethnic Stars at Angeleno Magazine's Live & Dine LA 2016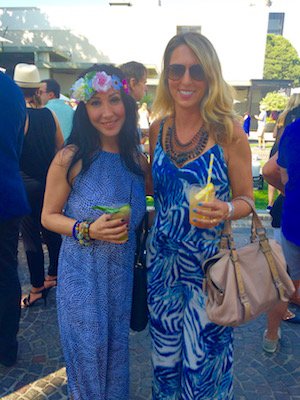 (Gerry Furth-Sides) Ethnic chefs stood out this year even among the  curated "best of the new best" showcase at the 2016 Angeleno Magazine's Live & Dine LA event the Fairmont Miramar Hotel & Bungalows.  It seems that "Inventive dishes from the city's finest chefs" this year mean inspired and elevating classics to a new level.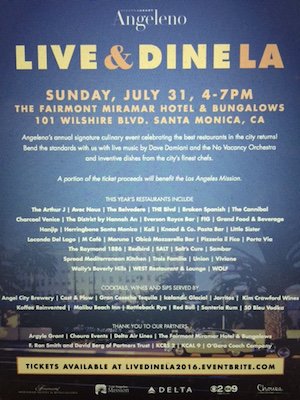 Chefs pull out all the stops for they one day "in the sun" to celebrate their honor of being chosen for the  "best of" Angeleno Magazine event. Even the weather added to the festivities with a sunny day and cool breeze at the hotel across from the ocean.
Inventive here translates not raw oysters on the half-shell but Chef Yousf Ghalaini's wood-grilled oysters with tantalizing smells of the smoke announcing the dish a few feet away.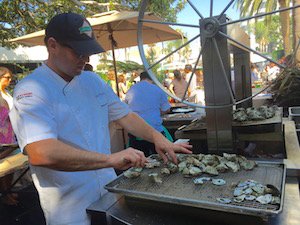 It represents the seasonal bistro at the hotel which takes its name from the glorious 120-year old tree in the courtyard.   With dishes like charred octopus, baja sea bass and Italian pizza from the hotel's new wood-burning oven.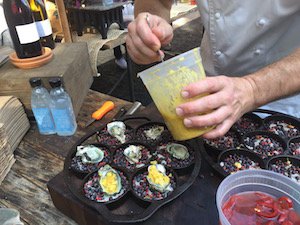 Added to this was the hotel's own hospitality.  Just when you could not take another step outside or another bite and took refuge inside one of the comfy side lounges overlooking the event.
At Live & Dine 2016, "inventive" meant not corn on the cob but a lovely hand-shaved portion, grilled and coated with paprika and parmesan and served with a slice of lime by Charcoal in Venice.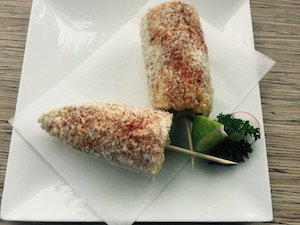 American regional arrived from none other than Chef-owner Josiah Citrin and there is nothing less to expect from this city's most meticulous chef as he again moves from white tablecloth French to a more casual, cutting-edge concept.  Charcoal Venice uses locally sourced ingredients and (www.charcoalvenice.com) features hyper-seasonal charcoal dishes, including lamb tartare with fermented turnips, juniper, pine nuts and dried fig.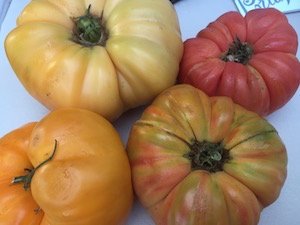 Broken Spanish chef-owner Ray garcia, who previously headed up FIG at the hotel now served rustic Lamb Neck Tamal.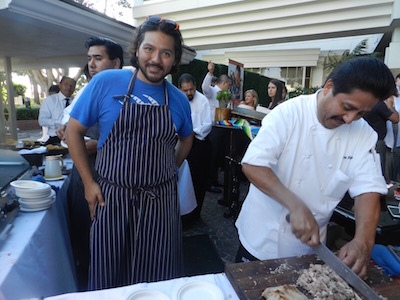 High energy, multi-talented, Han-jip, Chef-owner Chris Oh created a perfect bite of pork belly carved right at the station.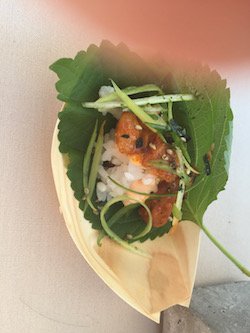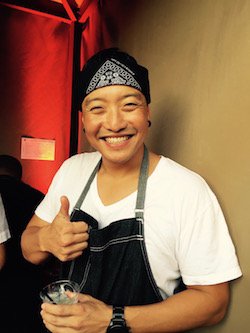 LA's low key but major driving culinary force for the past quarter century, Chef Neal Fraser, now Executive Chef-Owner of Redbird at the downtown Vibiana  featured a Korean influence by complimenting his  grilled Lamb Belly with kimchi, sweet potato and yogurt.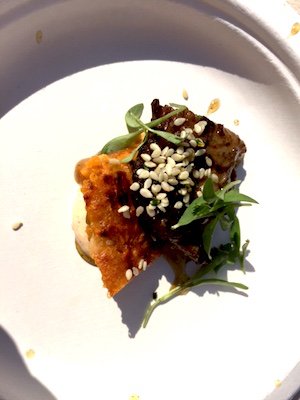 Italian panna cotta turns into a show-off, simple, luscious dish offered by Boulevard Restaurant at the Four Seasons Beverly Regent by Wolfgang Puck, who was honored at the event.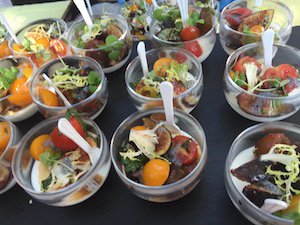 French was the theme Wally's Winery, which represented their updated French Provence menu at the new Beverly Hills location on canon that is half restaurant and half specialty shop.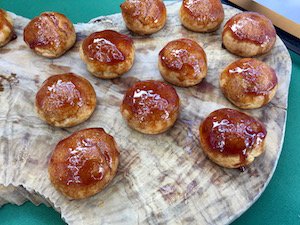 Chef David Feau of the catering division surprised us with a savory version of the  traditional Christmas "croquet en bouche" classically formed into a tree. perfectly crusted little pillow in a savory version of the that was filled with foil gras mousse right on the spot by pastry chef, Jenny.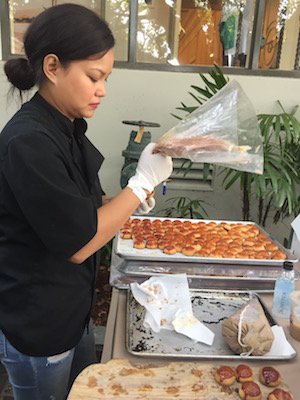 Baked good at Knead were another American regional favorite at the hand of jovial and multi-talented Union Restaurant chef, Bruce Kalman.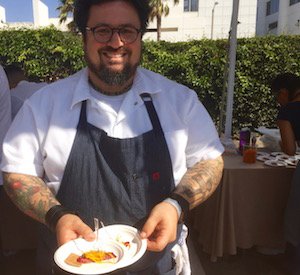 His Knead baker was so happy we tried a sandwich and it was spectacular, with a snap to the crust and a bite to the bread.
Arthur J's August Cake of the month featured an Italian theme. The blueberry cake with key lime curd, Italian Meringue and blueberry compote defined summer flavors and textures.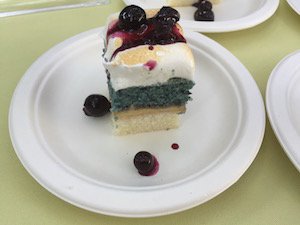 The side valet area with huge trees is converted into the most wonderful garden area with food stations circling it.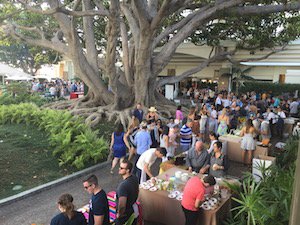 Just when you think you cannot move one more inch, a lovely lady from M Cafe offers a tropical drink. M Cafe served a Vietnamese dish,