"Eureka!" to Greek-owned Bareburger Restaurants in Santa Monica
(Gerry Furth-Sides) A "variety of proteins and buns" and "Certified Organic ingredients" head up the aggressive marketing hype at new Santa Monica resident, Bareburger, the upstart, Greek-owned New York  outfit that triumphed from the start in a down-economy.
Can its most recent outpost replace the historic Omelette Parlor on Main Street?  Co-founder Euripides Pelekanos is an industrious Greek from the Astoria section of New York with the Hellenic smarts and hospitality.  I claim to be half-Greek so want the New York Greeks to succeed.  But I had wanted my friend to do a cafeteria-style burger place to revive  flagging Main Street so my critical eye was out.
The odds on are Euripides, "the David." Bret Thorn in Nation's Restaurant News originally reported that "June 2009 seemed an inopportune time to charge $12 for a hamburger in the middle-class, largely ethnic Greek enclave of Astoria, N.Y., even if it was made from the organic beef of grass-fed cattle. But Bareburger did just that."
When the New York Post conducted a taste test of nine burger offerings, it declared Bareburger the winner, bestowing it with a coveted "four burgers" and noting: "Two patties for the well-seasoned burger, one for the delicate brioche bun, another for the quasi-barnyard decor and friendly service."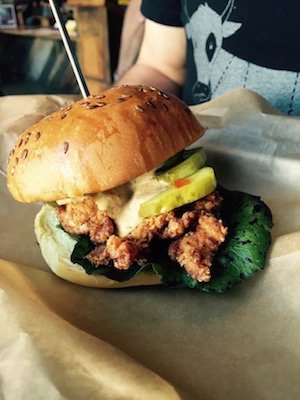 Bareburger's colorful menu –map, menu, history, diagram and photos rolled into one- rivals any drawing a kid might do with the box of crayons on the tables.  It is also a useful teaching tool for parents.
For the poultry lovers there is turkey, panko-crusted chicken tenders, grilled chicken, jerk chicken and ostrich – which will be coming to the beach location soon.  Here the "Pickle Fried Chicken Sandwich" has been coated in buttermilk and boasts the extra snap of sweet pickle plus horseradish remoulade.  A pillowy brioche bun allows for an easy bite of all three at once.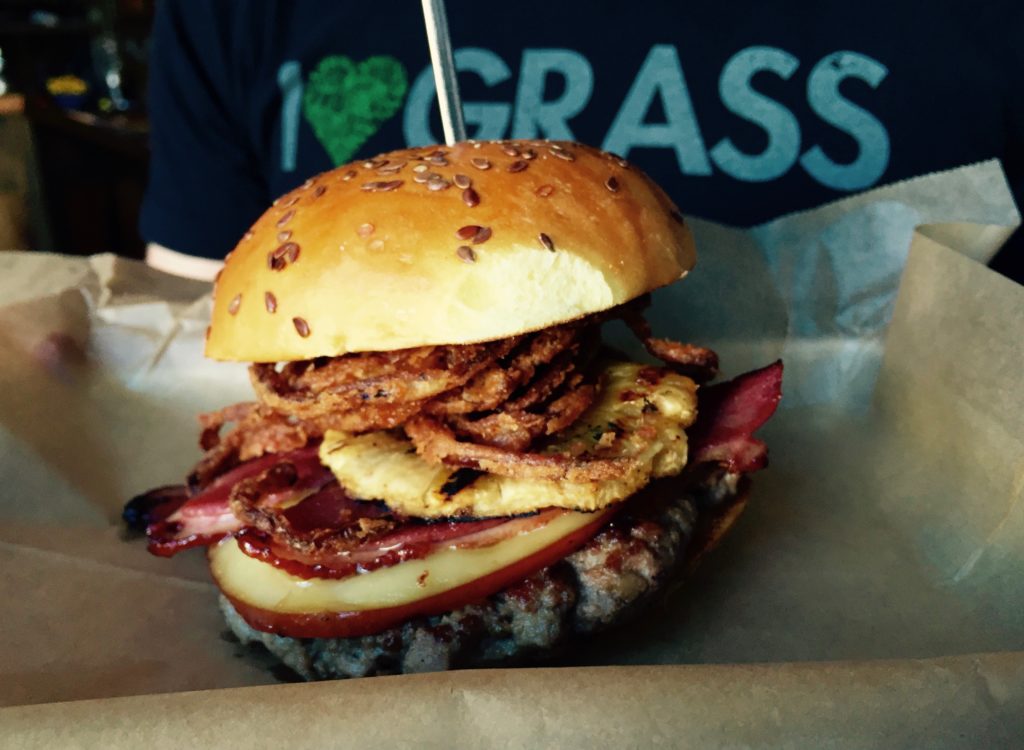 For the paleos (such as myself) there is fresh and amazingly juicy organic lamb, wild boar, elk and bison.  The beef is Piedmontese – to me, the best (see www.localfoodeater.com/White) .
Below, Sammie devours a split-in-two bison burger – not realizing it wasn't beef until she was told afterward.  She'll have the other half!  She and her sister each finished a burger, half at a time.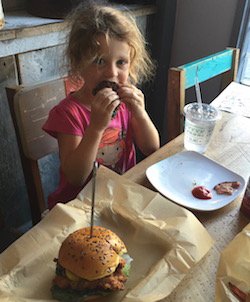 Buns include brioche, multigrain or gluten-free tapiocarice; wheat flour wraps, or iceberg lettuce.
Pelakanos introduced the first Bareburger in Asoria with "home on the range" sort of trapping to set it apart, complete with yellow picket fence. In Santa Monica, the"rustic" is ironically upscale with open-beam ceiling, recycled wooden tables and chairs and trendy Edison lighting.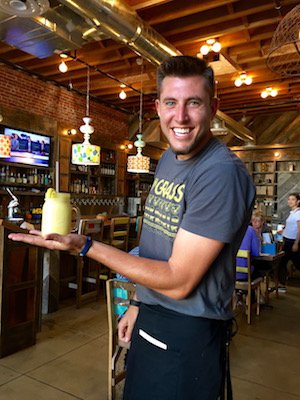 The new Bareburger's layout has a sports bar feel that has lost its way. A side section with comfy seating can feel both isolated or private.  Families prefer this side room though the TV is a kid addiction.  A front window affords the best seats in the house to watch the action in both rooms.
The big, back patio that ran the width of the restaurant was the big "Parlor" draw, where the packed house of buzzing diners reveled in the smell of ocean air from a couple of blocks away.
At Bareburger, you reach the very stark, very chopped off patio in a very round about way through the side section. However, the long common table and side tables for al fresco parties is inviting.
Bareburger has enormous shoes to fill in the former space of the Omelette Parlor, owned by Al Ehringer.  With the introduction of craft beers, the enterprising Ehringer turned around his own so-so restaurant fortunes in 1968 into the American Fare corporation empire with 68 original concept places, ranging from the legendary Oar House hangout just across Main Street to the magical Saddlepeak Lodge in Malibu (which his wife, Ann Ehringer still owns).  Al was a phenomenon. His intense, ongoing (imaginery, marketing gimmick) rivalry, complete with highway billboard challenges, with Bob Morris of Gladstone's in Malibu was not only brilliant it was fun.
Can you  import that from New York?
Bareburger.  2732 Main Street, Santa Monica, California, 90045.  Hours: 11:30 – 10 PM.
www.bareburger.com