Celebrating Turmeric: Everything Old is New Again
Gloriously colorful Turmeric is the newest darling of celebrity chefs, although in ancient times, rich orange Turmeric (the color of baked yams), popular in both North African and Indian curry dishes, held such healing powers it became known as "the spice of life."
French-Tunisian Chef-owner Alain Cohen at Got Kosher" Catering, Café and Provisions (www.gotkosher.com) laughs. He has vivid memories of the distinctly yellow spice, preparing dishes with it since he nine, helping his father in their landmark Parisian restaurant. "I remember a chicken soup we cooked with little pellets of hand-rolled pastas," he recalls. "We also colored cous cous, a basic of North African cuisine, with a tiny bit of turmeric. And our family also prepared a tripe dish called 'Aakoud,' which we spiced and colored with paprika and turmeric."
Alain's strongest memory also serves as a warning: "Turmeric was the only spice I handled with a spoon as the chef at my father's restaurant in Paris, Les Ailes," he chuckles. "Otherwise it stayed under the nails all day, even after a good soap and water scrubbing.
These days Alain uses turmeric in several dishes, including his wildly  popular chicken curry salad and his catered party star, Lemon Raison  Chicken (recipe below). Turmeric Potatoes were also a family favorite and remain the perfect comfort  food. Potatoes and an onion are diced fine and simmered on a low temperature until are soft and almost  brown (like hash browns) and the onions caramelized.
Turmeric is also becoming a favorite in his brand new creation, Turmeric  Challah, all of which are available at his café, bakery, in a catered meal  and to-go provisions.
According to a new study, it may fight Alzheimer's. The spice is an integral ingredient in curry, and tests on laboratory rats have provided evidence that curry helps prevent dementia. A human clinical trial is under way in California.
Ayurvedic medicine in India considered turmeric's fluoride attributes as an essential for teeth, and as an antibacterial agent. Pakistanis use it as an anti-inflammatory agent, and remedy for digestive disorders. In Okinawa, Japan, turmeric remains the main ingredient of a popular and historic tea.
All of which proves that everything old – and good – is new again.
Alain Cohen's Lemon Raisin Chicken
The sweet raisins and slightly tart lemony taste balance this festive chicken dish with its savory layers of tastes and textures. Be sure to measure the salt to keep the dish balanced and bring out each of the flavors.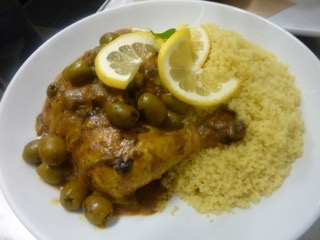 Serves 8
8 chicken breasts (or you can use the equivalent of dark meat or a whole chicken)
1 tablespoon olive oil
1 cup seedless golden raisins
8 slices (l large) lemon, peeled and sliced ¼ inch or thinner, white rind carefully removed
2 tablespoons garlic, ground
1 tablespoon turmeric
1 tablespoon of Kosher salt
1 teaspoon Freshly ground black pepper
2 quarts water or enough to just to cover the chicken
Season the breasts all over with salt and pepper, turmeric and garlic. Pour the olive oil into a large shallow saucepan, and place the chicken in it, skin side up.
Cover each piece of chicken with one or more lemon slices. Add the garlic. Sprinkle with raisins. Cover with water and bring to a boil covered for ½ hour. Uncover and reduce to simmer one hour or until the sauce is thick, tart, sweet and yellow, and the meat is tender.   Serve with Rice.
(www.gotkosher.com)8914 W. Pico Blvd. (1 blk W of Robertson),Los Angeles, CA 90035, 310.858.1920