All Eyes on the Best Whole Mediterranean Fish in LA
(Gerry Furth-Sides) AroLatin in South Pasadena offers a bright, most citrusy version of whole fish, accompanied by lime and peppers, which helped earn the  destination restaurant its title.  The colors just jump off the plate.  The flavors dance long after the meal in memory.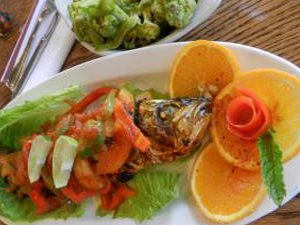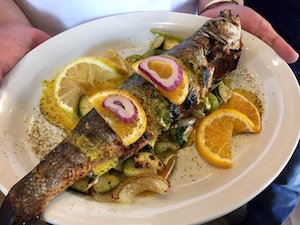 If the fish looks so happy it's because the three-year-old Arolatin is the "baby" of El Salvadoran wife, Candy Garcia Raina.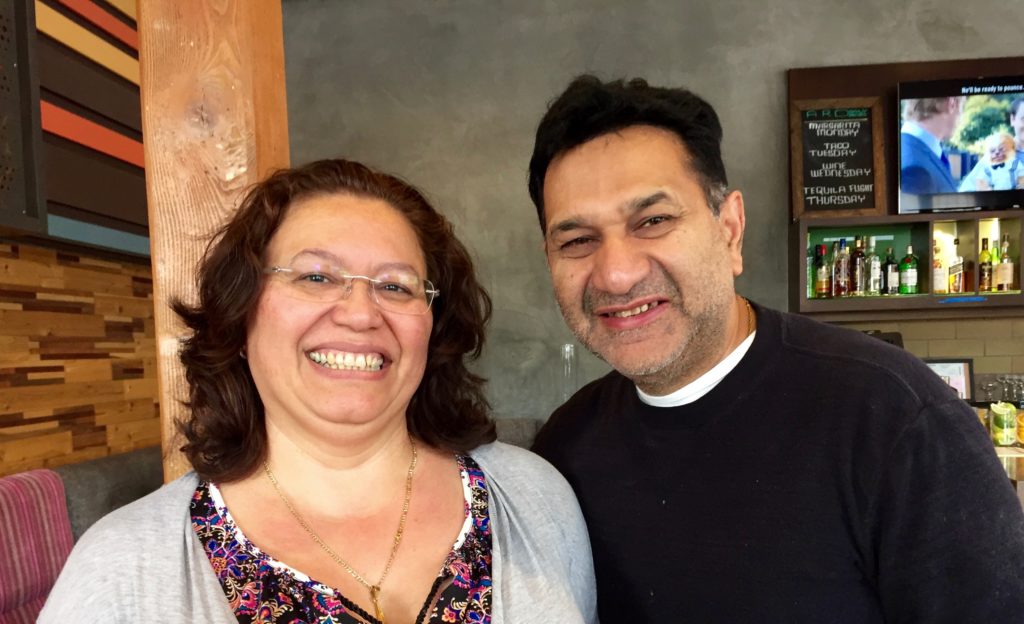 Two other choices are on the new menu. The first is a Branzino a la parilla, marinated whole grilled fresh branzino (sea bass) , served with  mixed vegetables on yellow pepper sauce.a specialty of the house featured in the LA TIMES.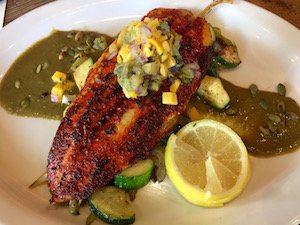 New Executive Chef Conrad's  tender Achiote Snapper is marinated and served on a bed of mole verde topped with peach chutney and sautéed vegetables.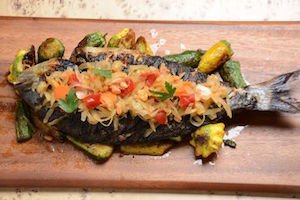 Here, dramatic Besugo, grilled Black Sea Bream is accompanied by summer squash and green papaya escabeche (photo by acuna-hansen) in the hands of Filipino Chef Jeff Lustre at Demitasse Roastery & Kitchen in Hollywood.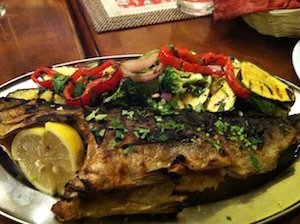 The best kept secret of Aroma Cafe on the westside is their "off the menu" whole fish.  Served over a bed of roasted vegetables and onions – both coated with olive oil to be mopped up with their irresistible pocket bread baked on site.  A squirt of fresh lemon provides the acid contrast.
We only discovered this treasure at the cozy little Balkan restaurant because the inside and outside window tables are separated only by glass, the tables practically touching each other – and oddly reflecting all four diners.  One evening my Greek friend,  Annetta Kapon,  and I simultaneously spotted the owner and friend dining on the other side of the glass.  We kept looking down at our empty table because in the reflection it looked like we had the fish!  And then we got one.  The catch is courtesy of the owner's fisherman friend ($20 for a portion that serves two amply).  You have to call in to see if it has been delivered, usually just after the week-end.  Within two weeks, Eva the server would answer the phone, ask how I was doing, and give a fish report without me asking.
Aroma Cafe, Overland, 2530 Overland Ave, Los Angeles, CA  90064, (310.836.2919),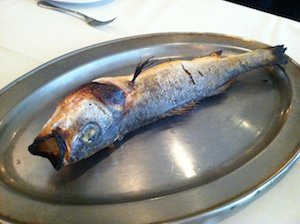 Annetta decided not to wait for the Aroma Cafe delivery.  She purchased White Trout (salmon) from Eilat market ($10), oven- roasted it with vegetables and onions, salt and pepper, then served it with lemon for a wonderful rendition of this dish, popular in Greece.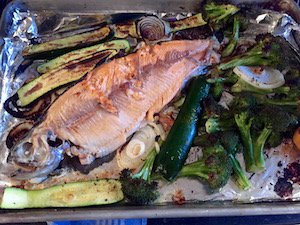 This past week Annetta served the oven-roasted White Trout (salmon) with roasted zucchini, broccoli, a dash of salt and pepper.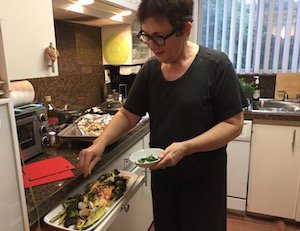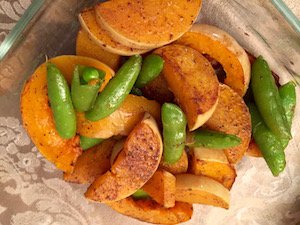 She  served it with a silky butternut squash and snap peas, a take-off of a trendy restaurant dish she tried the week prior.
Maybe what's so appealing for us  are the ever-present French Fries that accompany just about every Greek dish, plus British version fish and chips.  So whole fish leaves out the double dose of "fried-fried" texture plus the double dose of soft texture  of the fish and the potatoes.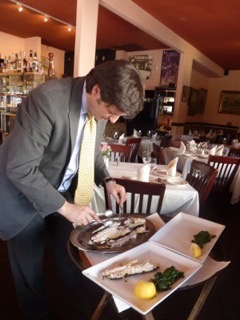 Not one but three dramatic presentations of whole fish are on the menu at Marino Ristorante in Hollywood (blackened Cajun style, baked in salt or grilled).  Whole fish  was already a signature for marino ristorante when it opened 33 years ago – after all,  "marino" translated into the sea.  Mr. Marino, as everyone called him, leaned in and and asked me in his sandpaper voice when I first met him, "what do you think was the first thing I did when I arrived in L.A.?  I went to see what they had in the fish market downtown."  He became a pre-dawn fixture there from then on.
Served table side, his son, Mario Marino has been adept at deboning or "filleting" the fish since he was a teen-ager. Sautéed spinach and a lemon are on the dish.
marino ristorante, 6001 Melrose Avenue, Hollywood, CA (90038) (www.marinorestaurant.net), (323. 466.8812).c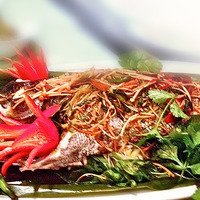 What started this all was trying to be chic at Chinois in Santa Monica and the headline-grabbing ginger whole fish since it opened decades ago– especially seated at the back bar and watching it be prepared.
Chinois, 2709 Main St, Santa Monica, CA 90405Los Angeles / Santa Monica, (310) 392-3037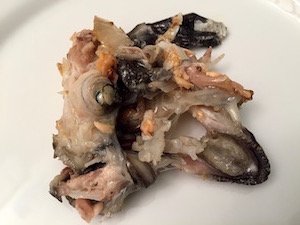 A decade later Haifa Restaurant in the Pico-Robertson area became our  go-to place for whole fish, actually one third the Chinois price. Sofi of  Sofi Restaurant  and I would fight over who would get the head – and the eyes, which are supposed to make you smarter!  A cautionary note:  once new owners took over, the fish was not the same at all.