Mayura Chefs Teach Cooking Secrets of Famous Southern Dosa
(Roberta Deen with Gerry Furth-Sides)  Owner Padmini welcomed us with refreshing drinks for this special cooking class held on Indian Independence Day, August 15.  Cooks, out-of-town visitors for a late supper and reporters all felt the excitement at the restaurant closed for business on Mondays.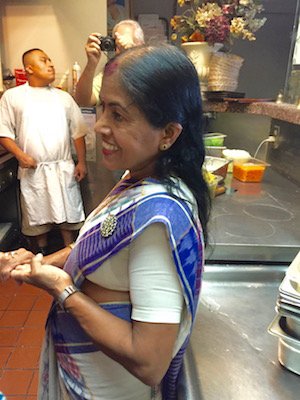 One was an unusual non-alcoholic  BundAberg Ginger Beer from an Australian family-owned company.  Craft-brewed for three days, it is not over sweet with a clear, crisp taste of freshly grated ginger.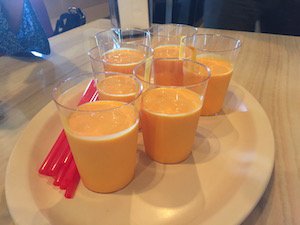 The Mayura classic Mango Lassi is thick, creamy, ice cold, fresh mango purée and yogurt, perfectly balanced between tart and sweet, creamsicle orange, very refreshing.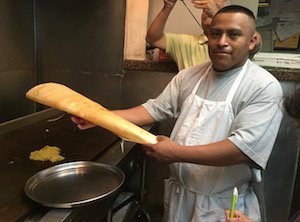 First up was the favorite Dosa done in three varieties. demonstrated at the griddle.  A very skilled Abel Hernandez manned the grill — "who Padroni playfully told us, ' came with the restaurant when we opened here eleven years ago.   So he had a background in Indian cooking because the previous restaurant was Pakistani.  "  Abel told us it took him two years to learn to make the beautiful, paper-thin sheets of crisp, lightly browned dosa and the fermented long-grain rice batter.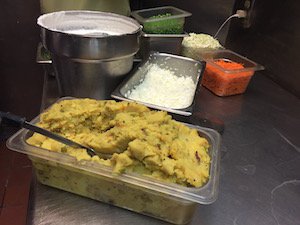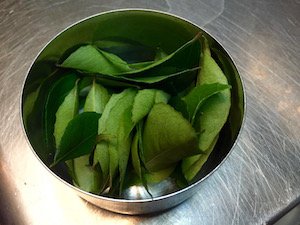 The creamy white "dough" for the three dosa taught was made from urad dal (green lentils  and long-grain white rice in equal parts , soaked in water and finely ground in an enormous stainless steer grinder with more water to make a heavy cream like batter.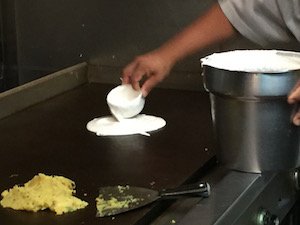 About one cup of dough is placed on the heated griddle, gently and quickly spread into a huge oval. The shaping and smoothing continues until the Paper Dosa is dry on top and golden on the bottom.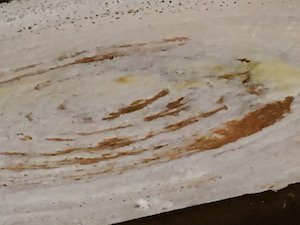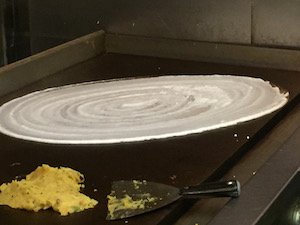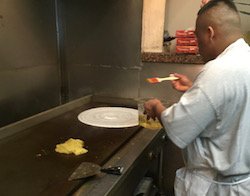 An edge is lifted and the Paper Dosa is quickly rolled into a loose tube about 18″ long. It is served with a coconut "sambal" for dipping torn pieces of the dosa.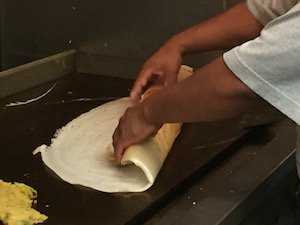 This oval paper dosa is served filled with a potato masala made from russet potatoes boiled with carrots and onions in water seasoned with turmeric, garam masala (a dark, mixed spice curry powder), and salt.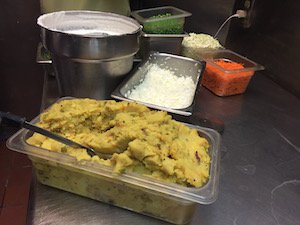 The mixture is mashed with butter and green peas to make a thick, fragrant paste.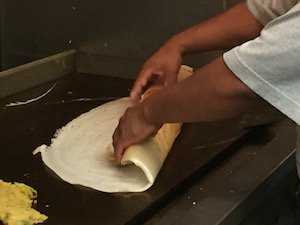 When the paper dosa is almost done the mash is spread evenly over the dosa then rolled like a huge savory jelly roll, quickly sliced and served hot. Eaten quickly, the dosa remains somewhat crispy on the outside but is creamy on the inside where the steaming filling has softened the dosa.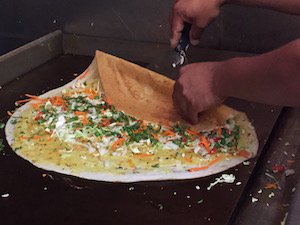 The same batter and process is repeated but made in a round instead of an oval for the Spring Dosa. After the shaping is completed  the dosa is spread with a thin layer of the potato masala from above, then strewn with a variety of vegetables (in this case shredded green cabbage, matchstick cut carrots, green peas, tomatoes, diced red onion). The filling is allowed to cook a few moments, (perfectly tender crisp) scattered generously with chopped cilantro, the paper dosa is rolled, cut into about 3-4″ slices and served hot.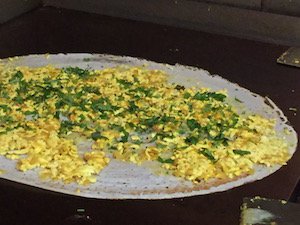 The vegan Paneer Dosa is prepared with the same round paper dosa but with a filling of onions and paneer cheese (purchased from India not house-made) sautéed in vegetable oil with mustard seeds, fresh curry leaves, and chilies to taste, spread on the paper dosa, rolled, cut and served hot from the grill.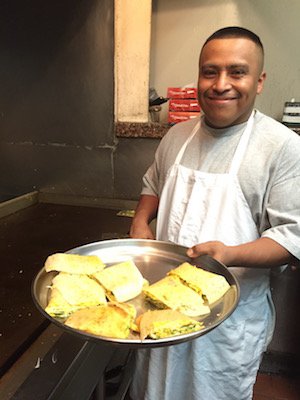 Even though the dosa are meant to be eaten hot no one in our group hesitated to eat the cooled slices that were left from our first tasting.