Famous Indian Snack Recipes from Award-Winning Mayura Restaurant
(Roberta Deen and Gerry Furth-Sides) Sensuous, intensely seasoned, crackly, whimsically shaped and in gloriously color, Indian snacks are irresistible.   Is it because these technicolor beauties are actually elevated (although somewhat ancient) savory versions of onion rings, pancakes, fried chicken and doughnuts?  It is not a matter of "now eating one."  It's a matter of not eating the entire plate.  And Mayura Indian Restaurant has the best.  Here  cooks at the famous eatery share their secrets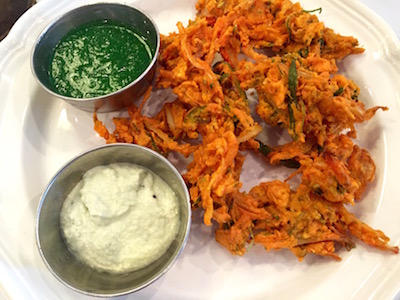 We start with Vegetable Pakoras, which can only be described as a holiday wreath enhanced with brilliant hues of sunrise-sunset orange.  And they add to their crunchy onion ring cousin an array of vegetables to the mix.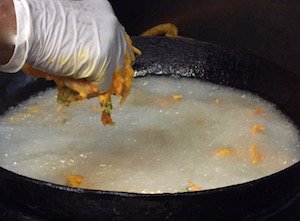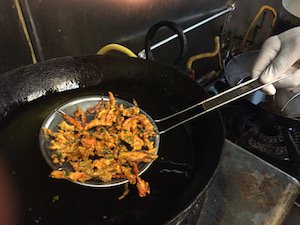 Thinly sliced red onion, matchstick carrots, potatoes, fennel seed powder and cilantro are mixed with garbanzo flour (Besan) and water and dropped by random in hands full into boiling vegetable oil until golden and crispy. Served with mint chutney for dipping.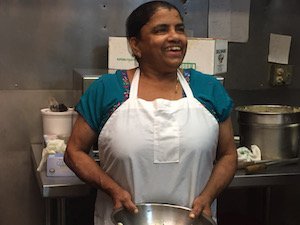 Sathi – owner's Padmina's sister is the line chef who prepares the Pakora's.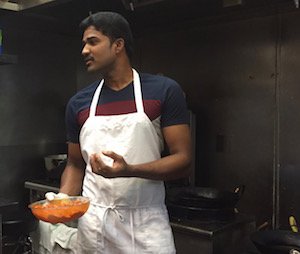 Shakthi – line chef, also a member of the family.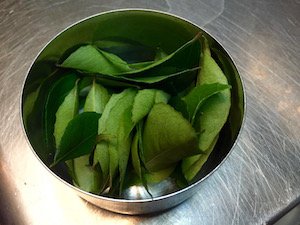 Chicken 65
The chicken used is no more than 65 days old for tenderness
White meat Chicken is cut in bite-sized pieces and marinated in a blend of turmeric, chili powder, cornstarch and lemon juice for two hours.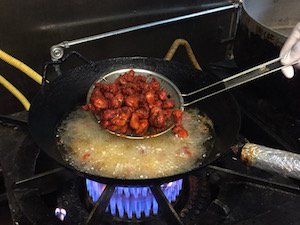 The chicken is fried in boiling vegetable oil (coconut oil is used in Kerala for better taste. Vegetable oil here because of fear of cholesterol). A very generous amount of chopped cilantro is added at the last minute.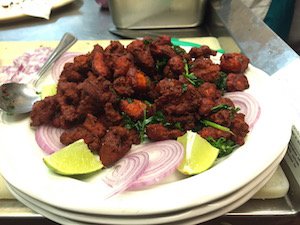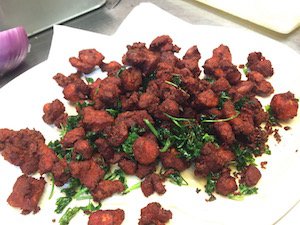 The bright red chicken is mounded on a plate garnished with thin slices of red onion and juicy wedges of fresh lime.
Medu Vada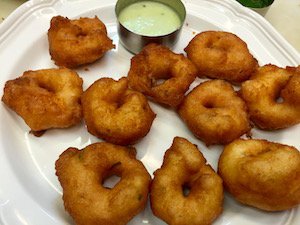 The batter for these mini savory doughnut is made from soaked urad dal which are soaked in water, drained and ground with curry leaves, ginger and fresh chili.  The textures of this doughnut, ingrained with the leaves and ginger is a revelation because there is no processed sugar in them.  This is good and bad news because, again, everyone wants to finish them all.  The coconut chutney adds to its allure.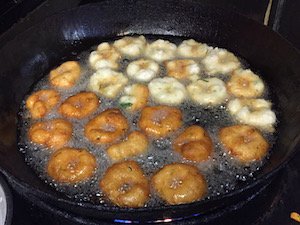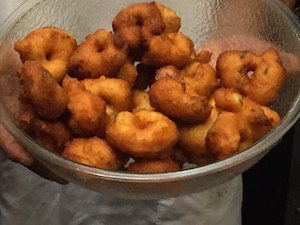 It becomes thick like a bread dough which is scooped in a hand, shaped into a ball and pierced with with a thumb to creat a doughnut shape then dropped into boiling oil, turned once until deep rusty gold color, well drained and served warm with coconut chutney.
Poriyal
Mustard seeds, curry leaves, finely chopped red onion, bit of crushed garlic are sautéed in a bit of oil.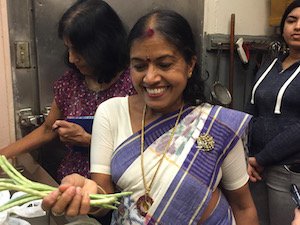 When beginning to brown, sliced fresh black-eyed peas or Chinese long green beans are added the pot with steamed diced green plantain, carrots, cabbage, cauliflower (almost any combination of vegetables may be used.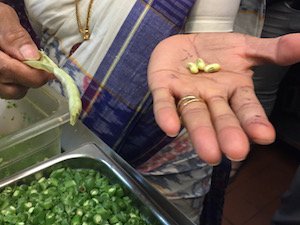 Cover the pot and simmer in its own juices for 10-15 minutes. Add dried grated coconut and serve over dreamed white long-grain rice.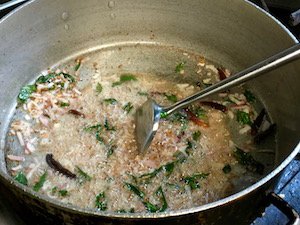 Sambar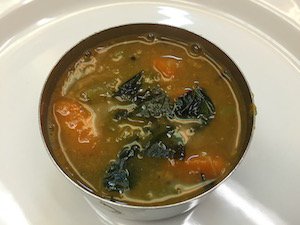 Chunks of carrot, eggplant, zucchini, tomato, okra, green beans, ground coriander, dried red chili to taste, turmeric, ground fenugreek seed, powdered asafitida, tamarind water (made by dissolving tamarind paste in water cooked until vegetables are soft but not loosing their shape.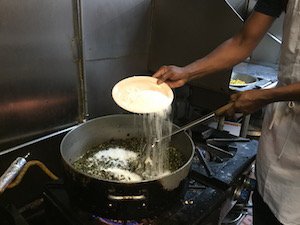 Yellow dal or lentils are simmered on the stovetop.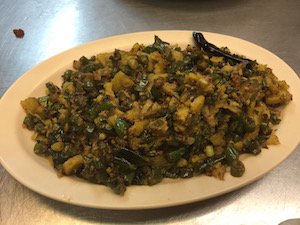 Appam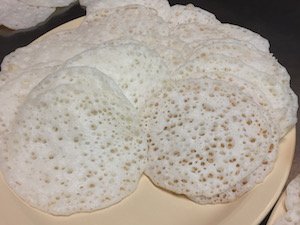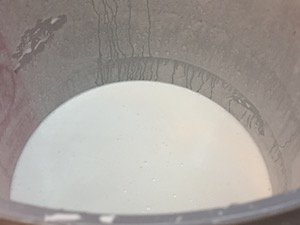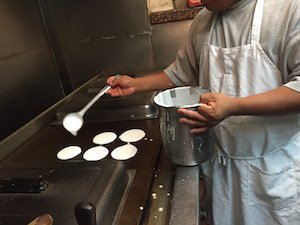 Mayura is the only if not one in LA of the rare restaurants to offer this special dish from Kerala, the  southwest, semi-tropical and spice-rich region India.  Able grill chefAbel Herendez has mastered the art — it took months.
It is Gluten free and again, irresistible– lacy, delicate yet substantial, just sweet enough and just tart enough from the fermented dough .
White long-grain rice ground in-house to a fine powder, mixed with water and allowed to ferment overnight. About 1/2 cup is ladled onto the hot grill until bubbles arise and burst and the appam are barely toasted on the the bottom. They are then covered (in this case with a chafing dish lid which covers about ten at once). The appam are scooped off the grill and stacked on a platter. They are wonderful straight off the grill with the flavor of raw sour dough bread.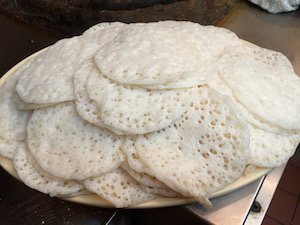 They are equally great cooled. Our team unashamedly devoured the platter hot and cooled. Can accompany chicken tikka masala, vegetable korma, chicken or fish curry. We enjoyed every bite as they were but they would be perfect as a "bread" to scoop up the curries and other dishes.
We ended with small cups of rice pudding just slightly warm with cardamom spice, milk and just a bare hint of rose water. The pudding is much more cooked and less gooey than western style rice pudding.