Fig + Olive's New World Whole Branzino Feast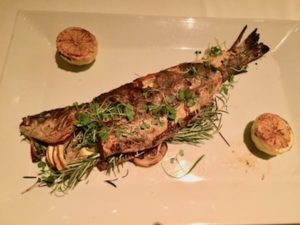 (Gerry Furth-Sides) New World Fig + Olive Restaurant's Whole (2-pound) Branzino Feast is perfection.  Under the heading: FOR TWO, with a glorious whole branzino fish to work with start with, Chef de Cuisine, Carlos Sanchez then seasons it with with a refined house blend of Mediterranean herbs.  A final touch of citrus brings out even more flavor ($41 pp).
Found under the heading:" FOR TWO, Chef de Cuisine, Carlos Sanchez begins with a glorious, whole branzino fish, seasons it with a refined house blend of fresh Mediterranean herbs and finishes with a touch of grilled lemon to bring out even more flavor.
The 40 minutes required to prepare the fish flew by after Cyrus, our server, brought us a Signature Crostini.  The platter is generous enough to be a meal in itself.  The manchego with fig and marcona almonds and the prosciutto with ricotta, fig, olive and walnut alone were worthy of the Fig + Olive Restaurant name.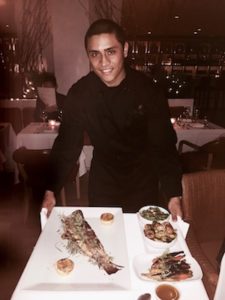 The Branzino is served with a choice of two sides and two sauces.  The Charmoula and Chimichurri were recommended. We preferred the latter for its slight spark to the fish.  Lemon sauce Vierge, Bearnaise and Truffle Aioli are also on the list.
The Branzino is served tableside with a choice of two sides and two sauces.  Cyrus recommended the Charmoula (a spicy Middle-Eastern sauce and the Chimichurri (a green herbed Argentinian sauce). We preferred the latter for the slight spark it lent to the fish. Lemon sauce Vierge, Bearnaise and Truffle Aioli are also available.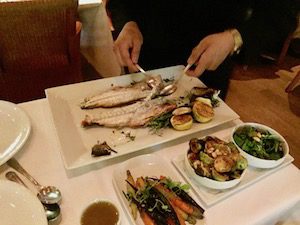 Whole fish is both practical and festive enough for a party in Mediterranean cuisines and it is considered a good luck dish for several Asian holidays.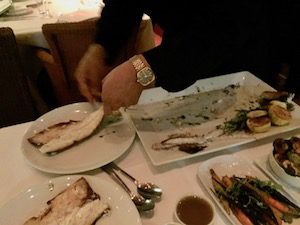 Whole fish is also easy to eat  — especially when you have an adept, trained server.  The fish just breaks apart and the major bone is left on the table.  There were a couple of small ones so care needs to be taken.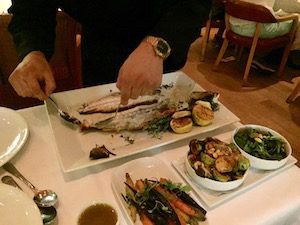 Fig + Olive proves how dramatic a presentation whole fish makes, in addition to how well it can incorporate the seasonings, spices and accompaniments of many different cultures.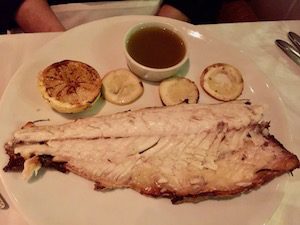 Does an entire fish sound like a lot to eat at one time?  Bigger fish always look more stunning on the table, and at Fig + Olive the beautiful, big look is accomplished by butterflying the fish – deboning, spreading it out flat and cutting it in half.  The branzino is  ½ to ¾ of a pound per guest and ample for a shared meal for two or even for more if other entrees are ordered.
Yes, I am obsessed with whole fish dishes.  I love everything about them.  And I find that the care in sourcing and preparing them eliminates the concerns currently associated with my beloved beef, pork and lamb.  For other articles in the Whole Fish series, please see http://localfoodeater.com/eyes-best-whole-mediterranean-fish-la/ and also: http://localfoodeater.com/top-whole-fish-dishes-los-angeles-eyes/ .
 Fig + Olive Melrose Place Chef, Carlos Sanchez  explained just how much care went into the fish we were eating. "We source local sustainable seafood from a family-owned purveyor.  This partner has the highest quality and safety rating , while participating in the seafood watch program out of Monterey Bay Aquarium.  We source the best quality option for our guests while protecting the environment.  Since seasonality comes into play we also have the chance to be creative."
For the "whole fish faint of heart," Fig + Olive offers single-portion  Chilean Sea Bass with roasted sun choke, rapini, romesco-marcarpone sauce with almond and hazelnut ($39)
Another more modestly portioned yet lush fish dish is the Riviera Salmon with braised endive, baby kale, cauliflower purêe, olive and piquillo condiment ($26).
Cyrus, our server was extraordinary.  Aside from his depth of knowledge about the food and wine, nothing could be more pleasing than (more need be said)  that when he learned the bar was out of the grappa we love, he went upstairs to the storage room to see if he could find a bottle.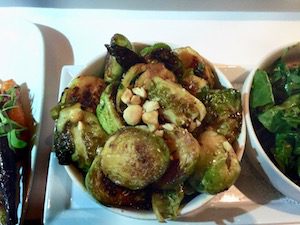 A shared-style of cuisine means guests interact more deeply with one another.  Brussels Sprout, served al dente,  with hazelnut, balsamic vinegar were enough for three.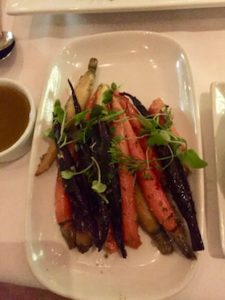 Roasted (baby) Carrot with (almost imperceptible) poppy seeds (shown above) was our second side.  Mushroom, Roasted Potato and Mashed Potato are other options.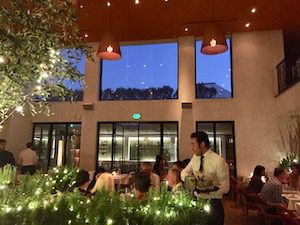 FIG + OLIVE is the realized vision of owner Laurent Halasz, who grew up in Mougins, a village in the south of France known for its prominent culinary culture.  There he developed "a love of all things epicurean." It plays out in the abundance of natural light, outdoor terraces, the scent of rosemary, and curated music playlists.
"Recreating the ambiance of the French Riviera and its bon vivant lifestyle" has been Laurent's vision since the beginning.   Rosemary-filled  planters section off the whitewashed two-story dining room for a feeling of intimacy and outdoors at the same time.
The kitchen strives for " flavors that come from fresh, simple and classic ingredients, like such as regional premium-quality olive oil used in place of butter.   Contemporary-style dishes become a "reinvention of traditional Mediterranean cuisine."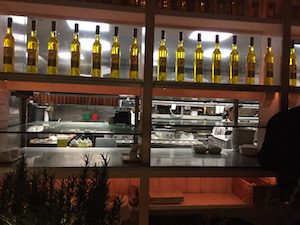 We treasured our experience owner Halasz made happen for us from the moment we stepped up the shallow steps till until we went down them again – to laugh with a toddler hugging the tiny tree with twinkle lights right outside.  It is truly remarkable that this personal Fig + Olive is but one of many locations across the country.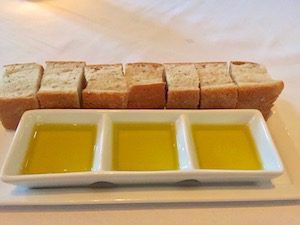 "Magical" is not a word I've used in a long time for a restaurant experience.  I use it here.  I have even forgiven FIG + OLIVE for not using local Fresno figs (although I wish they would).
For details and the full FIG + OLIVE menu please check:  www.figandolive.com, 8490 Melrose Place, West Hollywood, CA 90069, (310) 360-9100, Open week-days  · 12–3PM, 6–10:30PM