First MASTERS OF TASTE is Pasadena Perfect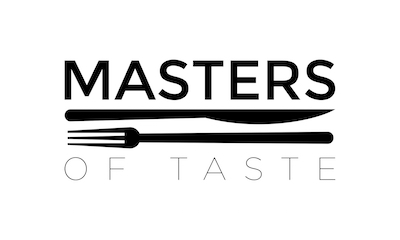 (Gerry Furth-Sides) Even the sun came out in full force to  lend an early spring glow to the first Masters of Taste recently on the field of the Historic Pasadena Rose Bowl.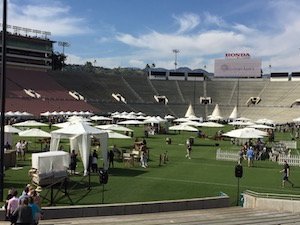 From start to finish, this event defined Pasadena: prepared, sophisticated and friendly.  It proved to be an ideal way to sample a number of gourmet global dishes from many restaurants and vendors at one time to benefit a worthwhile cause, Union Station Homeless Services.
Walking up the ramp through the dark dark stadium tunnel onto the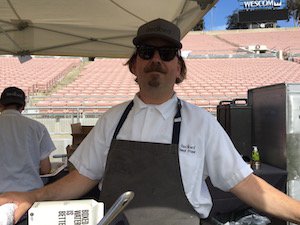 bright field ringed with food and drink stations was stunning.  But
the "moment" that stays in mind was shortly afterward listening to a member of the charity board giving a heartfelt thanks to the crazy-busy Chef Neal Fraser of Redbird  for participating in the event.  "They would not let me say 'no" he told me when the board member wandered off."
The bold, beautiful invitation was the first indication that the event would be important enough to head to what could be an intimidating venue.  A welcome was the reward, from the ample and easily accessible free parking (take this,  Dodger Stadium and your $25 pop parking) to the wonderfully laid out event on the field to the compact and detailed program booklet to read afterward.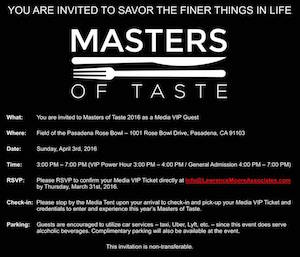 Approximately 2,500 guests joined over 40 Culinary Masters and 25 Beverage Masters were joined by lifestyle activations and live entertainment.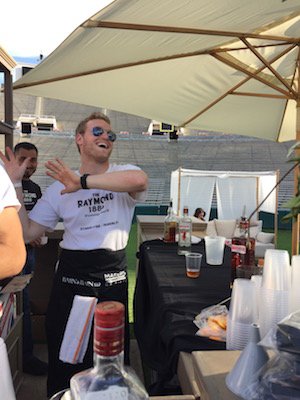 Everyone was in an upbeat mood – maybe because the layout ensured that everyone at the event could see each other with so much room that no one felt crowded.   Attendees sat at picnic tables in the middle of the field; a VIP section at one end had cocktail tables for a view from above.  Even the bartenders got into the party mood while working.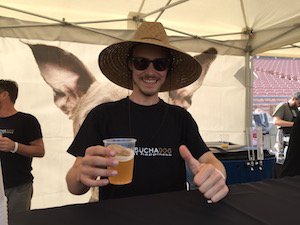 Not to say that alcohol was the mood-changer.  The Kambocha Tea servers acted just as happy to see us and shared their drinks, especially to people who had never tried the tea before.
Catching up with food friends is one of the best part of these events.  Today Japanese Executive Chef Shigefume Techie  (legendary creator of the tuna tartare stack), now owner-chef of his own restaurant, gave a big wave and a hug later.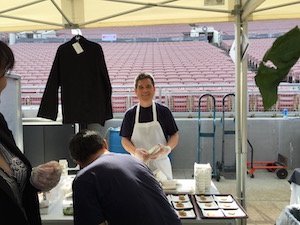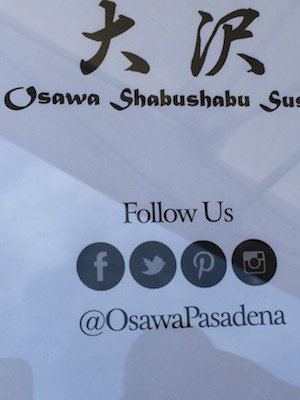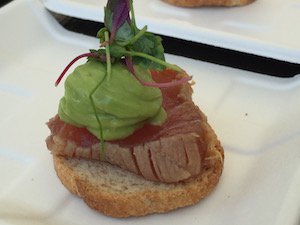 Most memorable dish of the day was offered by Birch Restaurant, British Executive Chef Collins.  No more animated "bad boy!"  Just a luscious, refined  chicken mousse as only he can do it, with a huge smile while he told us about how his new place was going.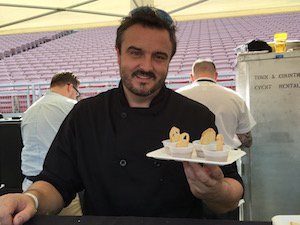 Collins has worked closely with Inothetke's Executive Chef-owner Carolos Tomazos,  a rare restaurant offering Greek
gourmet cuisine, here with his wife and partner with an offering of lamb done Cypriot style in a meatball with Shredded Cabbage Salad, Tomato Sauce and Tzatziki.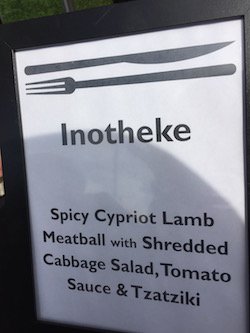 (http://localfoodeater.com/inotheke-modern-greek-cuisine-comes-to-santa-monica, and http:localfoodeater.com/inothetke.)
 Hache LA chefs didn't stop serving or greeting guests from beginning to end.  Burgers still rule, even devilishly "hot" ones like the one decorated below with a pepper "horn."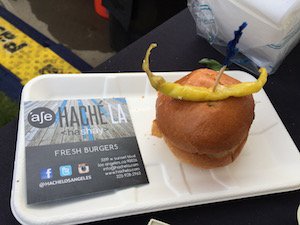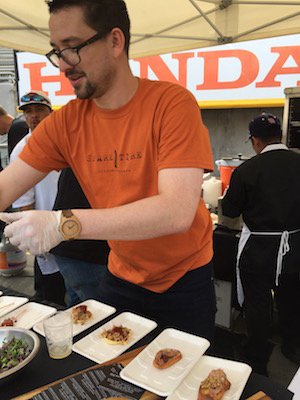 And the the "devilishly" visual Toca Madera served a refreshing coconut citrus salad.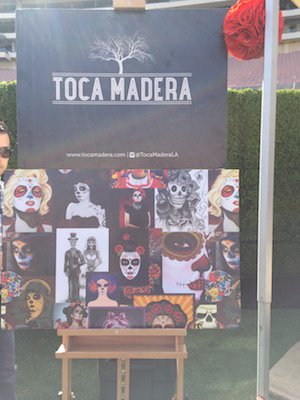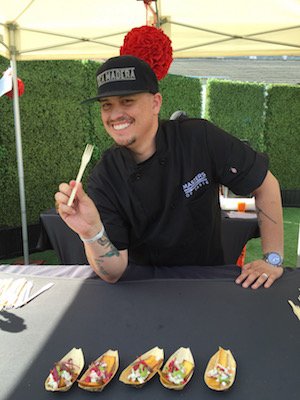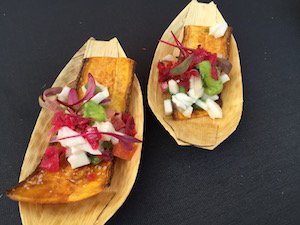 For the rest, a picture is worth…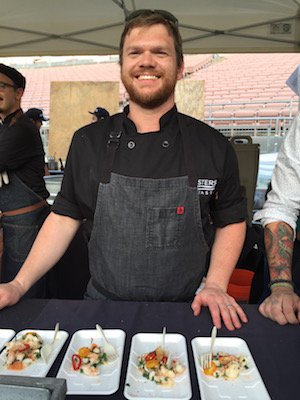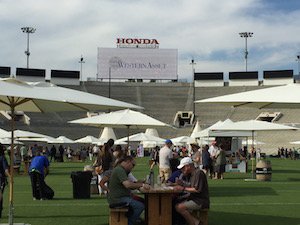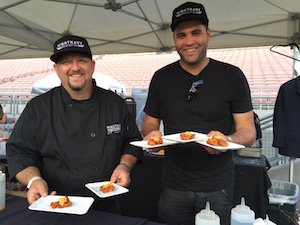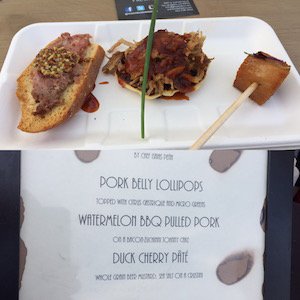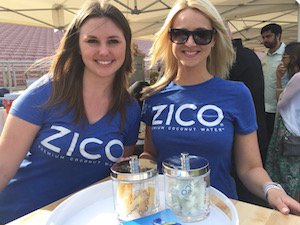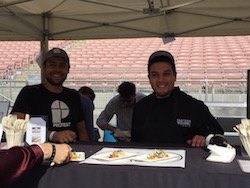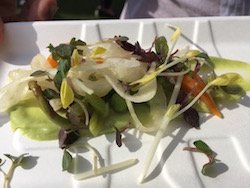 BierBeisl offered Crispy Pork Belly Crostini with Fava Bean and Radish.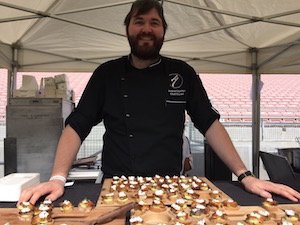 Guests even waited patiently in line for Chef Calagero Drago of Drago Ristorante & Panzanella,  is proof of the high calibre and excitement of the event.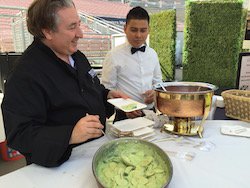 The beneficiary of Masters of Taste will be Union Station Homeless Services, a 501(c)3 nonprofit organization committed to helping homeless men, women and children rebuild their lives. Headquartered in Pasadena, the agency is the San Gabriel Valley's largest social service agency assisting homeless and very low-income adults and families through an array of services including street outreach, meals, shelter, housing, case management and career development. Since 1973, Union Station Homeless Services has helped thousands of people who were once homeless and without hope. 100% of the proceeds from this year's event will go directly to Union Station Homeless Services.
Watch for this event next year.   A full list of Masters of Taste participants is also on the website. www.MastersofTasteLA.com/Tickets.